Media Inquiries
Latest Stories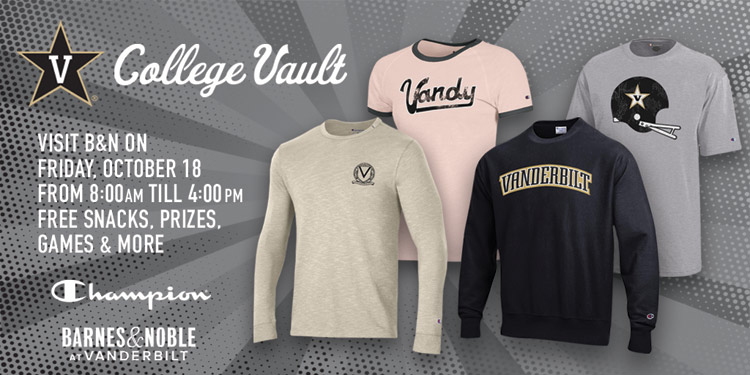 Vanderbilt will highlight the university's College Vault merchandise collection during Reunion weekend, Oct. 18–19. College Vault is a vintage-inspired collection of fashion-forward apparel and non-apparel products that pays homage to the university's historical trademarks and traditions. Vanderbilt has brought back a handful of vintage logos for the collection and has created a dedicated space on the first floor of the Barnes & Noble at Vanderbilt bookstore.
On Friday, Oct. 18, from 8 a.m. to 4 p.m., all faculty, staff, students, alumni and fans are invited to stop by Barnes & Noble at Vanderbilt to see the updated College Vault space. Customers can enter to win a drawing for one of two $250 Barnes & Noble gift cards and five pairs of tickets to Saturday's Vanderbilt vs. Missouri football game. The seven winners will be drawn by Mr. C around 3:40 p.m.; customers do not have to be present to win. Everyone who stops by is invited to enjoy free drinks and snacks.
Outside the bookstore, customers will be able to check out a Champion-branded area featuring an assortment of Champion College Vault merchandise. Be among the first 500 people to visit the Champion area outside to receive a free Champion 100 bag and sticker. There also will be tailgate games and a Champion Instagram social media contest offering a chance to win a Champion "swag bag." Six winners will be selected at the end of the day.
On Saturday, Oct. 19, from 1 to 3 p.m., the Barnes & Noble pop-up shop in Vandyville will feature an assortment of Champion-branded College Vault items and Champion 100 items. Faculty, staff and students can show their Vanderbilt ID to receive 10% off all purchases. The pop-up shop will be located at the corner of Jess Neely Drive and Natchez Trace.
In addition, anyone shopping in Hillsboro Village on Saturday should make plans to visit Posh Boutique to see their dedicated Vanderbilt space showcasing additional College Vault merchandise and enjoy free drinks and snacks.