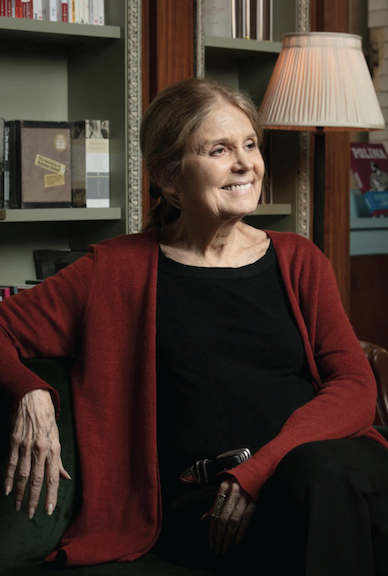 Tickets for this event are now sold out. There will be an overflow with a livestream in Room 418A in the Library.
The Margaret Cuninggim Women's Center, in partnership with the Chancellor's Lecture Series, will host Gloria Steinem, an award-winning writer, feminist activist and co-founder of Ms. magazine, for a conversation Nov. 1.
The event will take place at 2 p.m. in the Community Room of the Central Library, followed by a reception. Tickets for the event will be released on Oct. 15 at Sarratt Box Office and are available to those with a Vanderbilt University ID.
Steinem rose to prominence in the late 1960s as a journalist and a columnist for New York magazine. In 1972, she co-founded Ms. magazine, which quickly became one of the most popular voices of the feminist movement. Steinem served as editor of Ms. until 1987 and continues to act as a consulting editor for the magazine.
She is the author of several books, including My Life on the Road, Moving Beyond Words, Revolution from Within, Outrageous Acts and Everyday Rebellions, and her newest book, The Truth Will Set You Free, But First It Will Piss You Off! Steinem's writing has earned numerous honors, including the Penney-Missouri Journalism Award, the Lifetime Achievement in Journalism Award from the Society of Professional Journalists, the Society of Writers Award from the United Nations and an Emmy nomination for excellence in television writing.
Steinem is also the founder or co-founder of several prominent organizations and initiatives, including the National Women's Political Caucus, the Women's Action Alliance, the Ms. Foundation for Women, the Women's Media Center and more. In 2013, President Barack Obama awarded her the Presidential Medal of Freedom, the highest civilian honor, for her role in advancing women's rights.
The event with Steinem is co-sponsored by the Jean and Alexander Heard Libraries, the Robert Penn Warren Center for the Humanities, the Project Safe Center for Sexual Misconduct Prevention and Response, the Women's and Gender Studies Program and the American Studies Program.
The Nov. 1 event is free, but tickets are required. Only one ticket will be provided per Vanderbilt ID. If no more tickets are available, the event will be live-streamed in a location to be named later. Books will be available for sale at the event, but there will not be a book signing.