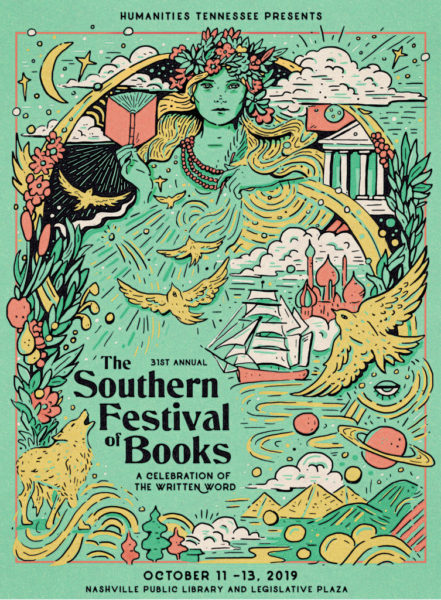 The 31st annual Southern Festival of Books: A Celebration of the Written Word takes place at War Memorial Plaza and the downtown Nashville Public Library Oct. 11-13.
The free event brings together acclaimed writers, book lovers and other interested persons for three days of readings, panel discussions and book signings. Among the participating Vanderbilt faculty are:
Ellen Armour, E. Rhodes and Leona B. Carpenter Professor of Feminist Theology; associate dean for academic affairs; director of the Carpenter Program in Religion, Sexuality and Gender; and author of Signs and Wonders: Theology after Modernity
Laura Carpenter, associate professor of sociology and author of Virginity Lost: An Intimate Portrait of First Sexual Experiences
Farrar Hood Cusomato, senior lecturer in art and contributor to National Parks Conservation Association: A Century of Impact
Kate Daniels, Edwin Mims Professor of English, director of Creative Writing, and author of In the Months of My Son's Recovery: Poems
Shaul Kelner, associate professor of sociology and Jewish studies and author of Tours That Bind: Diaspora, Pilgrimage, and Israeli Birthright Tourism
Stanley Link, associate professor of the composition, philosophy and analysis of music
Amanda Little, writer-in-residence and author of The Fate of Food: What We'll Eat in a Bigger, Hotter, Smarter World
Jonathan Metzl, Frederick B. Rentschler II Professor of Sociology and Medicine, Health and Society; director of the Center for Medicine, Health and Society; and author of Dying of Whiteness: How the Politics of Racial Resentment Is Killing America's Heartland
Letizia Modena, associate professor of Italian and author of Italo Calvino's Architecture of Lightness: The Utopian Imagination in an Age of Urban Crisis
Catherine Molineux, associate professor of history and author of Faces of Perfect Ebony: Encountering Atlantic Slavery in Imperial Britain and
Haerin Shin, assistant professor of English, who is completing a book titled Dialectic of Spectrality: A Transpacific Study on Being in the Age of Cyberculture, 1945-2012.
The Robert Penn Warren Center for the Humanities is continuing its partnership with Humanities Tennessee for a themed track of sessions on "Borders and Belonging," inspired by the current climate around physical borders and questions about social inclusion and exclusion that have deep historical roots. "Borders and Belonging" is the theme of the Warren Center's 2019-20 Faculty Fellows program as well as a focus of the center's overall programming this year. Several RPWC faculty fellows will moderate these sessions at the festival.
Additionally, Armour, Carpenter, Kelner, Link, Modena, Molineux and Shin, who were  2017-18 RPWC Faculty Fellows, will participate in a discussion showcasing their work, "Telling Stories/Stories that Tell: An Interactive Exhibit and Panel." Members of that year's fellows group worked with local artist Britt Stadig to create a multimedia art piece based on their research.
Also, Kashif Graham, outreach librarian for religion and theology, will interview author Saeed Jones about his latest work, How We Fight for Our Lives. The interview will be broadcast live on C-SPAN2's BookTV.
Participating alumni at the festival include: Anders Carlson-Wee, MFA'17, author of The Low Passions; Marshall Chapman, BA'71, author of They Came to Nashville; Tiana Clark, MFA'17, author of I Can't Talk About the Trees Without the Blood; and Cara Dees, MFA'14, author of Exorcism Lessons in the Heartland.  
The Jean and Alexander Heard Libraries will host a festival booth where attendees can print a bookmark by hand using a 1930s proof press.
All sessions are open to the public from noon to 5 p.m. Friday, 10 a.m. to 6 p.m. Saturday and noon to 5 p.m. Sunday.
Visit the Southern Festival of Books schedule for more information.