VUmailguard is an integral part of the Vanderbilt email service. Its purpose is to keep Vanderbilt's network healthy, safe, secure and operational by protecting users from malware, such as viruses, worms and spyware, as well as phishes and unsolicited email (spam).
Powered by Microsoft Office 365's Exchange Online Protection (EOP) engine, this cloud-based filtering service detects nefarious or spam email messages and retains them in a containment area (or quarantine) for 15 days. Each day, if any messages are placed in a mailbox owner's quarantine, that mailbox owner is notified via a digest email from Office 365. The email summarizes all captured emails over the previous 24 hours.
The current digest email looks like the sample below.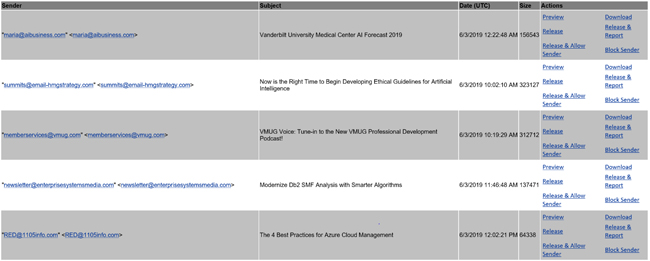 Beginning Oct. 15, Microsoft Office 365 is updating the quarantine notifications and alerts messages that users will receive. Currently, users can release emails from quarantine directly from the notification email. After mid-October, users will no longer be able to release quarantined emails from the notification email itself; they will only be able to "Block Sender." To review and release quarantined emails back into their mailbox, users will have to sign in to the Office 365 Security and Compliance Quarantine website.
You can read more about how to find and release a quarantined message as a user in Office 365 on the Microsoft website.
Note: Vanderbilt University alumni should contact the VUIT TechHub for assistance in releasing messages from quarantine after Oct. 15, 2019.