Campus organizations to host Halloween events in October
Oct. 10, 2019, 11:48 AM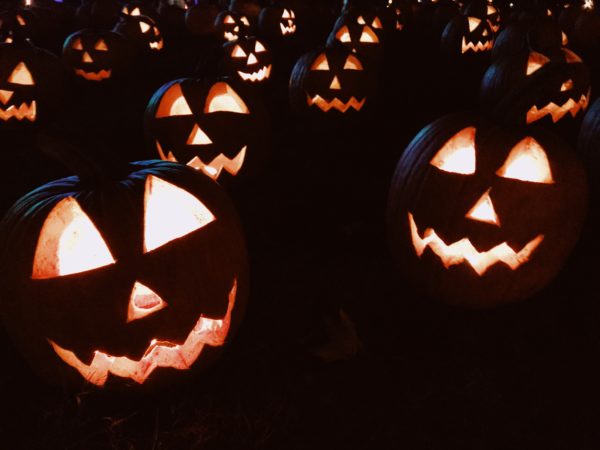 Campus organizations are gearing up for a host of fall- and Halloween-themed events. Everyone in the campus community is invited unless otherwise noted, and most events welcome faculty and staff to bring their families.
Mark your calendar:
Sukkot Fall Festival: 3 to 5:30 p.m. Friday, Oct. 11, at the Grins parking lot
Hillel invites the campus community to join them for the Sukkot Fall Festival, which will offer a jack-o-lantern bouncy castle, pumpkin decorating, apple cider, powdered donuts, mini pies and more.
The Ghosts of Gatsby: Thursday, Oct. 17, and Saturday, Oct. 19, at 8 p.m. at the Blair School of Music, Ingram Hall
The Ghosts of Gatsby, which centers on the lives of F. Scott and Zelda Fitzgerald, was composed by Blair School of Music alumnus Evan Mack, with libretto by Blair School Senior Lecturer of Musicianship Joshua McGuire. Music soaked in the spirits of the Jazz Age, competing narratives about Zelda and Scott, and a dollop of dark humor all collide in a Black Mirror-like plot twist.
Pumpkins for Puppies: 5 to 8 p.m. Sunday, Oct. 20, on The Ingram Commons Center lawn
The Vanderbilt Protecting Animal Welfare Society will host its Pumpkins for Puppies fundraiser with a pumpkin patch, fall-themed treats, music, a performance by Vandy DoubleMajor and a chance to say hi to some furry friends. All donations will go to Puppy Play Day in support of Freedom Farm Animal Sanctuary and Greyhound Pets of America.
VMS Yoga: Witchy and Wobbly: 7 p.m. Tuesday, Oct. 29, at the Annette and Irwin Eskind Biomedical Library and Learning Center, Room 205
VMS Yoga will host a Halloween-themed yoga session complete with spooky tunes during the 30-minute focused yoga and optional meditation session.
Black Magic: 6 to 8 p.m. Wednesday, Oct. 30, in the Alumni Hall Reading Room (Room 206)
Hosted by Melanated A Cappella and New Dawn, Black Magic gives students a fun and clean Halloween-themed event to attend, featuring food, games, conversation and performances.
This event is open to students only.
Duppy Stories: 7:30 to 9 p.m. Wednesday, Oct. 30, in Wilson Hall, Room 113
Duppy Stories is a signature event hosted by the Caribbean Students Association that features the storytelling of Caribbean folklore. The student organization invites people of all backgrounds to come and share their own spooky stories, whether it be of their cultural background or of their own creation.
Trick-or-Treat with Greeks and Athletes: 5:30 to 7 p.m. Thursday, Oct. 31, in the Student Life Center ballrooms
The Vanderbilt Greek community and the Student-Athlete Advisory Committee has invited the Vanderbilt and Nashville community to this safe trick-or-treat option. The event will have Halloween-themed activities, a bounce house and more. Parking will be available in the garage located on the corner of 25th and Highland avenues.
All Hallows: Witches, Magic, and Things That Go Bump Library Exhibit: Oct. 31 through Jan. 26, 2020
Visit the Central Library for "spooky" offerings from Special Collections. Among the treasures on exhibit will be the first American edition of Mary Shelley's Frankenstein, grimoires and other books about magic, rare accounts of witch trials from the 16th and 17th centuries, as well as rare books on alchemy, spiritualism and fantastic beasts.