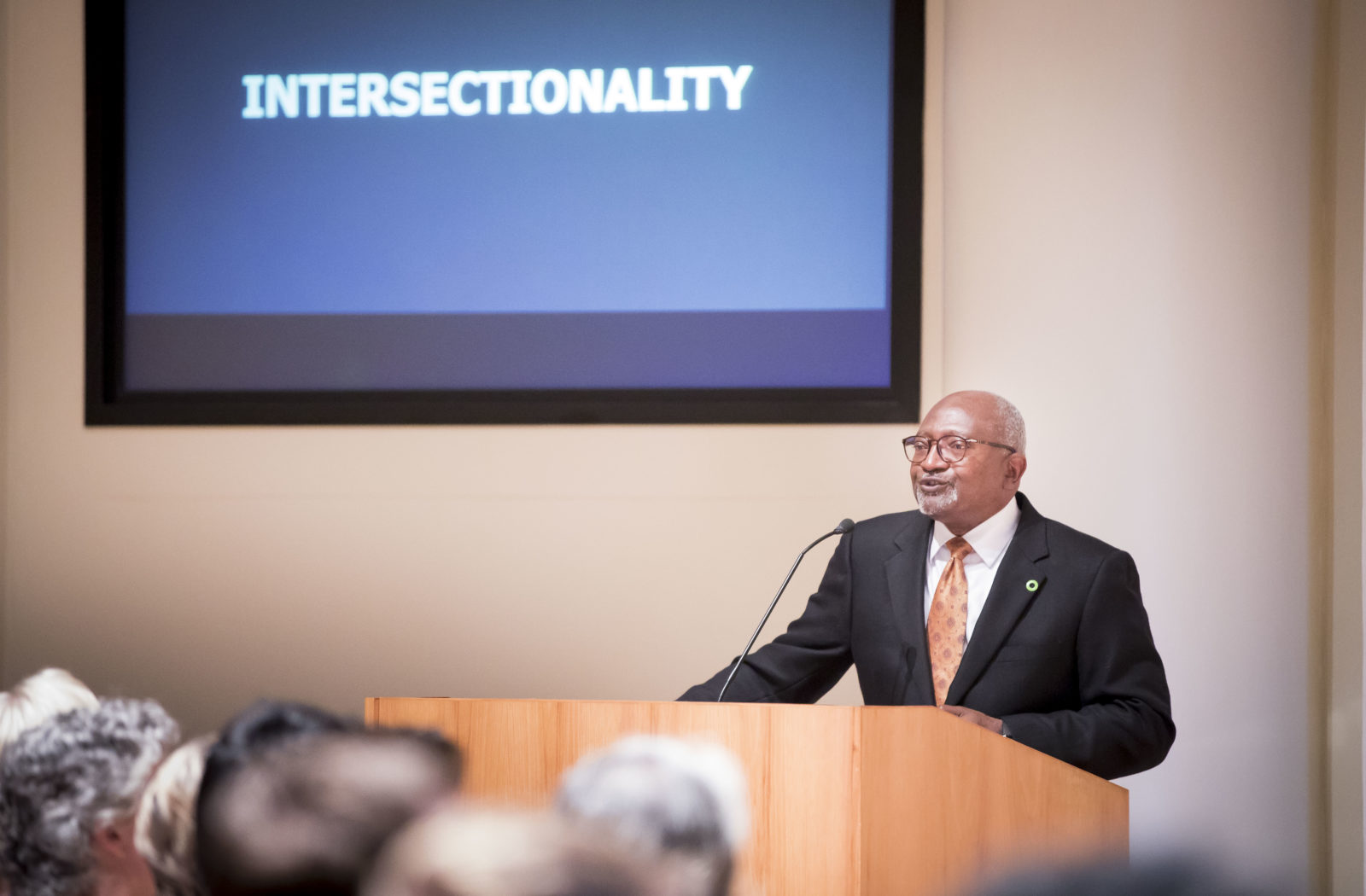 Robert Bullard, an award-winning author and distinguished professor of urban planning and environmental policy at Texas Southern University, described the economic and racial disparities inherent in environmental issues before a packed audience in Wyatt Center Rotunda Oct. 1. Bullard, known as the "father of environmental justice," spoke at Vanderbilt as part of a collaboration between the Chancellor's Lecture Series and the Dean's Diversity Lecture Series at Vanderbilt Peabody College of education and human development.
"Professor Bullard's work centers on topics that are of critical importance to our university and our community, with our commitments to sustainability and inclusive excellence," said Interim Chancellor and Provost Susan R. Wente. "He has amplified the need for all to have a voice in the decisions affecting their communities."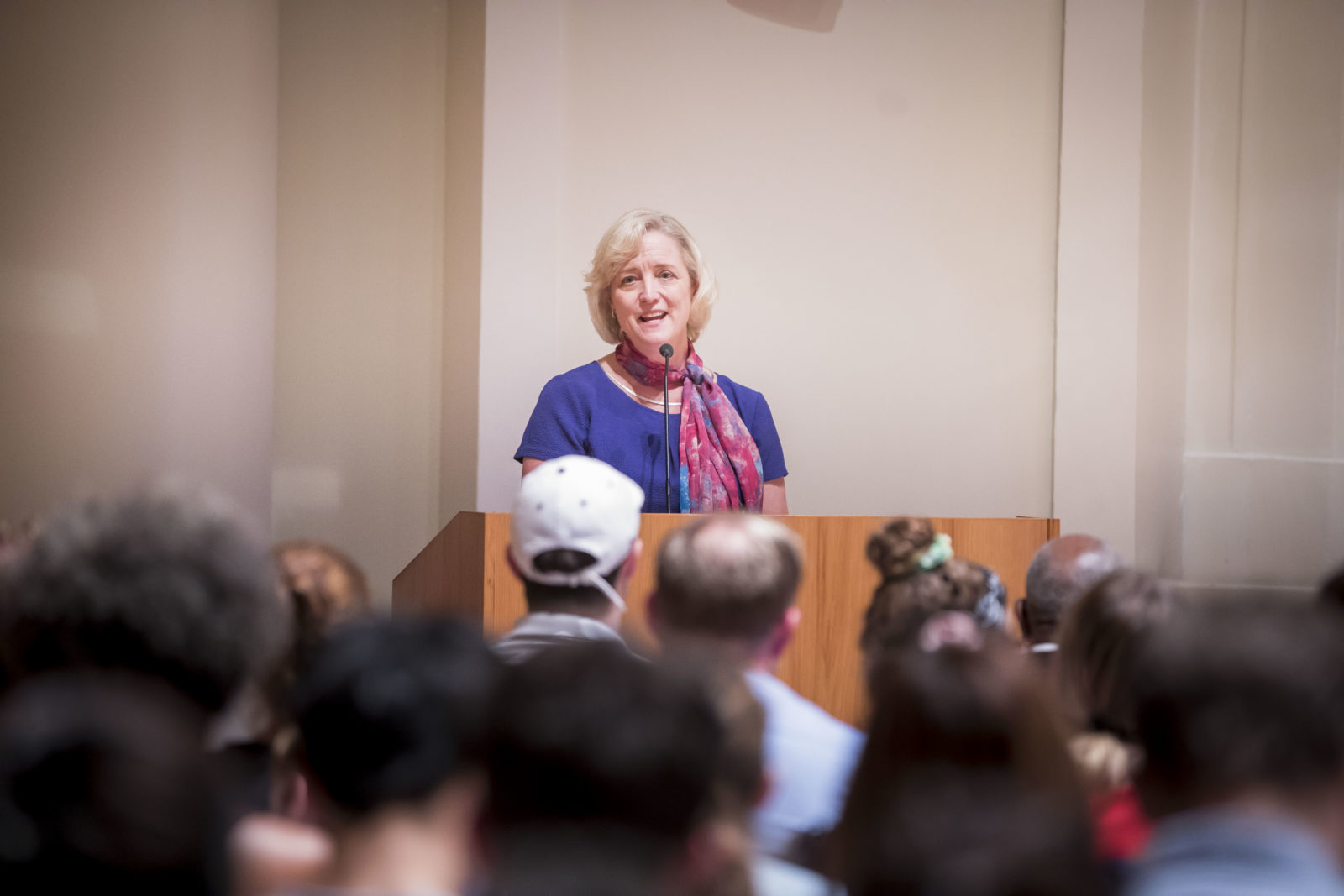 Bullard's lecture, "The Quest for Environmental and Climate Justice," explored how racism and classism have created significant environmental and land-use inequities in community development and public policy.
"All communities are not created equal. If a community happens to be poor, or located physically on the wrong side of the track, it receives less protection. It receives less of the good stuff and more of the bad stuff," Bullard said. "But every community has the right to equal protection, the right to have children be able to go outside on the playground without fear of pollution or contamination."
Bullard started working on environmental and climate justice issues in the 1970s after his wife filed a lawsuit to stop a new landfill from being placed in a predominantly black community in Houston. His research at the time found that a majority of the landfills in Houston were in close proximity to communities of color, leading to the development of maps showing areas of "environmental discrimination."
"When we talk about justice, fairness and equity, historically, there is a direct correlation between exploitation of land and exploitation of people," Bullard said. "Find me the most exploited places and I'll show you the most exploited people."
Bullard said addressing equity is a prerequisite to environmental and climate justice. "We can't just have sustainability. We have to build justice into sustainability to address unequal development, wealth gaps and health gaps," he said.
Bullard's 18 books address topics such as sustainable development, environmental racism, urban land use, climate justice, community resilience, regional equity and more. He previously served as dean of the Barbara Jordan-Mickey Leland School of Public Affairs at Texas Southern University. He also founded the Environmental Justice Resource Center at Clark Atlanta University and the HBCU Climate Change Consortium.
Prior to his lecture, Bullard met with Vanderbilt students and faculty, as well as students and faculty from Tennessee State University, Fisk University and Middle Tennessee State University and members of the Nashville community.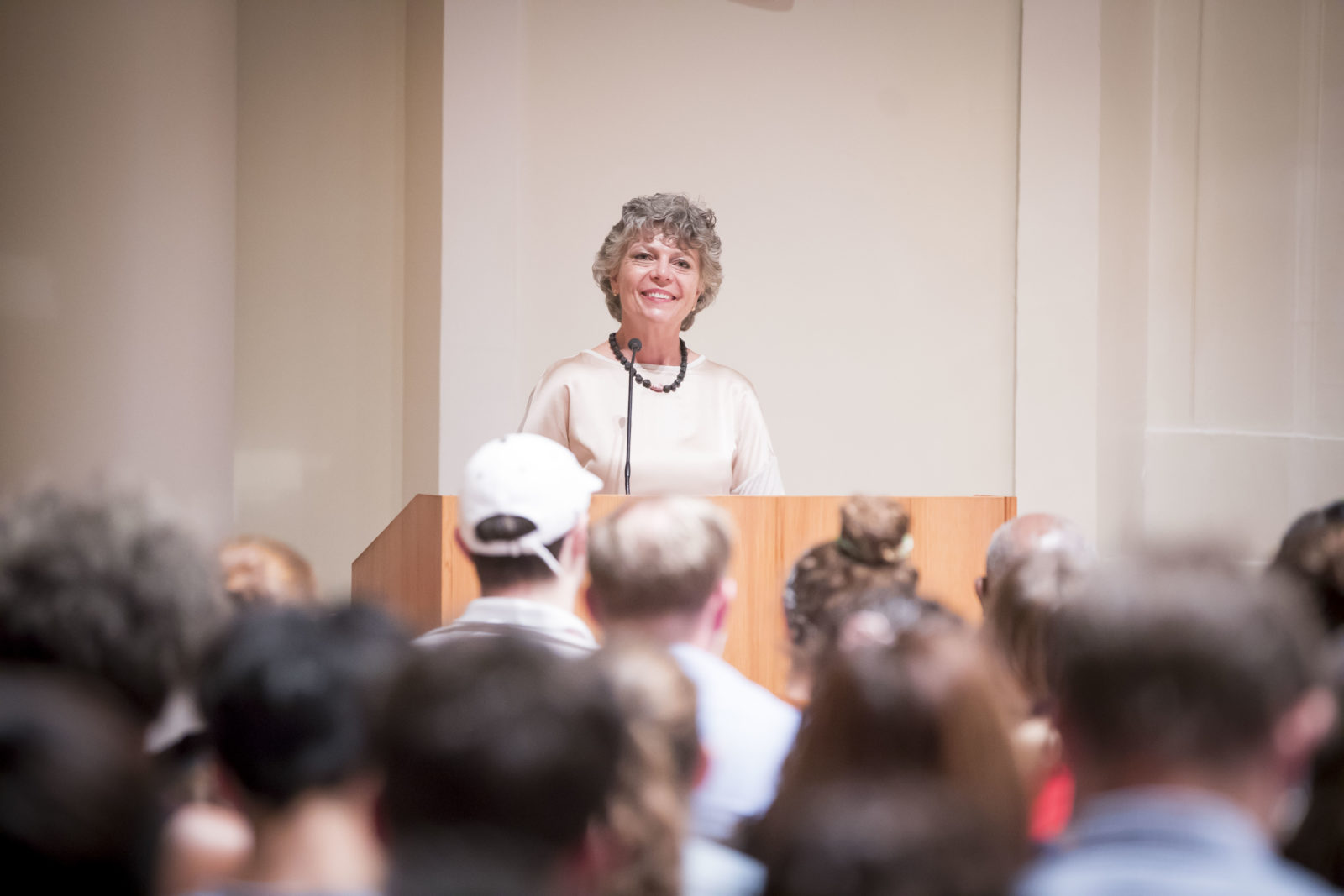 Bullard's visit to Vanderbilt marked the first time that the Chancellor's Lecture Series has partnered with the Dean's Diversity Lecture Series at Peabody College.
"This event underscores the priority that Peabody College and Vanderbilt place on environmental justice and the larger cause of social justice generally," said Camilla P. Benbow, Patricia and Rodes Hart Dean of Education and Human Development at Peabody College. "We are proud Professor Bullard's visit has provided an opportunity to collaborate with other local universities to strengthen the social fabric in our region."
Visit the Dean's Diversity Lecture Series website to learn more about the series. The Chancellor's Lecture Series will have its next event on Thursday, Oct. 31, featuring Pulitzer Prize-winning authors and presidential historians Doris Kearns Goodwin and Jon Mecham, who holds the Carolyn T. and Robert M. Rogers Chair in American Presidency at Vanderbilt.