Florida native Foster Swartz loves performing and making people laugh, and he felt a calling to tackle what he considers the single biggest threat to his generation: climate change. So Swartz combined his passions by writing and directing in a satirical beach-set musical titled "Global Warming: The Musical."
"Among my generation, on one side there's the feeling that anything we do right now won't be enough. And on the other side, we have to do something," said Swartz, an English and theatre double major and a member of the Class of 2021. "One of the things theater and cinema do so well is make people feel, and for me the only way to explore the deepest truths and the hardest pains of life is through comedy."
Swartz is hoping that his musical, which will be performed at 9 p.m. Oct. 11 and 12 in Sarratt Cinema, will make audiences laugh, think and then take steps to make positive changes that will help the environment.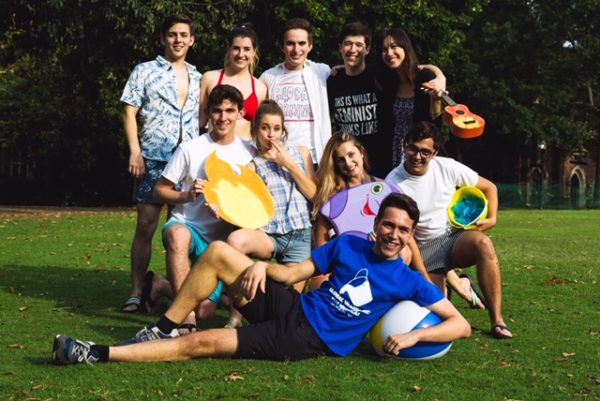 We'll fight global warming … someday

The main plot of Swartz's show has its beach-loving characters putting off fighting the villain Global Warming, who is killing off people throughout the musical while they're distracted pursuing other plot lines—all frivolous tropes found in classic beach romances.
"Beyond the global warming theme, Foster's also satirizing and dissecting toxic masculinity," said Swartz's independent study adviser Krista Knight, writer-in-residence in theatre, cinema and media arts.  "I see him putting in the personal in a way that feels vulnerable and really exciting."
Swartz hopes the musical will take on a life of its own in the vein of an environmental-themed Rocky Horror Picture Show.
"In my wildest dreams this is a musical that becomes a sort of cult show where people bring their water guns and buckets and they are ready to get wet from global warming as a way to deal with the pain and anxiety, but also to remind themselves that as a community, when we do come together, we can do anything," Swartz said.
Investing in the work

Soon after writing and composing his musical in spring 2019, Swartz set a performance date of that October and deposited his own money to rent Sarratt Cinema, where the show is being staged with volunteer student actors and musicians.
Then he was accepted into the Yale Summer Conservatory for Actors, where he was able to workshop his musical and have it performed.
"Having my words heard on a stage for the first time was an amazing feeling that I'll never forget," he said.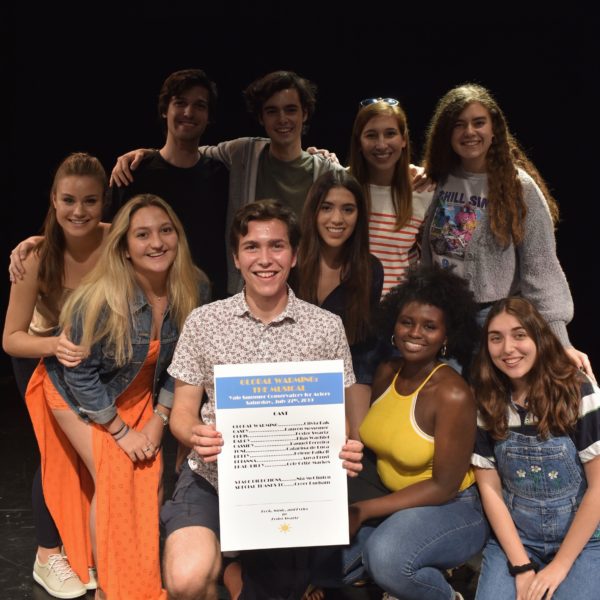 Beyond these performances, Swartz is launching the Iceberg Theatre Company on Vanderbilt's campus to help support student playwrights and bring original material to the stage.
"Not only is Foster an amazing writer, but he's also an incredible artistic entrepreneur," Knight said. "Taking this risk now gives him the opportunity to try something big in the microcosm of a college setting, which will prepare him to try again in New York or L.A."
Strong support

Swartz credits his father with instilling in him a sense of creative drive and constant support that empowers him to be courageous.
"I can't live unless I'm getting up every day knowing that I'm doing something about the problems in our country and our world," Swartz said. "Whether that's tied to my Jewish faith or not, I don't know. But I was raised with this understanding that the problems of your neighbor are also your problems, which leads to a lot of worrying!—and, fortunately, a lot of potential to make the world a little better."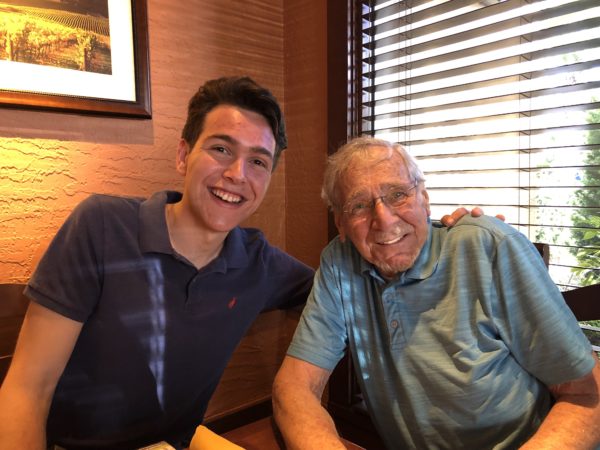 At home at Vanderbilt

Swartz said he was sold on Vanderbilt after his initial campus tour. "Everybody kept saying hi. I thought, 'Why is everyone saying hi to me? Do they think I'm famous?' But then I learned that's just how nice Vandy students are."
Swartz also felt Vanderbilt was a place where he could both be impacted and make an impact himself. He is a leader in the peer mentoring group VUCept as well as a producer for Vanderbilt Off-Broadway.
"Seeing that art is thriving and very celebrated here, combined with the professors I've had at this school, who are people that I will remember for the rest of my life, I've just become a better person here."