Nashville Metro Council honored Chancellor Emeritus Nicholas S. Zeppos and head baseball coach Tim Corbin during the council's Oct. 1 meeting with separate resolutions honoring their achievements at Vanderbilt and commitment to the city of Nashville.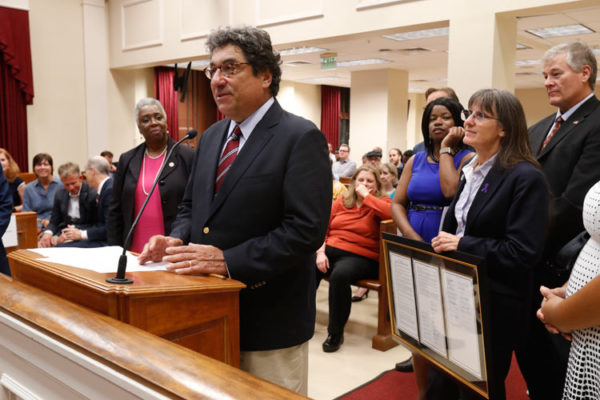 The resolution commending Zeppos, introduced by At-Large Council Member Burkley Allen, acknowledged his "outstanding leadership and many accomplishments as chancellor of Vanderbilt University." The council acknowledged the numerous accomplishments achieved at the university under Zeppos' leadership, including the launch of Opportunity Vanderbilt, the development of the FutureVU campus development framework, the reorganization of the university and Vanderbilt University Medical Center as separate entities, the university's support of the Nashville community and the emergence of Vanderbilt as one of America's best research universities.
"When our city does well that means Vanderbilt thrives," said Zeppos following the presentation of the resolution. "If Vanderbilt can contribute to the equality, education and spirit of a healthy, loving community, that is a beautiful partnership."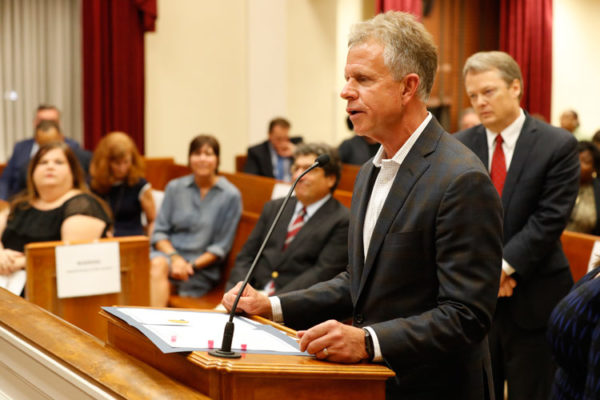 West Nashville Councilwoman Kathleen Murphy introduced the resolution in honor of Corbin and the VandyBoys, congratulating the coach and team on their historic 2019 season and College World Series championship. The resolution also acknowledged the entire coaching staff and 2019 Commodore baseball roster. Corbin accepted the resolution on behalf of the team.
"We appreciate the honor to Vanderbilt University, the athletic department and our baseball program," said Corbin. "Vanderbilt has allowed our team to be an extension of the university and a part of Nashville's growth."
The resolutions follow similar honors for Corbin and the VandyBoys from the Tennessee General Assembly in August. The General Assembly passed a resolution in honor of Zeppos in April.
The full text of both Metro Council honors is available on the Metro Council website.