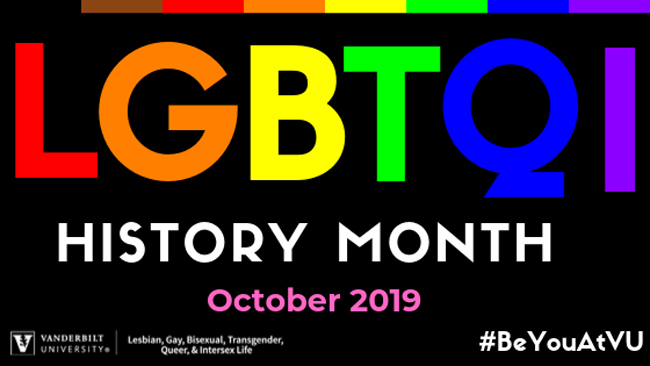 October marks LGBTQI History Month, recognized as a time of reflection, celebration and education nationally and at Vanderbilt. In recognition of the month, the Office of Lesbian, Gay, Bisexual, Transgender, Queer and Intersex Life, in collaboration with multiple campus and community partners, has developed a calendar of events for LGBTQI History Month, including educational programs, community events, film screenings, lectures, workshops and trainings.
'Kiki' documentary screening, Oct. 8, 7 p.m.
The Office of LGBTQI Life, in partnership with the Oasis Center, will host a screening of the documentary Kiki on Oct. 8. The screening will be followed by a discussion with film co-writer and Pose choreographer Twiggy Pucci Garçon. The event begins at 7 p.m. at the Oasis Center, 1704 Charlotte Avenue. Seating is limited; RSVP to attend at the event's Eventbrite page.
National Coming Out Day, Oct. 11, 11 a.m.-2 p.m.
Community members are invited to join the Office of LGBTQI Life on Oct. 11 for National Coming Out Day, which is celebrating its 31st anniversary nationally this year. The event will be held at Fleming Yard and the Rand Patio from 11 a.m. to 2 p.m.
P.R.I.D.E. training, Oct. 22, 12:30 p.m.
The P.R.I.D.E. program will host an educational training, "Pursuing Respect, Inclusion, Diversity and Equity," at 12:30 p.m. Oct. 22 in the E. Bronson Ingram Multipurpose Room (Room 1003). P.R.I.D.E. aims to create a visible network of support for lesbian, gay, bisexual, transgender, queer and intersex individuals and their allies by providing an avenue through which any member of the community can engage in ongoing education about gender, sexuality and intersecting identities. Register for the PRIDE training. 
Coinciding with LGBTQI History Month, and as part of the university's celebration of Asian Pacific American Heritage Month, the Chancellor's Lecture Series will host George Takei on Oct. 2. Takei will talk about his role in fighting for marriage equality in the United States and his complex story of American identity. His talk will be followed by a Q&A moderated by Vanderbilt senior Alyson Win and Kitt Carpenter, E. Bronson Ingram Chair of Economics and director of the LGBT Policy Lab. Doors open at 5:30 p.m; the lecture begins at 6:30 p.m in Langford Auditorium. Seating is first come, first seated. RSVP requested.
To learn more about all of the programs and events planned for LGBTQI History Month, visit the Office of LGBTQI Life website.