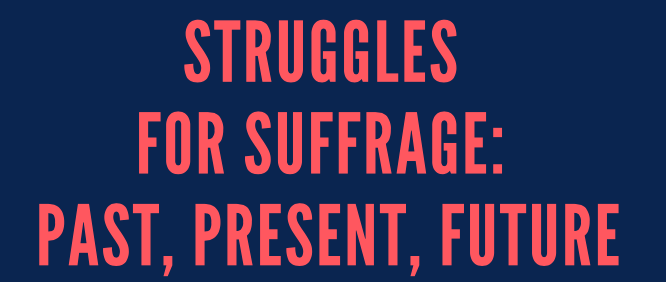 An Oct. 7 panel discussion will explore the connections between the women's suffrage movement and current voting rights activism. The panel, "Struggles for Suffrage: Past, Present and Future," is free and open to the public, and it will take place from 4:10 to 5:30 p.m. in the Great Room of E. Bronson Ingram College.
The discussion will focus on the struggles for suffrage in its many forms, including the U.S. women's suffrage movement, past and present felon disfranchisement, current voting initiatives in Nashville, and more.
The panelists will include:
Charlane Oliver, BS'05, founder and board president of The Equity Alliance and a staff member for U.S. Rep. Jim Cooper
Pippa Holloway, professor of history at Middle Tennessee State University
Tiffany Lewis, assistant professor of communication at Baruch College
The panel discussion will be followed by a Q&A with those in attendance, then a reception with light refreshments and an interactive digital display of artifacts on the history of women's suffrage.
Program sponsors include the Department of Communication Studies, the Program in American Studies, Women's and Gender Studies, the Robert Penn Warren Center for the Humanities, the Department of History, African American and Diaspora Studies, the Department of English, the Margaret Cuninggim Women's Center and the College of Arts and Science.
 For more information, contact Paul Stob, associate professor of communication studies at Vanderbilt.