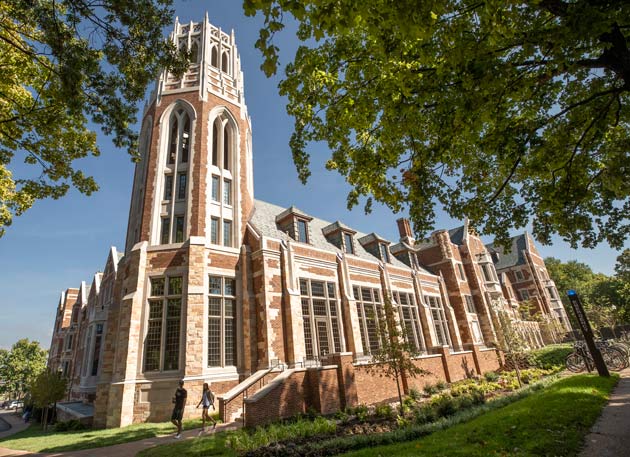 Vanderbilt's E. Bronson Ingram College has been awarded LEED Gold certification by the U.S. Green Building Council. The council's Leadership in Energy and Environmental Design Green Building Rating System is the nationally accepted benchmark for the design, construction and operation of high-performance sustainable buildings. Organizations must apply for the certification, which is recognized as proof that a building is environmentally responsible and a healthy place to live and work.
"We believe that community and sustainability are symbiotic, and this Gold LEED certification from the USGBC is a resounding affirmation of that approach," Interim Chancellor and Provost Susan R. Wente said. "I congratulate the leaders, faculty, students, staff, donors and partners whose vision and talents have created this remarkable residential college, which will provide sustainable living and learning spaces for generations of students to come."
E. Bronson Ingram College, which achieved LEED Gold status in the New Construction category, opened its doors to 340 residential students in August 2018. The college features state-of-the art accommodations inside stunning Collegiate Gothic-style architecture. The building includes living spaces, a communal dining hall, a great room, a performing arts rehearsal studio and three courtyards.
The responsible environmental design features of the college closely align with Vanderbilt's core missions of teaching, research and discovery through the Academic Strategic Plan. The green design also builds upon the university's ongoing commitment to investing in sustainable and smart infrastructure through FutureVU, a holistic planning process for developing spaces on campus and investing in initiatives that support the people who live, work and learn in them.
"As we continue on this journey of transforming Vanderbilt's residential education, the guiding principles of FutureVU ensure we do so in a way that aligns with our mission," Vice Chancellor for Administration Eric Kopstain said. "This LEED Gold designation shows we can create state-of-the-art facilities that are also environmentally responsible and efficient."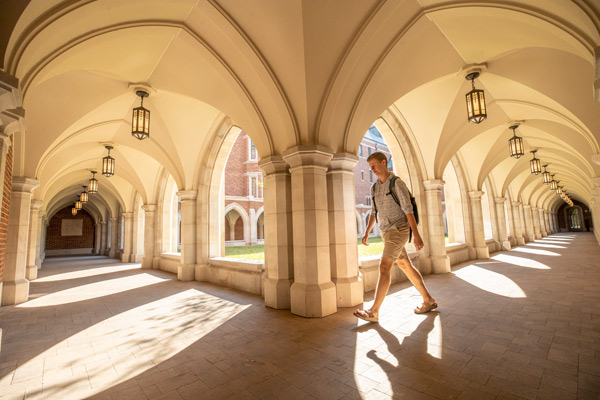 Some notable aspects of the college and its building process that helped achieve the LEED Gold certification include installing high-efficiency flush and low-flow plumbing fixtures to reduce potable water use; utilizing high-performance building mechanical systems to save energy; diverting construction waste from the landfill; choosing building materials with recycled content; sourcing building materials from the nearby region; using low-emitting materials for paints, coatings and composite wood products; increasing natural light and improving campus views from regularly occupied areas; and creating green and open spaces that are friendly to pedestrians.
With the addition of E. Bronson Ingram College, Vanderbilt has completed a total of 21 LEED-certified new construction or renovation projects since 2007. Other LEED-certified projects include The Commons Center, Stambaugh House, Hank Ingram House, Murray House, Central Library, The Commons Center third floor build-out, the VANTAGE Lab, Warren and Moore Colleges, Alumni Hall, the Engineering and Science Building, Crawford House, Sutherland House, Gillette House, Benson Hall, the Library Archives, the Vanderbilt Recreation and Wellness Center Fieldhouse, Chef James Bistro in Rand Dining Hall, and the Eskind Biomedical Library.
For more information about Vanderbilt's sustainability efforts, visit the FutureVU Sustainability website.