Media Inquiries
Latest Stories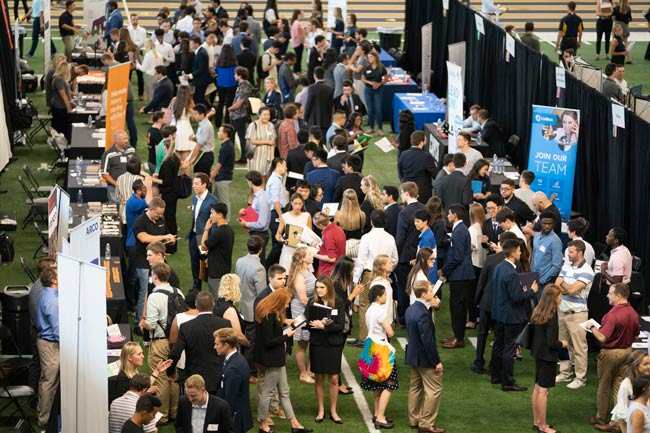 The Vanderbilt Career Center kicked off the fall semester with a series of events in September designed to provide students with opportunities to improve their résumés, network with potential employers, discuss inclusivity in the workplace and more.
The two-day Résumé Kickoff Sept. 5 and 6 brought 442 students to the Career Center, located in the Student Life Center, to get guidance on their job search materials.
Two SLAM events—casual, speed-networking opportunities where employers present students with brief pitches about their companies, followed by breakout sessions with students who wish to continue the conversation—were held Sept. 10. At the Business SLAM, 285 students met with 24 employers such as Colgate-Palmolive, the Nashville Predators, Cancer Treatment Centers of America and Citi. At the Engineering SLAM, 428 students met with 25 employers including Amazon Robotics, Booz Allen Hamilton, Deloitte and Merck.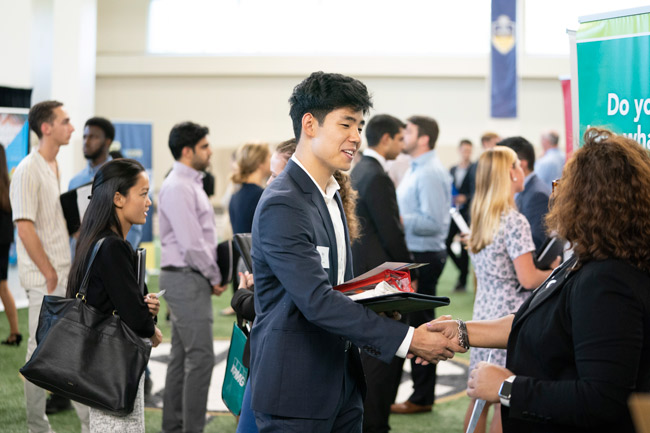 The fall Career Fair on Sept. 11 featured 153 employers in attendance—making it the largest Career Fair yet—from top companies like AllianceBernstein, Amazon, ExxonMobil, Defense Intelligence Agency, Lilly USA, Microsoft Corporation, Teach for America and Vineyard Vines. The daylong event held in the Rec Center Fieldhouse attracted 1,927 students from all undergraduate classes.
The Career Center hosted a new event this year called Career Conversations: Inclusivity in the Workplace. Some 32 students attended the Sept. 11 lunch and question-and-answer session with representatives from companies like Major League Baseball, the Federal Bureau of Investigation, the National Museum of African American History and Culture and more.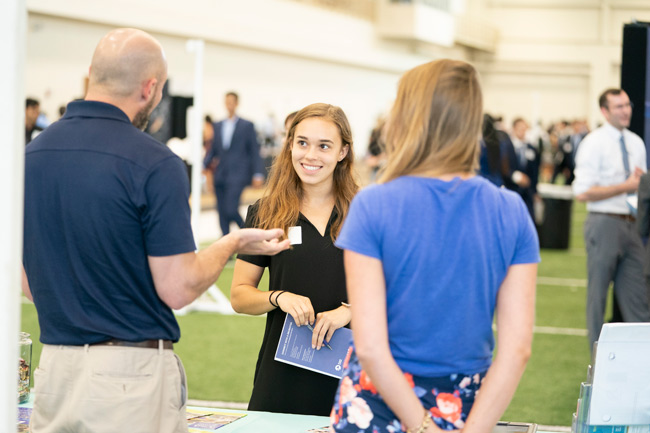 On Sept. 12, the Career Center hosted an Interview Takeover, where students participated in more than 300 interviews with employers such as the Board of Governors of the Federal Reserve System, KPMG, Procter & Gamble, Abercrombie & Fitch and National Instruments.
The Career Center serves undergraduate students enrolled full-time in all Vanderbilt schools and colleges, and offers career coaching to recent graduates (0-2 years out). In addition, the center provides ongoing opportunities for students to learn about and explore professional opportunities throughout the academic year, including career coaching, workshops, career panels, career fairs, industry treks and more.
Students planning for their future as it pertains to career, graduate school or potential fellowships are encouraged to make an appointment with a career coach via DoreWays.