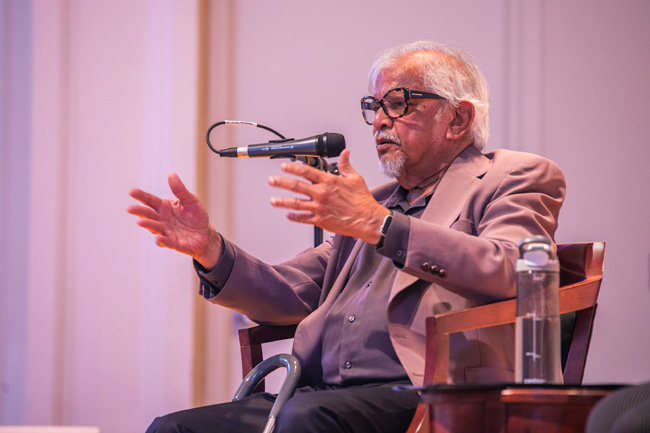 Arun Gandhi, a world-renowned sociopolitical activist, journalist, author and the grandson of Mohandas "Mahatma" Gandhi, shared the ways he works to foster peace in the world and lessons he learned from his grandfather during the Dean's Diversity Lecture at Vanderbilt Peabody College of education and human development Sept. 16.
Interim Chancellor and Provost Susan R. Wente introduced Gandhi, noting the importance of his message to the Vanderbilt community. "Given the many divisions that we know exist, and the injustices that exist in society overall, our being able to come together at events like this can have a powerful effect as we focus on what we all strive for—peace," Wente said. "If we work together, we can achieve our mission of pressing forward for positive change on our campus, in our community and in our world."
During his keynote, Gandhi spoke about what he learned from his grandfather, famous for his role in using nonviolence in India's successful bid for independence from Great Britain. "My grandfather said that anger is just like electricity. It's just as useful and powerful, but only if we use it intelligently, as it can also be deadly and destructive if we abuse it," Gandhi said. "If we learned how to understand anger and channel that energy constructively, we would be able to reduce violence to a substantial extent."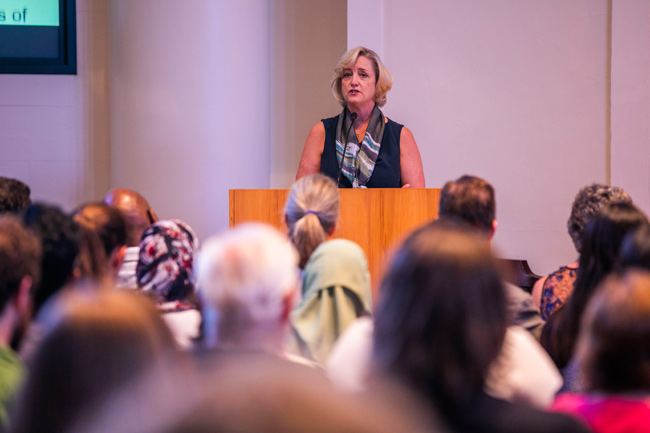 Gandhi also spoke of the importance of building positive relationships and how they can further the values of nonviolence. "Relationships in a culture of nonviolence are built upon principles of respect, understanding, acceptance and appreciation," he said. "We have to respect ourselves, respect each other and respect all of the connections between us. When we respect them, then we will understand who we are, what we are and why we are here on the earth."
He shared that while most are only concerned about the physical violence that exists in our world, passive violence must also be addressed, echoing a well-known quote of his grandfather's on creating change. "We commit passive violence all the time, every day, consciously and unconsciously, and that generates anger in the victim, who then resorts to physical violence to get justice," Gandhi said. "Passive violence fuels the fire of physical violence. If we want to put out the fire of physical violence, we have to cut off the fuel supply, and since the fuel supply comes from each one of us, we have to become the change we wish to see in the world."
Gandhi noted that he ultimately sees himself as a farmer, working to plant seeds of peace in the world. "I call myself a peace farmer. Like a farmer goes out into the fields and plants seeds and hopes and prays that he gets a good crop, I go out and plant seeds of peace, and I hope and pray that I get a good crop of peacemakers."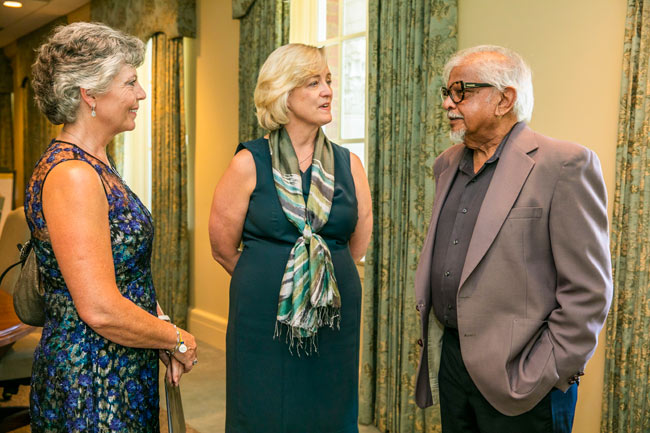 At the end of the program, Sharon Shields, associate dean for professional education at Peabody College, presented Gandhi with a proclamation from Tennessee Gov. Bill Lee recognizing Gandhi's visit to Nashville on the eve of the 150th anniversary of Mahatma Gandhi's birth. Shields also presented a proclamation from Nashville Mayor David Briley, who recognized Saturday, Sept. 14 as "Be the Change Day" in Nashville.
Earlier in the day, Gandhi led a peace vigil on Magnolia Lawn for members of the Vanderbilt community that included remarks from Camilla P. Benbow, Patricia and Rodes Hart Dean of Education and Human Development at Peabody College.
Visit the Dean's Diversity Lecture Series webpage to learn more about the series.
The next Dean's Diversity Lecture will feature environmental justice pioneer Robert Bullard on Tuesday, Oct. 1, in the Wyatt Center Rotunda. The event will be co-hosted by the Chancellor's Lecture Series.