Athlete, actor and activist Terry Crews shared his personal story as part of the Chancellor's Lecture Series at Vanderbilt University Sept. 9, encouraging increased respect and compassion for others, which he has found to be far more powerful tools for personal growth than acting in a Hollywood movie.
Interim Chancellor and Provost Susan R. Wente opened the event by welcoming the audience to the first of five signature events in the fall 2019 Chancellor's Lecture Series, which connected to topics covered by Crews. "This year's theme, 'Culture of Respect, Culture of Caring,' connects deeply to our Vanderbilt values," Wente said. "Our mission truly comes to life by treating each other with compassion, by being open to other viewpoints and by fostering inclusion."
More than 1,300 students, faculty, staff and members of the Nashville community filled Langford Auditorium and an overflow space in Light Hall for Crews' talk, "Reframing Masculinity and Gender Equality."
Crews devoted a significant portion of his remarks to the challenges in life that he has battled and overcome, including a pornography addiction. He told the crowd that addressing these issues and speaking out about them have ultimately made him a better person. He also offered his own definition of masculinity. "Being a man means standing up for those who can't," Crews said. "Being a man means admitting to fault and being vulnerable."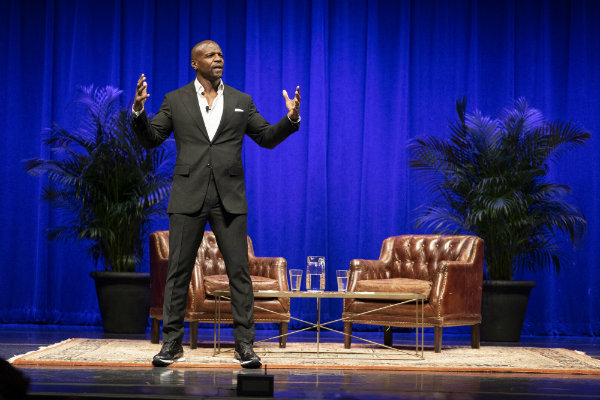 During his lecture, Crews spoke candidly and with humor for nearly 50 minutes about his varied life experiences, beginning with his childhood in Flint, Michigan. He witnessed repeated domestic violence by his alcoholic father against his mother. He learned that there were different conversations and codes of behavior at church, school and home. Crews began to look at pornographic magazines as a way to relieve stress.
As a young student, he determined that he would use football to escape the issues in the home life of his youth. He went on to receive a full scholarship to play at Western Michigan University, where he met his future wife, Rebecca King, who he married in 1990 when he was 20.
While in college, Crews knew that he eventually wanted to be an actor and told his wife that they would move to Hollywood one day following his planned career in football.
Crews was drafted by the Los Angeles Rams in 1991 and played in the NFL as a defensive end and linebacker for seven years. Then he pursued an acting career—appearing in several major motion pictures, such as The 6th Day and The Expendables franchise, and television programs like Brooklyn Nine-Nine and Arrested Development. He is currently the host of America's Got Talent.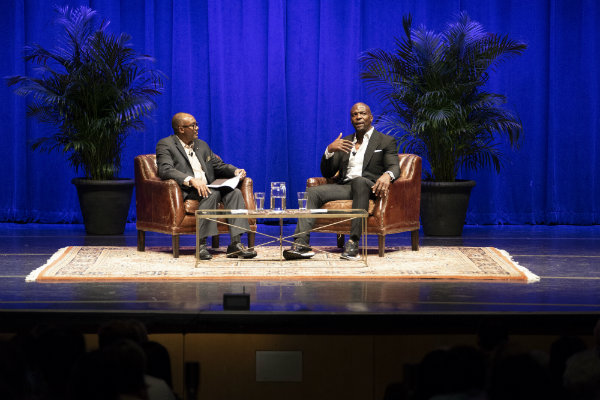 During his lecture, Crews noted that, despite all of his career success, his wife could sense that he was not happy. Crews finally divulged a long-kept secret about infidelity and his reliance on pornography. His marriage nearly ended, but he went into rehabilitation for the pornography addiction, turning around his life. He said that the courage his wife showed when he admitted his addiction, leaving him until he went through rehabilitation, saved their marriage.
He wrote a memoir in 2014 called Manhood: How to Be a Better Man—Or Just Live With One.
Crews also touched on his lawsuit against Hollywood agent Adam Venit, whom Crews accused of sexually assaulting him at a 2016 party. Crews has since become a vocal supporter of the #MeToo movement while going public with his own story. During the Q&A following his lecture led by Interim Vice Provost for Strategic Initiatives William H. Robinson, Robinson asked where Crews found the courage to tell his own story about being sexually assaulted when it could hurt his career advancement in Hollywood.
"I came to the conclusion that I needed to 'kill my pride,' to be vulnerable and speak out when I knew something was wrong," he said. Crews encouraged the audience to "find and own your personal stories. I encourage people to find someone you trust to be vulnerable with and tell them. They will support you, and that is the true definition of intimacy."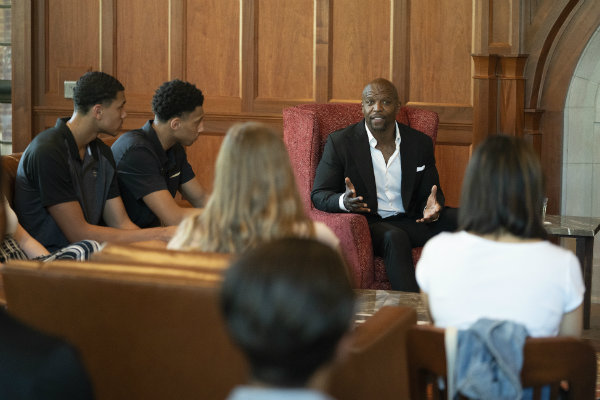 Earlier in the day, Crews also visited with students in the E. Bronson Ingram College Great Room, including those involved with Project Safe, student-athletes and students from the Department of Women's and Gender Studies. Crews' visit to campus was a collaboration with YWCA of Nashville and Middle Tennessee. He also spoke at the organization's SHIFT conference, organized by Vanderbilt alumnus Shan Foster, vice president of external affairs and AMEND Together at the YWCA.
The Vanderbilt Chancellor's Lecture Series strives to connect the university and the Nashville community with leaders and visionaries who are shaping our world. George Takei, an actor best known for his role as Hikaru Sulu in the classic television series Star Trek and an LGBTQI activist, will deliver the next Chancellor's Lecture on Oct. 2.
For more information about the series, visit the Chancellor's Lecture Series website, email cls@vanderbilt.edu or follow @VU_Chancellor on Twitter and Instagram.