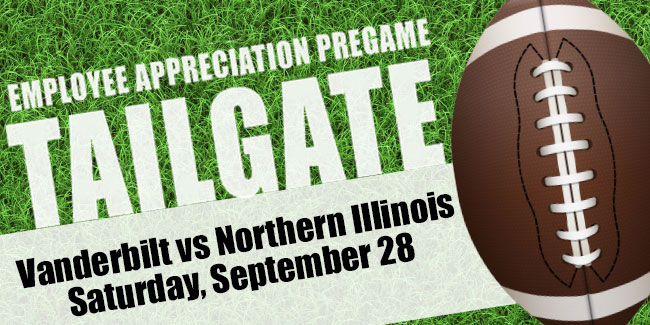 Vanderbilt University employees and their families are invited to an exclusive pregame tailgate on Saturday, Sept. 28, prior to the Vanderbilt vs. Northern Illinois football game. The pregame tailgate will take place three hours prior to kickoff. Please check the website after Sept. 17 for the game start time.
Online ticket registration for the football game and pregame tailgate party is closed. All tickets have been claimed. If you'd like to be placed on a waiting list, please send an email to employeeappreciation@vanderbilt.edu.
Football tickets will be available for pickup at the pregame tailgate event only on the day of the event, Sept. 28; there is no early pickup. Employees must present a gold Vanderbilt University ID with the iclass symbol to receive tickets. Any reserved tickets not claimed 30 minutes prior to kickoff on Sept. 28 will be made available on a first-come, first-served basis.
Vanderbilt University employees are encouraged to wear their black and gold. Free tickets will not be given to anyone wearing red and black or the Northern Illinois University logo.
For more information, visit the Tailgate 2019 website, or email employeeappreciation@vanderbilt.edu.