Media Inquiries
Latest Stories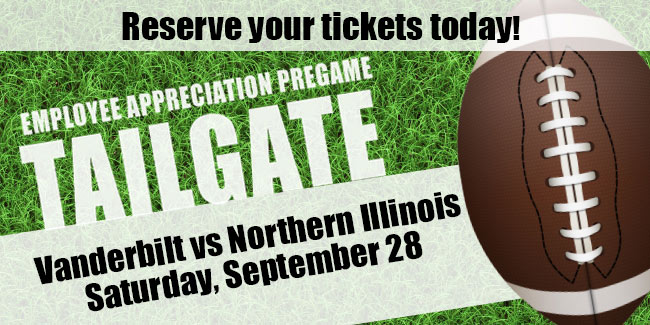 Vanderbilt University employees and their families are invited to an exclusive pregame tailgate on Saturday, Sept. 28, before the Vanderbilt vs. Northern Illinois football game. The pregame tailgate will take place three hours prior to kickoff, the time of which has yet to be announced. Please check the website after Sept. 17 for the game time.
Online registration for tickets to the football game and pregame tailgate party begin TODAY, Aug. 30, at 10 a.m. and are available on the Tailgate 2019 website. Tickets are free to university employees and their families but must be reserved in advance. There are a limited number of tickets available, and each employee may reserve up to four tickets.
For more information, visit the Tailgate 2019 website or email employeeappreciation@vanderbilt.edu.