Interim Chancellor and Provost Susan R. Wente pledged to continue the significant investments in faculty and in the student experience that have laid Vanderbilt's strong foundation during her Fall Faculty Assembly address on Aug. 22.
"Vanderbilt is, by nearly all measures, the strongest it has been at any moment in its 146 years," Wente said in her first major address in the role of interim chancellor.
She announced new initiatives—including an Interim Chancellor's Diversity Council and a University Arts Council—and provided progress updates on many others that have been inspired by the Academic Strategic Plan during her presentation at the Student Life Center.
Faculty Senate Chair John McLean, Stevenson Professor of Chemistry, also addressed the faculty, encouraging them to stay engaged with the Faculty Senate. Associate Professor of Psychology and Chancellor's Public Voices Fellow Suzana Herculano-Houzel gave the faculty presentation, sharing her research on how the evolution of human brain function has distinguished human beings so significantly from other animals.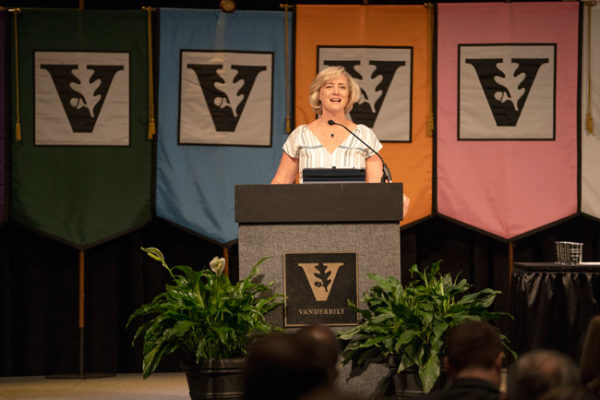 Wente began her remarks to the hundreds of faculty members in attendance by paying tribute to Chancellor Emeritus Nicholas S. Zeppos for his outstanding leadership and stewardship over the past 11 years. She touched on the university's very strong financial position and philanthropic support. Vanderbilt had record fundraising results in fiscal year 2019—the year that just ended—with the best ever in annual gifts and the highest ever in new money and documented bequests. In addition, the university continues to have the lowest debt burden compared to its private university peers.
Wente also credited the university's unprecedented strength and innovation with attracting top students to the university. "We are recruiting the most accomplished and qualified students that we have ever admitted to Vanderbilt through Opportunity Vanderbilt," she said.
She also shared three leadership principles—trust, transparency and teamwork—that will guide her work in the days ahead, just as they have shaped her ongoing role as provost and vice chancellor for academic affairs. She noted that to achieve excellence, there must be collective trust, built through relationships and communication, and that transparency is critical to trust. She committed to transparency and sharing the values that are driving the university's decisions and processes. She noted that her third guiding principle, teamwork, is woven into the fabric of the university's culture. "Faculty reach across disciplines and reach across schools to jointly teach, engage and offer one another their help and their expertise," she said.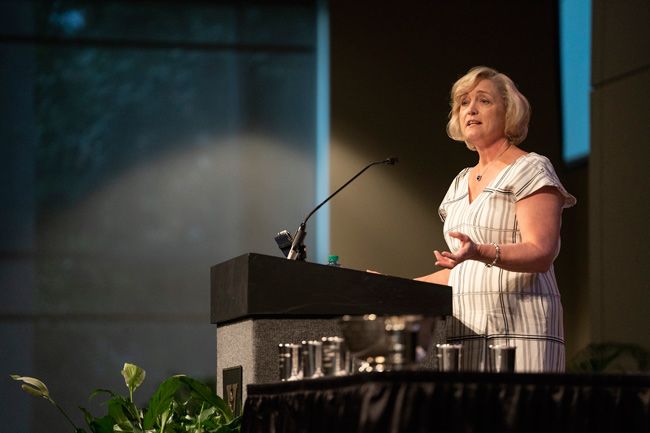 Wente pointed to the Academic Strategic Plan as an excellent illustration of what happens when trust, transparency and teamwork come together powerfully. Among the plan's accomplishments over the past six years: hundreds of new endowed chairs to recruit and retain exceptional faculty; creation of new funding mechanisms to support research and teaching in every school and college; $300 million to build an endowment for graduate education and research; and the launch of Trans-Institutional Programs (TIPs)—awarding $38 million to 59 projects involving more than 500 faculty so far, with a sixth call for proposals slated for this fall.
Faculty development continues to be a strong priority for Wente. She cited the success of the Chancellor Faculty Fellows program, which has provided support to 63 faculty members over five years, and plans to grow the Dean's Faculty Fellows program. Additionally, the first cohort of the Chancellor's Public Voices Fellows began working with the Division of Communications this summer to develop highly customized plans for amplifying their research.
Wente stressed the importance of furthering a diverse and inclusive university culture by announcing plans to launch a new Interim Chancellor's Diversity Council that William Robinson, interim vice provost for strategic initiatives, and André Churchwell, M.D., interim vice chancellor for equity, diversity and inclusion and chief diversity officer, will co-chair. "This advisory body will focus on guiding our efforts for further strengthening and supporting our inclusive community," she said.
Wente pledged to work closely with the steering committees for the Provost's Women's Initiative and the Staff Women's Initiative, which are compiling an evaluation and recommendations for the next steps forward.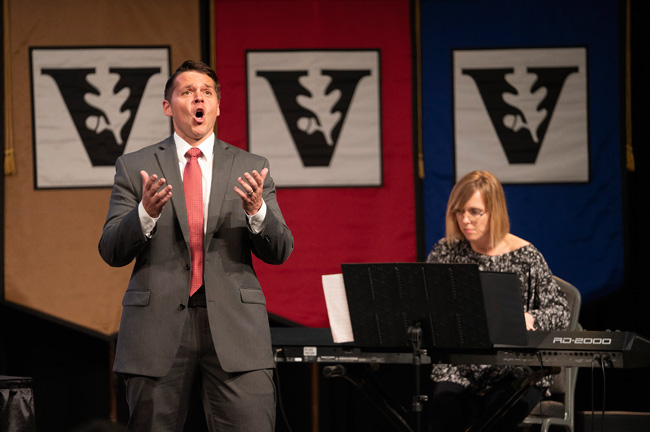 To promote efforts to expand the university's focus on the arts and humanities, Wente will launch a University Arts Council, which will be an advocate for all arts at Vanderbilt and also help the campus expand its reach into the highly creative Nashville community. The Arts Council's work will be complemented by the Arts and Humanities Rapid Response Micro-Grant Fund that was launched last year and an online Arts and Humanities portal that just went live showcasing creative scholarship.
Wente noted that in response to faculty feedback about the university's need to invest in data science and digital resources across all disciplines, the Data Science Institute was launched, and a new data science master's program just welcomed its first class. In addition, new faculty-driven committees are identifying areas for investment with digital resources and services as well as online education.
The launch of new and innovative programs would not slow down during the leadership transition, Wente emphasized. She cited the new GlobalVU initiative, which grew out of the International Strategy Working Group and has progressed to a TIPs initiative led by Ingrid Weurth, Helen Strong Curry Professor of International Law, and Ted Fischer, Cornelius Vanderbilt Professor of Anthropology. "We have the building blocks to take ourselves to the next level in terms of international recognition," Wente said.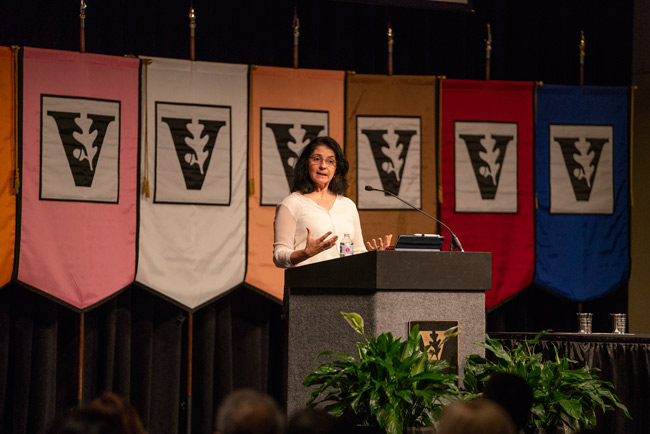 She pointed to a new Global Fellows Program, through which faculty, academic departments, centers and institutes will be able to host distinguished guests and scholars on campus—from experts with a highly specialized research focus to prominent figures who have an impact on the global stage. The Global Fellows Program will host those guests in the 20-story tower in "Residential College A," currently under construction along West End Avenue.
Along with the new residential colleges, Wente highlighted investments in new and renovated building projects either underway or in the planning stages. "We're beginning to work on the first phase of a new graduate and professional student village, which will be located on Broadway between Lyle and 20th avenues," she said. "The plan is to have it open with the first 600 beds in 2021."
Wente said every school and college is evaluating and making plans for much-needed capital improvements, inspired by their individual missions but all sharing in FutureVU's commitment to environments where excellence can emerge and be sustained. She also talked about beginning renovations for the building at 1101 19th Ave. S., which will bring together many of the university's priorities in one space. A digital commons, a home for the Center for Digital Humanities, a new home for the Faculty Senate and a new faculty commons for faculty development and other gatherings are planned.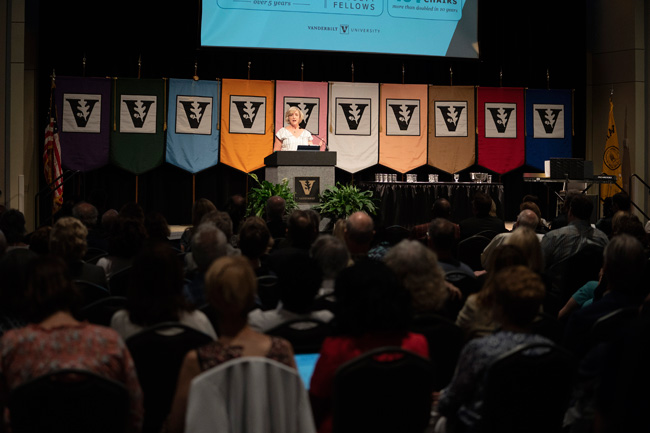 The interim chancellor concluded her remarks by urging the faculty to apply their individual strengths to the collective mission, guided by trust, transparency and teamwork along the way.
"Throughout it all, amid whatever comes our way, I am committed to continuing to listen and learn, and to be an advocate for you (the faculty), our students, our staff and our great university," Wente said. "It is an honor to be doing this tremendous work together."
Watch the complete 2019 Fall Faculty Assembly. Wente's address begins at the 5:15 mark.
Kate Derrick contributed to this story.