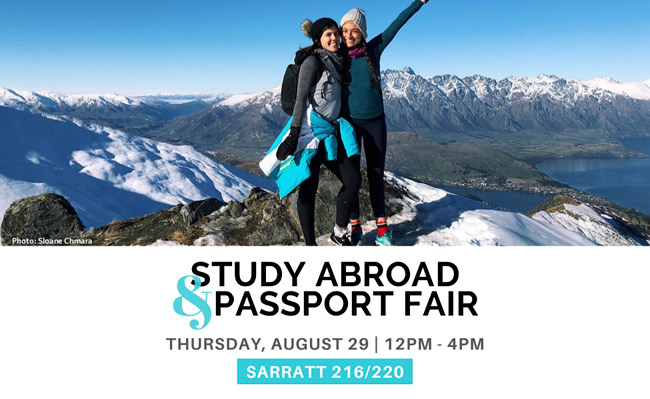 The Study Abroad and Passport Fair, sponsored by the Global Education Office, is scheduled from noon to 4 p.m. Thursday, Aug. 29, at Sarratt Student Center, Room 216/220.
With the right planning, any major can study abroad. Vanderbilt offers more than 100 study abroad programs—come see which is right for you.
Earn course credit in 40 countries and on six continents
Study spring, summer or fall
Take your financial aid package with you abroad
Learn about summer scholarship opportunities
Learn more about your study abroad options by meeting with program providers, past participants, faculty and Global Education Office staff.
In addition, representatives from the United States Postal Service will be in attendance to facilitate passport applications (click here for information and requirements). Get your passport photo taken at the fair for $15.
For more information, visit Anchor Link or Facebook.
To learn more about the Global Education Office and its programs, visit vanderbilt.edu/geo or call 615-343-3139.