Media Inquiries
Latest Stories
By Shayla Byrd, BA'05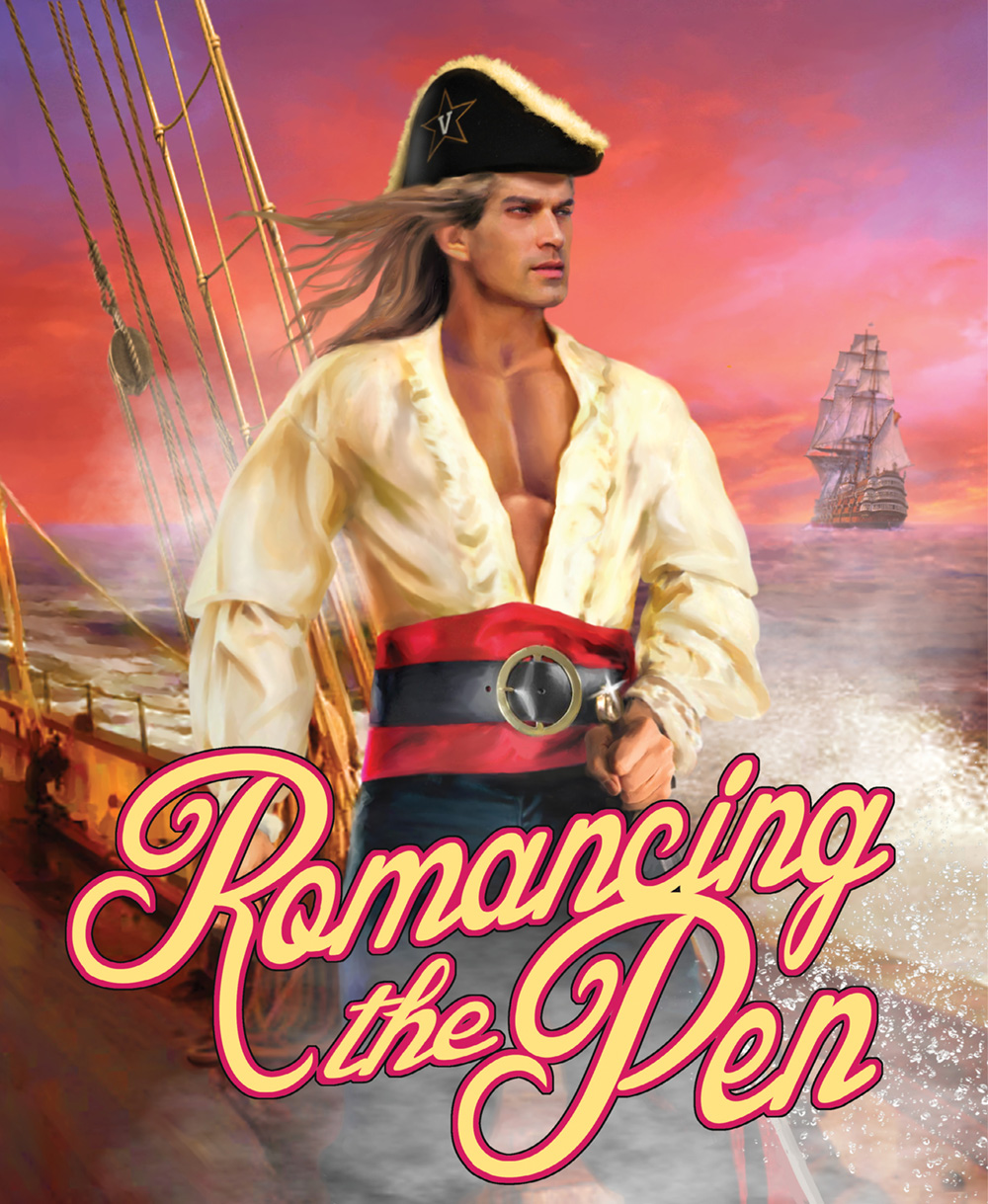 By most measures Gavin Ward is a typical premed student. A senior chemistry major who works part time as a certified EMT, Ward is busy these days preparing for the MCAT and finalizing the list of medical schools he'd like to attend after graduation. But when he isn't in the lab or parked in front of a textbook, chances are he's exploring a different kind of chemistry—the amorous sort that exists between characters on the written page.
This summer Ward was busy putting the finishing touches on his first book, Our Promise, a romance novel about a couple torn apart by World War II.
"I didn't know I was writing a book when I started it," says Ward, who also plays rugby for the Vanderbilt club team in his spare time. "I went to a cafe to write a poem and ended up writing a short story. Then that short story turned out to be the prologue to my book."
Ward began balancing the left-brain activities of his classwork with creative writing when he was a freshman. His muse? A lost love, of course.
"I broke up with my long-distance high school sweetheart over a Skype call, and it broke my heart," says Ward, who's from Temecula, California. "So writing became an outlet for me to almost feel like I was talking to someone, communicating the things that I'd always wanted to say."
What started as a way for him to unplug and process his emotions has turned into an alternative career opportunity. Ward currently is working with an agent to shop his manuscript to publishers, and he hopes his novel will be in bookstores before he finishes med school. But to be clear, he fully intends to continue following both paths for as long as he can.
"I'm a premedical student," he says. "I'm a writer. I'm both."
Ward isn't the only member of the Vanderbilt community who has found a calling in writing romance novels. Several alumni have enjoyed success in the genre, drawing upon their varied experiences and interests to bring their stories to life. And they all point to their time at Vanderbilt as helping spark their imaginations and kindle the passion for their creative pursuits.
HAPPILY EVER AFTER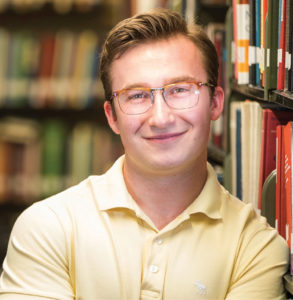 Mention the words "romance novel," and the first thing that comes to mind for many is the clichéd book cover image of a bare-chested hero embracing a swooning heroine—what stereotypically might be considered guilty-pleasure reading enjoyed largely by women. But in fact the genre has evolved to encompass a much wider audience and broader range of plotlines than that trope would indicate.
There are now multiple subgenres, such as romantic suspense and science fiction romance, and within these subgenres are an increasing number of titles that reflect the diverse spectrum of relationships across society, including those within the LGBTQI community. As the genre has widened its appeal, romance publishing has become a billion-dollar industry, with romance novels accounting for a third of all mass-market fiction books sold.
But what is it exactly that makes a novel a romance? Just because love is a component of the plot doesn't necessarily mean it falls under that genre, explains New York Times best-selling author Laura Griffin, BA'96 (known as Laura Griffis as a Vanderbilt student). Rather, it has to do with how the plot resolves itself.
"They call it the 'happily ever after,'" says Griffin, whose "Tracers" series is a blend of suspense and romance. "There's some sort of resolution to the relationship at the end of the book."
Griffin turned her career as a journalist—first at the Nashville Banner and later as a freelancer when she moved to the Philippines with her husband—into a successful romance career. She's published 20 books in all. Two of them have won RITA awards—the highest award of distinction in romance fiction—and her novel Desperate Girls (2018, Gallery Books) was named one of the Best Books of 2018 by Publishers Weekly. Her latest novel, Stone Cold Heart (2019, Pocket Books), was published in March and is the 13th in her "Tracers" series.
"I was always drawn to crime stories as a journalist," says Griffin, who currently resides in Austin, Texas. "So when I started writing fiction, I gravitated toward suspense and crime fiction."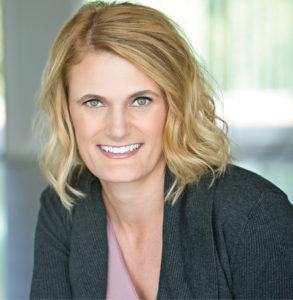 Griffin is precise when it comes to details and uses each new story as an opportunity to do in-depth research about a particular field.
"That's when my newspaper background kicks in," she says. "I like to interview people with the job of the character in the book so that I can really get a feel for their world. My book that just came out is about a forensic anthropologist, so I spent a lot of time talking to forensic anthropologists about their work and what they do."
The Rev. Beth Pattillo, MDiv'90, is another alumna who has found a specialized niche within the romance genre. But hers is a far cry from the crime scenes and forensic labs of Griffin's novels. The interim dean of the Disciples Divinity House at Vanderbilt, Pattillo draws upon her Christian faith for creative inspiration.
"My whole writing career has basically been trying to find a middle ground between being a romance writer and being a person of faith," Pattillo says. "I was not evangelical enough for the Christian book market because I'm a progressive Christian and was not sexy enough for the direction that the romance market was taking."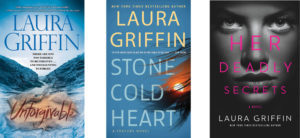 Despite the difficulties, her first novel, Heavens to Betsy (2005, WaterBrook), a romantic tale about a single female minister who lives in Nashville, won a RITA award and was turned into a made-for-television movie with the help of a music publisher who attended her church.
"The movie was filmed in this little town of Chilliwack, British Columbia, and I found a story in the local paper about how this movie was filming in town and was a boon to their economy," Pattillo recalls. "So if nothing else, I've been a boon to the economy in Chilliwack. And it was kind of crazy to think of these actors whose job it was to say words that I'd made up in my head."
Pattillo has always had the full support of her church and would never write anything that she'd feel uncomfortable sharing with her congregation. But she's the first to admit that she didn't choose an easy path.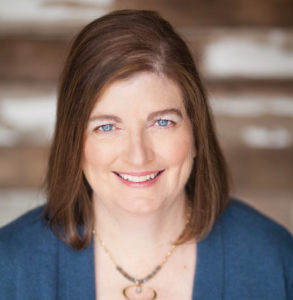 "To me, the stories are more about the emotion and the connection between the characters," she says. "I guess somebody could find fault if they wanted to. But you know what? When you're a minister, you can breathe and someone will find fault with that!"
Like Pattillo, Amanda Usen, BA'94, is an alumna who's managed to find a literary home in the middle of two seemingly disparate fields. She's published 11 books and used her career as a chef as inspiration for her first novel, Scrumptious (2012, Sourcebooks Casablanca).
"When I graduated from Vanderbilt, I took a year off to apply to M.F.A. programs because I thought I was going to be a poet," says Usen, who double-majored in psychology and creative writing with a concentration in poetry writing. "[Centennial Professor of English] Mark Jarman had a huge influence on me during my time at Vanderbilt. If he hadn't encouraged my poetry writing, I'm not sure I would have had the confidence to attempt a novel."
When the M.F.A. route didn't work out, Usen applied to the Culinary Institute of America in Hyde Park, New York, where on day one she met the man who would become her husband. She soon began publishing "foodie" romance novels that were loosely based on their love story.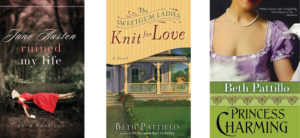 Encouraged by her success, Usen attended her first National Conference of the Romance Writers of America and started exploring steamier plotlines, writing erotic novellas. At the time she was teaching pastry arts classes, so she published her racier stuff under the pen name Miranda Baker, which combined her maiden name and a soundalike of her first name. But now that she's done teaching, she's consolidated all her work under her real name and sells her books on Amazon. She no longer has any qualms about how anyone perceives her writing.
"Everyone who knows me, including my mother, knows that I have a 'dirty' mind. So I'm not surprising anyone," says Usen, who now lives in western New York with her family. "I'm a grown-up, and I'm proud of my books."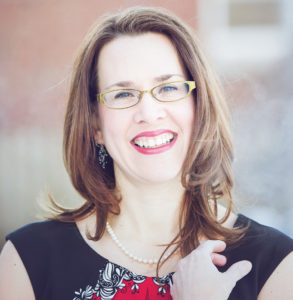 THE POWER OF STORY
Usen credits her time at Vanderbilt for helping her find the confidence to embark on a writing career. There are plenty of places for creative-minded people at the university, she says. In her case it was McGill Hall, a residence hall where students and faculty members engage in discussion on various thought-provoking topics as part of a cooperative program with the Department of Philosophy.
"That's where I found my tribe," Usen says.
Another creative outlet for her was working on costumes for the Vanderbilt theater program. In fact, the theater was where she met her best friends, a few of whom attended her wedding in New Orleans years later.
Griffin also keeps up with her friends from college and recalls her time on campus with fondness. In particular, she points to her junior year when she eagerly began writing for the Vanderbilt Hustler in her free time. That activity set the stage for the career to come, she says.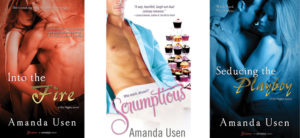 Being a journalist-turned-romance-novelist may not be a conventional path to success in the genre, but then again neither is being a romance-writing chef, minister or premed student. For all their disparate backgrounds, they all share a love for the written word that goes beyond mere hobby and drives them to publish and share their work.
"I've always just believed in the power of story," says Pattillo. "And whether that's in the context of church and faith or whether that's in the context of romantic fiction, all of these things are grounded in hope—and to me, that's the power of narrative."
Shayla Byrd, BA'05, is a New York-based writer and editor.
---