By Mitch Light, BA'93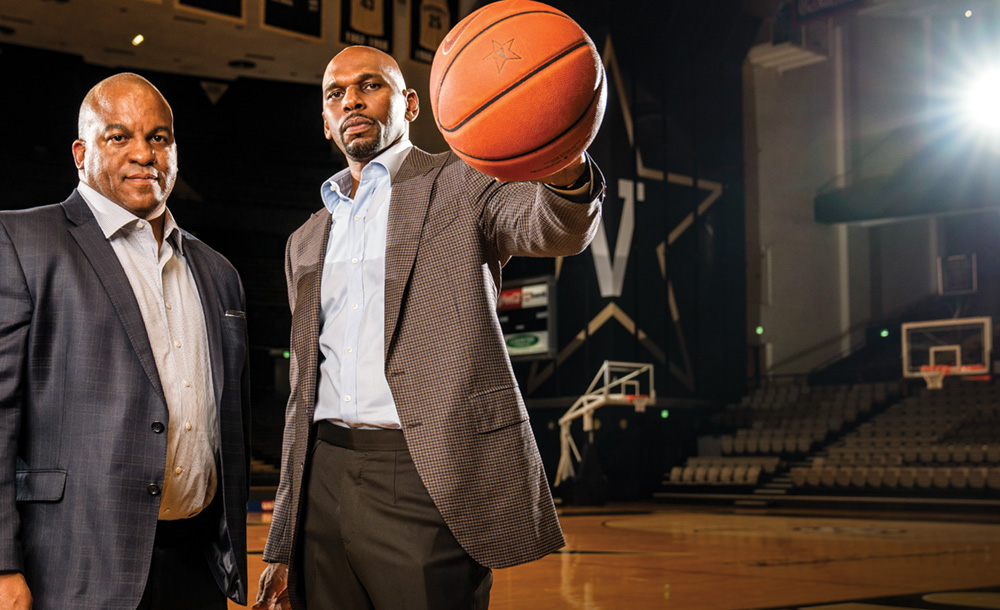 Malcolm Turner and Jerry Stackhouse have much in common. For one, they both attended the University of North Carolina in the '90s. Turner graduated in 1993, just a few months before Stackhouse arrived in Chapel Hill to play basketball for coaching legend Dean Smith. They also both enjoyed successful careers in the National Basketball Association—Turner as an executive and Stackhouse as a player and coach.
But perhaps most striking of all is that their separate NBA careers led them both to Vanderbilt. A year ago neither would have predicted he'd be working on a college campus, much less on West End.
Turner came to Vanderbilt this past December after serving as president of the NBA's developmental G League. A move to higher education had not been on his radar before he was approached by the university about the role of vice chancellor for athletics and university affairs and athletics director.
"This is a very specific opportunity that appealed to me," he says. "Vanderbilt is a place I've admired from afar for a long time."
Stackhouse, meanwhile, was on the fast track to becoming a head coach in the NBA. The former All-American at North Carolina and 17-year NBA veteran had carved out a reputation as a rising star in the coaching world after spending two seasons as a head coach in the G League and one as an assistant with the Memphis Grizzlies.
"College basketball was not at the forefront for me," he says, echoing the sentiments of his new boss. "The forefront was looking at an NBA head coaching opportunity."
That changed when Turner began his search for the next head coach of the Vanderbilt men's basketball team.
"I didn't know a lot about Vanderbilt or Nashville," says Stackhouse, who was hired in April. "After doing some research about the university, the history of the basketball program, the city and all the positives around that, I thought, 'I want this.' Then I had the opportunity to interview and talk about my vision for the program: Not only can we give these kids an education that is second to none, but we can also play an exciting brand of basketball and win at a level that is second to none.
"I said, 'This is a great fit.'"
'RETURN THE MAGIC TO MEMORIAL'
Stackhouse, who has never coached at any level in college basketball, is no doubt an unconventional hire, but that should come as no surprise considering the background of the man who spearheaded the search. Turner himself had never worked in collegiate sports when then-Chancellor Nicholas S. Zeppos selected him to replace David Williams II.
Zeppos looked past more conventional candidates—the position was coveted by a host of current Division I athletics directors—to hire Turner, a business executive with a strong résumé in sports marketing. Prior to the G League, Turner had worked at the Wasserman Media Group, where he was managing director of the firm's consulting division, and OnSport, a sports and entertainment consulting firm.
"Malcolm is a problem solver with a unique ability to bring people together around a common vision," says Zeppos. "I am confident that he will have an immediate and profound impact on the Commodores' success as an elite athletics program by building new relationships and new sources of revenue, while recruiting and retaining extraordinarily talented coaches, students and staff."
Turner's background in sports marketing makes him particularly qualified for the challenges of his new job. Vanderbilt athletics once dominated the Nashville sports landscape but now must compete not only with other SEC teams, whose fan bases have expanded as the city has grown, but also with several professional sports teams (the NFL's Titans, NHL's Predators, and MLS's Nashville SC, which will debut in 2020).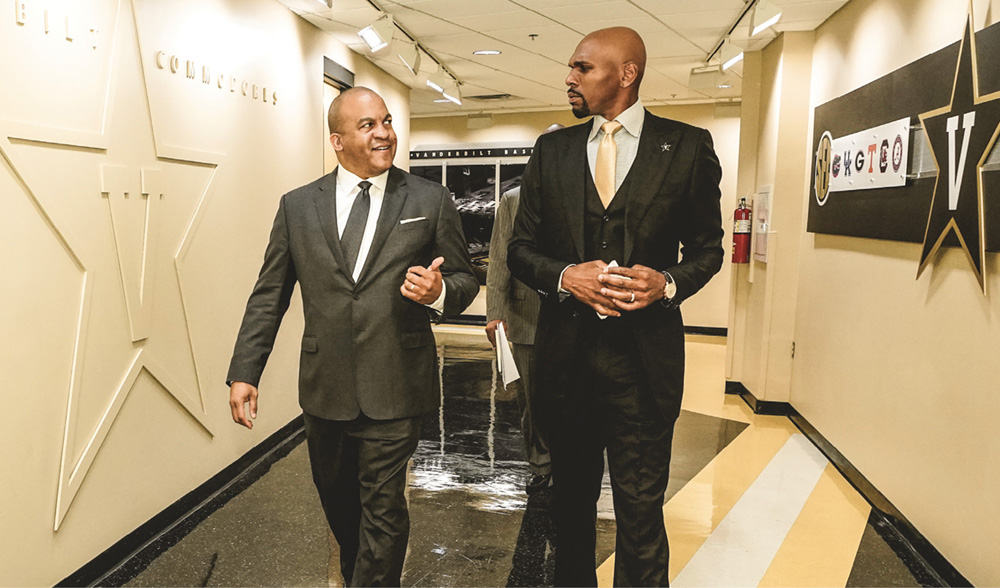 "Vanderbilt was looking for someone who has a track record of building great teams and building great businesses," says Turner, who holds joint J.D./MBA degrees from Harvard University. "I think overall my experience working across all corners of the business of sports—whether it be facilities, brands, media rights holders—I think that was attractive. I've built a nice track record of building properties, building growth and creating revenue.
"I think there is tremendous opportunity here, and some challenges too, marketing college athletics in what has become an increasingly pro sports town," he adds. "We want to look at everything from a marketing standpoint, from game presentation to fan experience. All of those are critical components as we look for ways to elevate the performance of Vanderbilt athletics overall."
Turner inherited an athletics department that has enjoyed a high level of success in many sports in recent years, but men's basketball—once the school's most notable program nationally—struggled through a 9–23 record in 2018–19 that included a 0–18 mark in the Southeastern Conference. The average attendance at home games this season was 9,610, the fourth time in the past five years Vanderbilt failed to hit the 10,000 mark.
"There is great history and tradition around the basketball program," Turner says. "I'd like to return the magic to Memorial. The easy answer is to say it's about winning, but that's only a piece of it. We are taking a look at everything—and this effort is not only about basketball—that we can do to provide the necessary resources to the student-athletes. There is tremendous opportunity for the program, and the future is bright."
That's where Stackhouse comes in. The former two-time NBA All-Star believes Vanderbilt is a sleeping giant. And while he is a proud graduate of North Carolina, it's the Tar Heels' rival down the road in Durham that he points to when discussing his vision for Vanderbilt.
"I want to win a national championship," he says. "That's the ultimate goal, to show that there is another small academic school, other than Duke, that can win at a high level. That is what we would like our ceiling to become: Win at an extremely high level and graduate kids with an education that is second to none. I don't think there are many situations in the country where you can put those two things together."
'THE CRAFT OF COACHING'
One of Stackhouse's first priorities was to expand the size of his staff to offer more resources for his players. In addition to three full-time assistant coaches, the Commodores also now have a director of basketball operations, a director of scouting and recruiting, a director of player personnel, a video coordinator, a chief of staff, a senior adviser to the head coach, and a special assistant to the head coach.
"We were able to put together a great support staff," he says. "That was one of the key things I wanted coming into this job. A lot of places, the head coach takes on a ton of responsibility. I've got great people in here to share those responsibilities. I want to be a mentor, but we have a big group of mentors in the program now."
Having a staff with diverse backgrounds was important to Stackhouse. Among the group are two women: Adell Harris, chief of staff, and Nicki Gross, special assistant to the head coach. Meanwhile, James Strong, BS'00, a fan favorite who played for the Commodores from 1996 to 2000 and spent six seasons as a member of Kevin Stallings' staff at Vanderbilt, serves as the director of player personnel.
"James can share something with our players that none of us can," Stackhouse says. "He knows what it's like to be a student at Vanderbilt. He knows what it's like to be an athlete. He knows all the things that come with being a part of this prestigious university. He can speak to those things."
Stackhouse says Turner made it clear during the interview process that the university would devote the resources necessary—from staff to facility upgrades— to compete at a high level.
"That was important for me when I started to become interested in the job," Stackhouse says, "to know that I could get what I needed to be successful. I know who Turner is, and I know that when he tells me that something is going to get done, it's going to get done."
Turner and Stackhouse developed a mutual admiration during their time in the G League. At the same time Turner was guiding the league through unprecedented growth, Stackhouse was leading the Toronto Raptors' affiliate, Raptors 905, to the league championship. He was named the NBA G League Coach of the Year in 2017.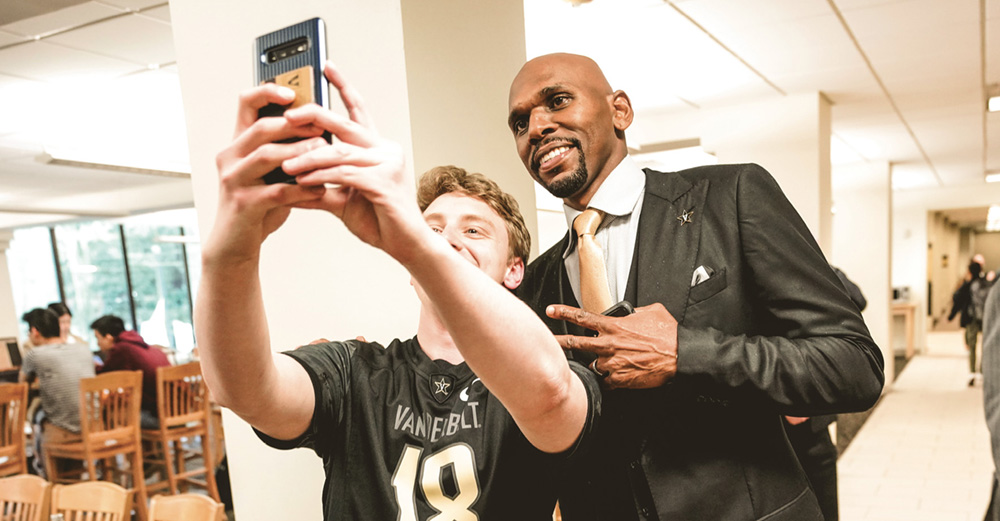 "When I had the opportunity to watch Jerry work," Turner says, "his passion for player development stood out. His teams had a great culture. His teams played hard and were well-connected on the floor."
Turner was also struck by Stackhouse's work ethic.
"There are a lot of former NBA players who want to get into coaching and want to take shortcuts and skip steps and don't want to roll up their sleeves and pay their dues," he says. "Everyone I talked to said Jerry Stackhouse is the complete opposite. He didn't skip steps. He is interested in the craft of coaching. He has a real passion for it."
Stackhouse's coaching acumen also impressed Luke Kornet, BS'17, a current NBA player who competed against Stackhouse's teams in the G League during the 2017–18 season.
"Honestly, his teams were some of the best-coached in the league," says Kornet, now a power forward with the Chicago Bulls. "Their effort, especially on defense, was great. They were always physical and disciplined. He got his guys to buy in, which isn't always easy to do in the G League."
Kornet, a second-generation Vanderbilt basketball player—his father, Frank Kornet, BA'89, was an All-SEC forward in the late 1980s—is confident Stackhouse is the right man at the right time to lead the Commodores back to prominence.
"I was excited when I found out he was a possibility for the job," Kornet says. "I didn't know if he would be interested in the college game, but my first thought was that he'd be a great fit."
Stackhouse understands the task at hand. Vanderbilt has won a total of six SEC games in the past two seasons, the worst two-year stretch in school history. The recent struggles followed a successful run that saw the Commodores reach the NCAA Tournament seven times in 11 years.
"I'm coming into a situation that hasn't been great over the last couple of years," he says. "That has been my M.O. in the G League: coming into a situation with a lot of moving parts and trying to figure out a way to mold that and make it something special."
Stackhouse admits he was a bit skeptical about the job when initially contacted, but Turner quickly sold him on the potential of building a winner in Nashville.
"I got the notion from Malcolm that we are going to co-author this renaissance of Vanderbilt basketball," he says. "I said, 'Man, this is something special, this is something I want to be a part of.'"
Mitch Light, BA'93, is executive editor at Athlon Sports in Nashville.
---