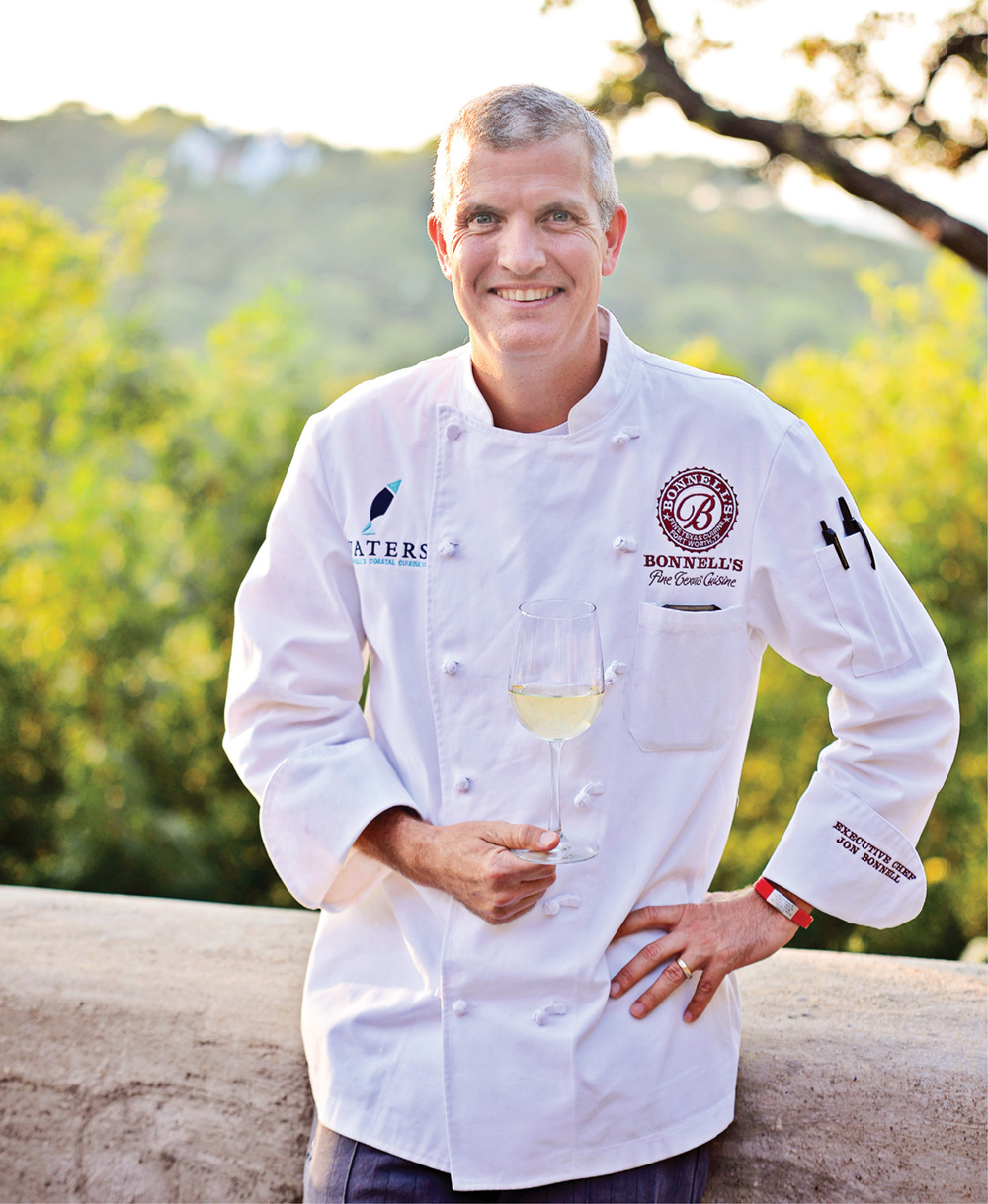 Jon Bonnell, BS'94, studied elementary education at Peabody and went to work after graduation teaching math and science in Dallas. One of the biggest challenges of the job came not with handling middle school and high school students, but rather filling his summer vacation. "I had three months off with nothing to do and nobody around," he recalls. "I needed something stimulating."
He found it while binge-watching early episodes of The Essence of Emeril on the fledgling Food Network. "It just sort of hit me that cooking was all I ever did," Bonnell says of that "aha!" moment. Both of his parents loved to cook, and as a child he learned by watching them. "My dad would fry fish, grill dove, cook a Thanksgiving turkey, or roast a whole pig—whatever we shot or caught," recalls Bonnell. Even at Vanderbilt he found himself cooking wings on the deck at his Phi Kappa Psi fraternity house.
Bonnell began researching culinary schools—with the help of his dial-up AOL internet service—and touring them without telling anyone. He ultimately attended the New England Culinary Institute in Montpelier, Vermont, because he loved the hands-on approach embodied in its motto: "Learn By Living It." By 2001 he had moved back to his native Fort Worth and opened the first of four restaurants, Bonnell's Fine Texas Cuisine. Since then he has published three cookbooks and continues to evolve as a chef.
Here, Bonnell shares his tips for success as both "grill master" and host.
1. Go big.
Rather than grilling individual cuts of meat, Bonnell suggests going for a "glory cut." For steaks, that means rustling up something like a thick-cut porterhouse or bone-in tomahawk ribeye and cutting it into strips to feed a crowd. "It makes a cool, huge centerpiece on a butcher block," Bonnell says. Picking the right grade of meat is also important. "Buy 'choice' at a minimum," he explains. "'Prime' is better, but Wagyu and Akaushi [Japanese beef cattle] are the best. If you have a local source you trust, grass-fed and small-ranch are even better."
2. 

Remember the veggies.

Barbecues aren't just for those who eat meat. It's important to consider the vegetarians and non-beef-eaters in the crowd, Bonnell says. He likes to stuff "huge" portobello mushrooms with garlic, herbs and goat cheese, throw them on the grill, and serve them with a side of grilled corn slathered in chili butter. "Portobellos are one of the easiest things ever, and when you eat one, you're getting a full entree," he says. "Cook them on high until they start to bubble a little bit." For side dishes, the Texas chef recommends grilling big chunks of zucchini and other squash with a Creole seasoning, or roasting potatoes in the oven.
3. Season and oil well.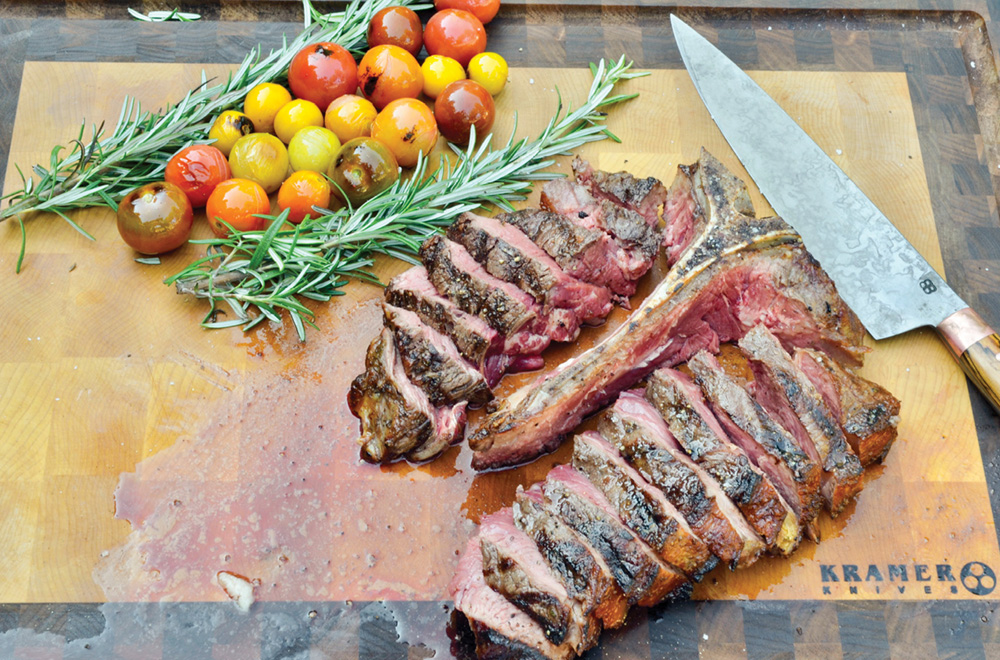 When it comes to grilling meat, Bonnell says there are a few universal steps to follow. "Take the meat out of the fridge and season it at least 15–20 minutes before grilling to get it to room temperature," he advises, because the meat cooks more evenly when the temperature has had a chance to adjust. "At a minimum, season heavily on both sides with coarse salt and pepper. From there, try more complex seasonings if you prefer. The thicker the steak, the more seasoning you need," he adds. Once the meat has had a chance to absorb the seasoning, coat it in a light layer of oil. If you're preparing fish, Bonnell recommends adding oil at the last second, right before the fish hits the grill.
4. 

Play both sides.

Preheat your grill so that one side is very hot and the other is much cooler. "I like to do hot on the left, cooler on the right," says Bonnell. "For thick steaks, begin on the hot side to get those perfect, heavy grill marks," he says. "Then, once the steak is flipped, move it over to the cooler side to finish cooking and pull your lid down." That will keep the steak from burning on the outside while still ensuring it cooks evenly, with that nice, seared flavor.
5. 

Let it rest.

To determine doneness, Bonnell suggests touching the steak to see how it springs back—it shouldn't be too mushy or too firm—and using a meat thermometer. "Science does not lie," he says. "If you are shooting for a perfect medium rare—and I truly hope you are—pull that slab off the fire at 120 degrees internal temperature and place it on your cutting board." The worst thing you can do is cut into a steak when it's still on the grill or just after it comes off, Bonnell says. "That's when all of the juices are at their most excited state." Resist the temptation to cut too early, he warns, or you will be left with dry meat. "Let the steak rest for 8–10 minutes before carving," he advises; "otherwise, you risk losing all of those great juices to the board."

Text by Elizabeth Cook Jenkins, BS'99
---
Recipes from Chef Jon Bonnell
Grilled Watermelon with Tequila Lime Vinaigrette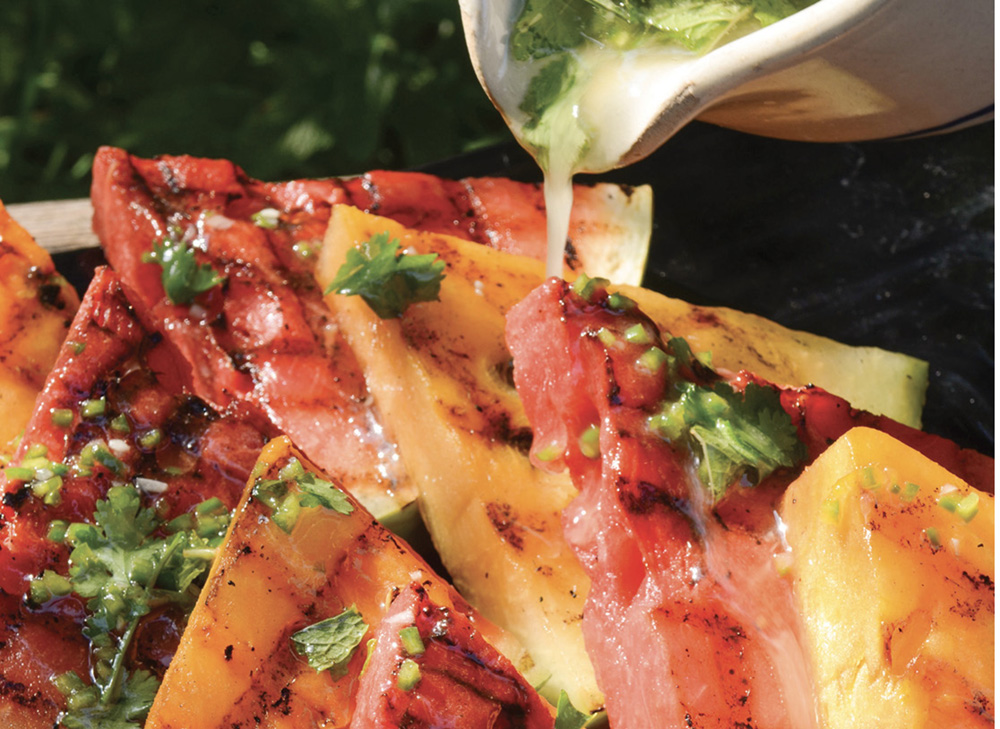 6–8 red watermelon slices, 1½ inches thick
6–8 yellow watermelon slices, 1½ inches thick
pinch kosher salt
Place the watermelon slices on a very hot grill and cook for 15–20 seconds, then turn 45 degrees and place back down (without turning over). This will make the crisscross grill-mark pattern. After another 15–20 seconds, turn the watermelon over and repeat. Give each slice a very light pinch of kosher salt after turning over. Do not try to cook the watermelon; just get nice, dark grill marks on the outside and stop. The melon slices should still have great crunch in the middle. Arrange the slices on a platter, then pour plenty of tequila lime vinaigrette over them.
For the vinaigrette:
2½ limes, juice only
1½ ounces white tequila
5–6 sprigs fresh cilantro
2–3 sprigs fresh mint
1 jalapeño, seeded and diced
2 cloves fresh garlic, minced
1 teaspoon dry mustard powder
2 tablespoons agave nectar
         (substitute honey if not available)
6 ounces canola oil
½ teaspoon kosher salt
pinch freshly ground black pepper
Tear the cilantro and mint by hand into rough leaves, then add to a mixing bowl. Add in all remaining ingredients, and whisk together well. Allow to sit 15–20 minutes before serving.
The taste of grilled watermelon is hard to describe. As the melon grills, some of the sugars caramelize and the slices become sweeter and more complex in flavor. It may seem odd to put watermelon on the grill, but try it once and taste what you've been missing. The vinaigrette with a hint of tequila puts this particular dish right over the top! It makes a vibrant platter of color that looks great at a tailgate party, where huge platters of meat usually dominate. It's also a great finger food that invites everyone to just pick up and enjoy without utensils or plates.
---
Fresh Herb and Goat Cheese Stuffed Portobellos
8 ounces fresh goat cheese (I recommend Deborah's Farmstead goat cheese)
5 large portobello mushrooms
2 sprigs fresh thyme
2 sprigs fresh cilantro
1 sprig fresh rosemary
1 sprig fresh dill
3–4 large fresh basil leaves
1 small clove garlic, minced
salt and pepper to taste
extra-virgin olive oil
Clean the dark black gills from the mushrooms, then drizzle with a little olive oil, season with salt and pepper, and place over medium heat on an open barbecue grill, face down. After a few minutes, turn them over and continue to cook. In a mixing bowl combine the goat cheese with minced garlic, add salt and pepper to taste, and tear the mixture of fresh herbs by hand. Mix the cheese until all the ingredients have been incorporated and a creamy texture is achieved. When the mushrooms begin to get soft and give off a little of their juice, add a nice spoonful of the goat-cheese mixture into the center of each portobello. Close the lid of the barbecue grill, and let them cook until the cheese gets bubbly and the mushrooms are nice and soft.
---
Marinated Tomato and Sweet Onion Salad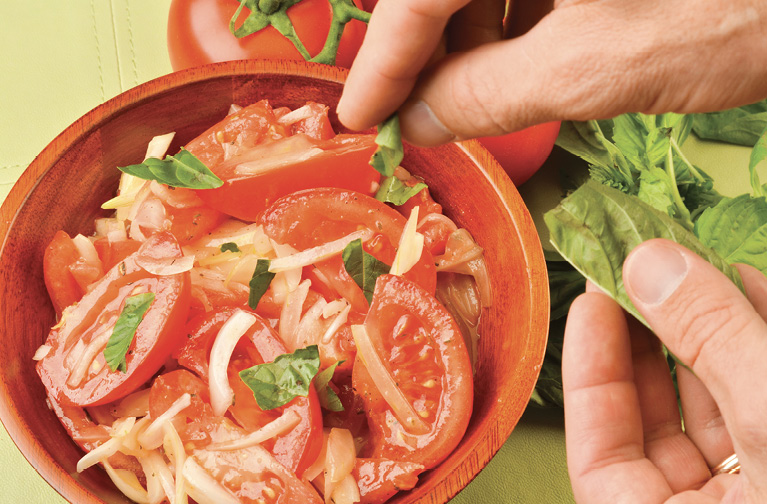 For the salad:
4 large ripe tomatoes, cut into wedges
1 small to medium sweet onion, julienne cut
6–7 large fresh basil leaves
For the vinaigrette:
1 tablespoon white wine vinegar
1 tablespoon lemon juice
1 teaspoon Dijon mustard
4–5 shakes hot sauce
         (I prefer Crystal Hot Sauce)
5 tablespoons extra-virgin olive oil
1 clove garlic
½ teaspoon dried oregano
1 teaspoon kosher salt
½ teaspoon cracked black pepper
¼ teaspoon celery seed
½ teaspoon dried thyme
Combine all vinaigrette ingredients in a blender, and puree until smooth. Allow to sit for one hour, then dress the tomatoes and onions and allow to marinate for an additional hour. Add in freshly torn basil leaves at the last minute, just before serving.
For those who tend a garden or have access to a great farmers market, this salad is for you. It's a celebration of fresh ingredients, not overly manipulated, just dressed up and served. My preference for sweet onions is the Texas 1015, which has been named the official state onion of Texas. It's available from March through September and has a mild nature and sweetness that's perfect for this type of raw preparation.
---