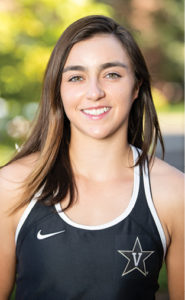 Women's tennis standout Fernanda Contreras, BE'19, grew up knee-deep in a pile of LEGOs in her living room. Now, having graduated with a degree in mechanical engineering, she feels her path has come full circle.
"Honestly, after these four years, I feel like I can build anything," she says.
A native of Austin, Texas, Contreras built a remarkable college career during her time on campus. A three-time All-American, she competed in three NCAA Final Fours and an NCAA Championship match, won two regular-season SEC titles and two SEC Tournament titles, and set the Vanderbilt records for most single-season wins (44) and career singles victories (136).
Off the court Contreras spent time as a member of Vanderbilt's Student-Athlete Advisory Committee, serving as president as a junior. She also took part in Vanderbilt Student Government and embarked on service trips abroad. And as a mechanical engineering major, she helped design and build robotic circuits as part of a mechatronics class—the kind of experience that helped her decide to attend Vanderbilt in the first place.
"In the recruiting process, I would tell coaches I was interested in engineering," Contreras says. "Coaches would say, 'No, you can't do that. If you want to play tennis, you'll have to pick something else.' But when I told Coach [Geoff] Macdonald I wanted to do engineering, he was very excited for me."
Macdonald says Contreras has grown immensely during her four years at Vanderbilt.
"She has come a long way," he explains. "There were a lot of schools who didn't recruit Fernanda because they thought she was a little too slight and could get overpowered. But she's proven to be a brilliant tactician and had a great career. She's quite a remarkable young woman."
---