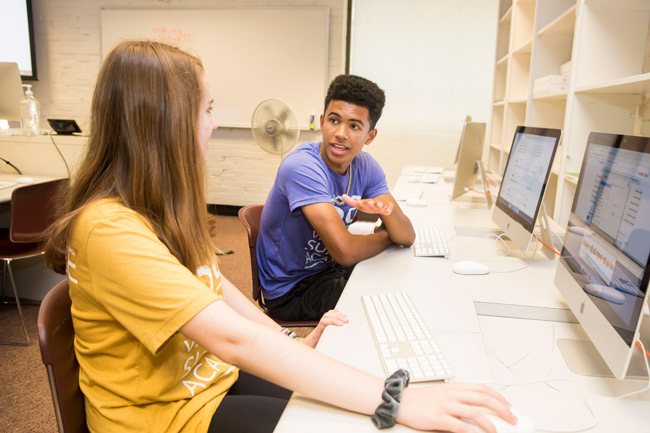 Do you have a gifted 7th-12th grader looking for accelerated coursework? Enroll your student in Weekend at Vanderbilt University (WAVU).
What?
WAVU is a Saturday intensive academic experience that provides qualifying students with an in-depth look at contemporary careers in math, science, engineering and humanities. Held for one full Saturday each fall and spring, WAVU incorporates accelerated courses led by content experts in their field, and an opportunity for in-depth career exploration along with support and resources for families.
Who?
WAVU is designed for motivated and advanced learners in grades 7 through 12 who typically test at the 85th percentile and above on either verbal or nonverbal sections of academic achievement or ability tests. Click here for more information about eligibility.
When?
Fall WAVU is Saturday, Oct. 5, 2019. Spring WAVU is Saturday, Feb. 1, 2020. The full day begins at 8:30 a.m. and ends at 8 p.m., with lunch and dinner provided for the student.
Where?
Vanderbilt Peabody College campus
How to apply
Courses fill up quickly. You may apply online, in person or by mailing a hard copy of the application. Click here to learn more about how to apply.
Priority application window: noon, Sept. 10–noon, Sept. 12
Applying during the priority window does not guarantee admission, but it increases your student's chances. We strongly recommend applying during this window. If space in a course remains after the priority window has ended, courses will be filled on a first-come, first-served system, based on availability and eligibility. A waitlist will be maintained for full courses.
Fees and tuition
Fall or Spring WAVU: $179. A $40 nonrefundable application fee should be paid at the time of application.
Vanderbilt Programs for Talented Youth is committed to making programs available to academically gifted students regardless of a family's ability to pay the full tuition. Need-based financial assistance is available. Click here to learn more about financial assistance.
Questions?
Visit pty.vanderbilt.edu/wavu or call 615-322-8261.