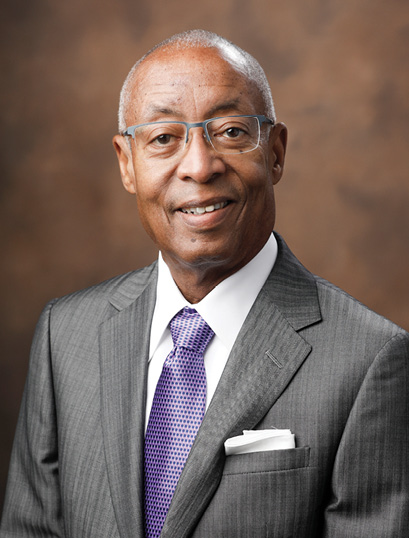 Dr. W. Bedford Waters, president of the Vanderbilt Medical Alumni Association and the second African American to graduate from Vanderbilt University School of Medicine, died May 25. He was 71.
Waters completed his internship and one-year residency in general surgery at the University of California, San Diego. He became the chief resident in urology at the Harvard Program in Urology (Longwood Area) and was on the faculties of the University of Illinois and then the Stritch School of Medicine at Loyola University Chicago, where he remained for 20 years. He joined the staff at the University of Tennessee Medical Center in 2001, where he was named the first chair of the new Department of Urology in 2017.
Waters served on the Vanderbilt Alumni Association Board from 1986 to 1989. He was devoted in his efforts to garner alumni support for scholarships as a member of the Vanderbilt Medical Alumni Association Board and leader of the Knoxville Vanderbilt Chapter. He served as a VMAA regional representative from 1994 to 1998 and had been in continuous service to VMAA since 2006, serving his term as president at the time of his death. He established the Irene Georgia Bedford Waters Scholarship at the School of Medicine to honor his mother.
In December 2018, VUSM honored Waters as one of six pioneers for his historic contributions to education, science and medicine during a formal portrait unveiling at Langford Auditorium. In May he was awarded the Lifetime Achievement Award from the American Urological Association for advancing urologic oncology and inspiring diversity in the field of urology.
"Dr. Waters was a giant when it came to breaking color barriers. As a Vanderbilt undergraduate, he was just one of a very small group of African American students. He then became the first African American Vanderbilt undergraduate to matriculate into VUSM, following closely on the heels of the legendary Levi Watkins Jr., M.D.," says Dr. André Churchwell, VUMC chief diversity officer and interim vice chancellor for equity, diversity and inclusion.
He was a trustee emeritus of the American Board of Urology, serving as its president from 2008 to 2009, secretary-treasurer, chairman of the executive committee, chairman of the finance committee, and chairman of the recertification committee during his tenure from 2003 to 2012. He also was the president of many regional and national organizations, including the Chicago Urological Society, the Illinois State Urological Society, and the urology section of the National Medical Association.
He was featured in the U.S. News & World Report list of top USA physicians as one of four top physicians in Tennessee.
Waters was elected as a physician member to the board of directors of University Health Systems Inc. in July 2015. He received the Excellence in Teaching Award in June 2016 from the University of Tennessee Graduate School of Medicine. He trained 62 residents in his academic career, authored more than 75 peer-reviewed manuscripts and 18 book chapters, and gave more than 170 presentations at local, national and international meetings.
He is survived by several cousins.
—KATHY WHITNEY