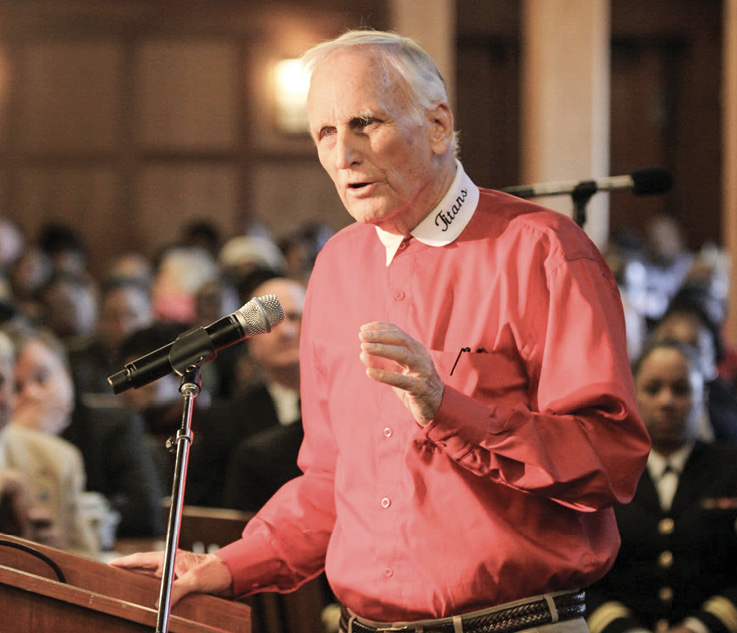 William "Bill" Yoast, the high school coach who helped unify a racially divided Alexandria, Virginia, during the 1971 football season, died May 23. He was 94 years old.
The relationship between Yoast and coach Herman Boone is the crux of the 2000 film Remember the Titans, which followed T.C. Williams High School's 1971 integration and football season and starred Denzel Washington as Coach Boone and Will Patton as Coach Yoast.
Yoast had been the head coach at the all-white Francis C. Hammond High School, leading Hammond to the state championship in 1970. Then in 1971 the school district consolidated its three high schools—Hammond, T.C. Williams and George Washington High. Upperclass students were sent to T.C. Williams, and the other two schools became junior high schools. When the T.C. Williams' head coaching job went to Boone, the only African American coach in the area, Yoast joined the staff as a defensive coordinator and helped convince white players to stay on board and play alongside newly introduced black players.
Under the leadership of Boone and Yoast, the T.C. Williams Titans went on to play an undefeated season and became the 1971 Virginia AAA state champions. Yoast remained at the Virginia high school from 1971 to 1996, where he also coached track and field and golf.
Yoast was born in Alabama in 1924 and served a three-year stint in the U.S. Army Air Corps, precursor to the U.S. Air Force. He attended Georgia Military College and Mercer University, where he earned an undergraduate degree in physical education. He taught and coached in Sparta, Georgia, but reportedly left for a different city in 1954 after he was chastised for allowing black baseball players to use the high school's showers.
Yoast earned master's and education specialist degrees from George Peabody College for Teachers, where he met his former wife, Betty Watson, MA'60, who survives him. He also is survived by three daughters and nine grandchildren.
—MEDIA SOURCES