Benjamin D. Schulman, BE'38, Fostering Diversity
by
Jim Patterson
Aug. 20, 2019, 1:04 PM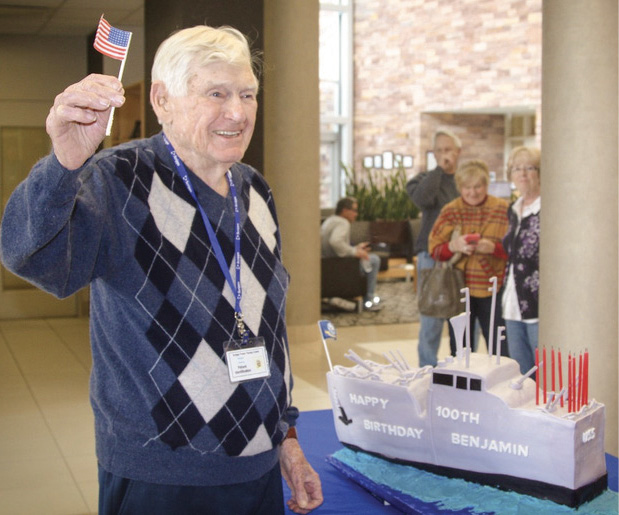 The vision and thoughtful generosity of Benjamin D. Schulman, who died June 2, helped Vanderbilt become a more nurturing and diverse community.
Schulman, of Carlsbad, California, was 102 at the time of his death. He had returned to campus in January 2017 for a 100th birthday celebration that included a Shabbat dinner and birthday brunch at the building that he helped endow—the Ben Schulman Center for Jewish Life. Among those who feted Schulman was then-Chancellor Nicholas S. Zeppos. "The Schulman Center for Jewish Life fulfilled a need for building community and recognizing and celebrating cultural and religious identity," Zeppos said.
Many students and alumni attended the celebration, including Alyssa Jaffe, BE'15, a great-niece of Schulman, who thanked him for helping underwrite the cost of the center's construction in 2001. It was noted that Jewish student enrollment at Vanderbilt has grown significantly since the center's opening.
A strong supporter of Vanderbilt Hillel, Schulman also underwrote the cost of the Dor L'Dore Donor Wall that honors the organization's contributors.
One of seven children, Schulman was born in Decatur, Alabama. His father died when Schulman was 11, and his mother moved the family to Nashville. Schulman earned his bachelor's degree in chemical engineering in 1938 and served as a naval officer during World War II. He met and married Ruby Gryzmish in 1944. Schulman worked in finance for Hotel Corp. of America (which became Sonesta International Hotels) in Boston before moving to La Costa, California. He started Schulman Mobile Video, a satellite transmission and mobile video production company whose early clients included ESPN. Ruby encouraged her husband to devote some of their resources to helping those in need, and they established the Benjamin D. and Ruby G. Schulman Foundation.
Ruby predeceased Ben, who is survived by his sister, Bettie Schulman Jaffe, BS'50; daughter Karen; sons Henry and Richard; several grandchildren and great-grandchildren; great-nieces and nephews; and Jan Davis, his devoted companion of many years.
—Ann Marie Deer Owens, BA'76