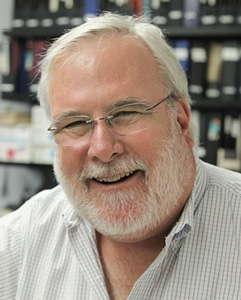 The story of Richard Armstrong is a shining example of how one person's legacy can have a powerful ripple effect on others.
A basic sciences professor of biochemistry and chemistry from 1995 until his 2015 death, Armstrong was known for his groundbreaking biochemical research. In his honor, his family established the Richard N. Armstrong, Ph.D., Chair for Innovation in Biochemistry, and created the unrestricted Vanderbilt Biochemistry–Armstrong Fund. Discretionary funds like these allow researchers to pursue projects without federal or other funding.
In 2017 the Armstrong Fund helped purchase a new mass spectrometry instrument that has empowered researchers like David Cortez, professor of biochemistry and Ingram Professor of Cancer Research. Much of his team's work depends on mass spectrometry to analyze proteins that help repair DNA damage—allowing a detailed look at key players and how they change over time.
Since acquiring the new instrument—which supplements an older model that suffered from too many users and frequent downtime—Cortez estimates the turnaround time for receiving analyzed data has dropped from six weeks to two. In the competitive research world, that difference is crucial.
"Discoveries happen rapidly or they don't happen at all," Cortez says. "This infrastructure is critical; it has been a launching point for everything happening in my lab in the last few years."
Preliminary data gathered using the mass spectrometry instrument were essential for three NIH grants and numerous published papers. Notably, the instrument facilitated the discovery of a protein, RADX, which may lead to new ways of preventing resistance and improving outcomes for cancer patients with mutations in the BRCA2 gene. The breakthrough could have implications for cancer therapy and soon will enter the clinical trial phase.
"The gift from the Armstrong family was essential to making this discovery possible," says Cortez.
—SYDNIE HOCHSTEIN