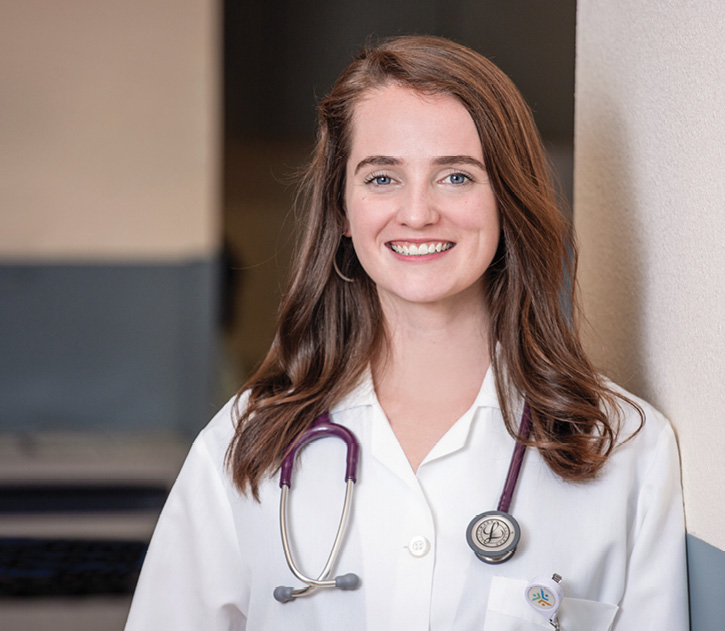 Sarah Vaillancourt's mission—to help women get the care they need—far predated her nursing degree. "I knew I wanted to work in women's health before I knew exactly what I wanted to do or how I wanted to do it," says Vaillancourt, who earned her master of science degree last year.
Having also considered medical school or a career in health care policy, Vaillancourt says she ultimately decided on nursing because of its emphasis on patient advocacy—an especially resonant factor given her own obstacles navigating our country's complex health care system. As a patient herself, she had seen plenty of room for improvement, noting that "many interactions were not as positive or as productive as they could have been."
At Vanderbilt School of Nursing, Vaillancourt was able to pursue a holistic approach—combining a rigorous focus on research and informatics with her longstanding interest in patient care, wellness and psychology—the latter of which was her focus as an undergraduate at the University of Texas, Austin.
"Nurses really look to caring for the whole patient as an individual," she says. "It's not just about doing what the system dictates; it's about questioning whether each step is the best thing for an individual patient, and being able to shift the trajectory accordingly."
In selecting VUSN, Vaillancourt says she gravitated toward the school's unique focus on women's health, its optimal student-to-faculty ratio, and the ample opportunities for one-on-one interaction with faculty. Indeed, her close ties to professors is largely what inspired her to pursue academic research and writing, including the article she co-wrote with Associate Professor of Nursing Ginny Moore, MSN'90, on "Fat Stigma in Women's Health," published earlier this year in The Journal for Nurse Practitioners.
Another highlight of her time at Vanderbilt was her community health rotation at Renewal House, a Nashville-based recovery center that provides outpatient and inpatient care to mothers struggling with addiction. In collaboration with a small group of classmates and Instructor in Nursing S. Cole Powers, BSN'80, MSN'84, Vaillancourt implemented a health education program for patients that reinforced best practices regarding nutrition, exercise, sexual health, protection and healthy relationships.
"It was a very formative experience—so fulfilling to see the same participants week after week, and to establish a relationship with them," she says. "Dr. Powers really drove home the model for how to implement change in a health care setting, which is very much what I'm interested in pursuing."
Today, Vaillancourt is based on the West Coast, where she is already applying her compassion, knowledge and patient advocacy skills to those who need it most. In January 2019 she began her first job as a women's health care practitioner at the Community Medical Center in Stockton, California—a federally qualified institution that serves patients who are under- or uninsured.
"Vanderbilt really taught me how to engage and ask the questions that I need to ask as a new provider," she says of the transition. "I'm still so new, still learning so much, still very much a continuing student at heart."
—LUCIE ALIG