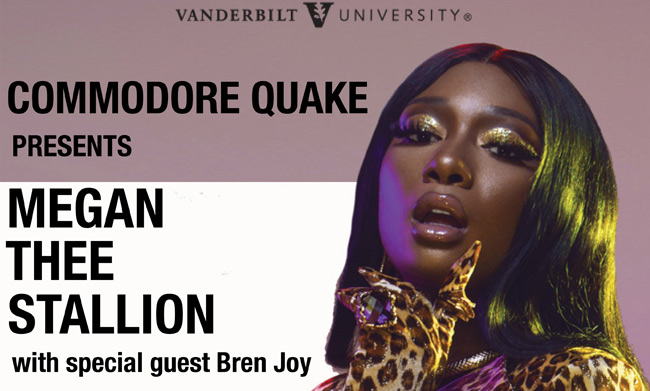 Vanderbilt's 19th annual Commodore Quake will feature headliner Megan Thee Stallion and special guest Bren Joy performing on Friday, Oct. 18, at 8 p.m. in Memorial Gym. Doors will open at 7 p.m.
Tickets for the event will go on sale at 10 a.m. Friday, Aug. 23. Tickets will be available through Ticketweb and at the Sarratt Student Center box office.
Ticket prices are as follows:
VU students (one ticket per student) – $10 in advance; $20 beginning Oct. 11
VU faculty and staff – $15 in advance; $25 beginning Oct. 11 (faculty and staff should use the code $tallion to receive this rate)
General public – $20 in advance; $30 beginning Oct. 11
Commodore Quake is sponsored by the Vanderbilt Music Group. For more information about this year's event, visit the Commodore Quake website.