Media Inquiries
Latest Stories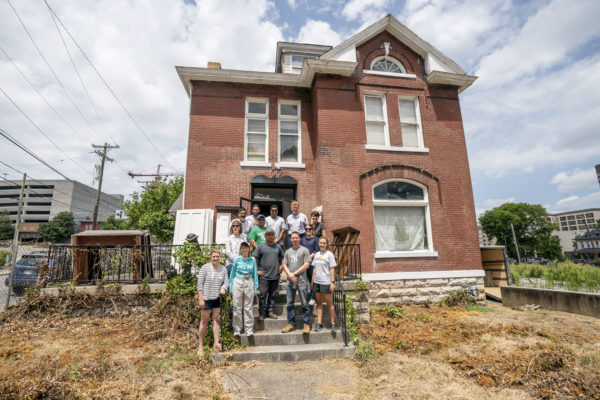 Vanderbilt University has partnered with Nashville organizations Preservation Station and Project Return in its efforts to preserve a part of Nashville's vibrant cultural history, the Manuel House.
The effort to salvage millwork from the Manuel House involved the University Facilities team working alongside Preservation Station, a local business that saves and resells recycled antique building materials, as well as Project Return, Inc., a nonprofit organization that provides opportunities for individuals working to rebuild their lives after incarceration. Preservation Station also partnered with another local organization, The Nashville Food Project, to provide a meal for the crews on site. Proceeds from the sale of the architectural elements will be donated to the Metro Historic Commission Foundation, a non-profit dedicated to the preservation of Nashville's landmarks.
"Given this property's rich history, we knew we had to explore how we could put our values as a university to work – creating mutually beneficial opportunities for our Nashville neighbors as well as supporting our FutureVU sustainability efforts," said Associate Vice Chancellor and Chief Facilities Officer Mike Perez. "While this may have added an additional step to the process to demo the building, it was important for us to take the time to build relationships while preserving what we could from this historical site."
Purchased in 1988 by fashion designer Manuel Cuevas, the early 20th-century Queen Ann-style house on Broadway in Midtown was built in 1910 and served as Cuevas' studio and retail store catering to music icons including Johnny Cash, Elvis Presley, the Rolling Stones and Dolly Parton.
In 2016, the university acquired the vacant site and attempted to relocate the 108-year-old building through help from local organizations and the public.
"Sustainability and material reuse is extremely important in our campus' built journey and vision," said Keith Loiseau, director of Campus Planning and Construction and university architect. "When our team toured the Lifecycle Building Center of Greater Atlanta, a nonprofit that helps communities reclaim building materials, it was extremely inspiring. Threading altruism throughout our campus planning operations helps us further our university's mission and values."
The innovative solution also caught the eye of David Owens, Evans Family Executive Director of the Wond'ry. Beginning this fall, students will create a business plan modeled after the Lifecycle Building with the Manuel House project as its guide.
"Any time we can expose our students to the real and complex problems within our society, it develops a part of their learning that also contributes to our whole-person educational philosophy," said Owens. "Partnering with our Facilities team on this project is an exceptional opportunity to put our minds together to create good and to address systemic issues in our rapidly changing city."
For more information, visit the FutureVU and Wond'ry websites.