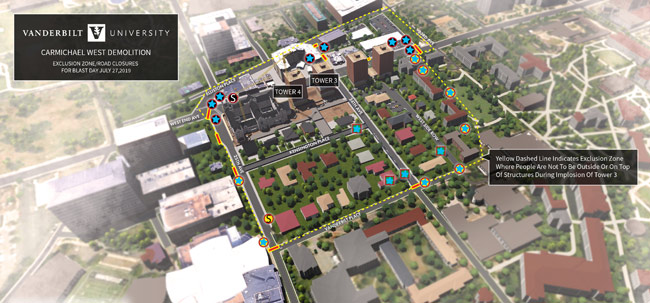 View a high-resolution map of the exclusion zone.>>
Vanderbilt University will conduct a controlled implosion of Carmichael West Tower 3, a 14-story former residence hall, on Saturday, July 27. The implosion is scheduled for 9 a.m.
Ahead of the implosion, West End Avenue from 23rd Avenue to 25th Avenue, and 24th Avenue from Elliston Place to Vanderbilt Place on the Vanderbilt campus, will close beginning at 8 a.m.
A blast perimeter will be established around the implosion site to keep members of the community at a safe distance. Nashville and Vanderbilt University police will be on hand to enforce the perimeter and to direct traffic flow.
Watch a video livestream of the implosion at vu.edu/towers beginning at 8:30 a.m. July 27. >>
Occupants of buildings within close proximity to the implosion will be evacuated or mandated to remain indoors. Once the implosion and checks to the site and surrounding areas are complete, traffic will reopen and mandatory restrictions will be lifted. West End Avenue will reopen by 11 a.m.
The implosion will be overseen by Layton Construction, LLC, which is conducting ongoing construction in Vanderbilt's West End Neighborhood, and Controlled Demolition, Inc. (CDI), a national leader in large-structure controlled demolition.
The removal of Carmichael Tower 3 and the adjacent Carmichael Tower 4 by mechanical demolition this summer will make way for three new residential colleges in the West End Neighborhood to align with Vanderbilt's Academic Strategic Plan, a key pillar of which is to strengthen the undergraduate residential experience, as well as FutureVU, the university's initiative to enhance the places on campus where community members live, work and learn.
To learn more about Carmichael Towers' rich history through photos, videos and more, visit vu.edu/towers.
For more information about construction in the West End Neighborhood, visit the FutureVU website or Laytonconstruction.com/Vanderbilt.