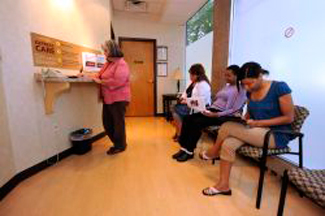 Vanderbilt's Occupational Health Clinic, including the OHC Faculty/Staff Express Care, now offers online scheduling for same-day and next-day sick visit appointments.
When time is of the essence, schedule a sick visit appointment by calling the clinic at 615-936-0955 or by utilizing the new online scheduling feature. Employees still may walk in to the OHC for sick visits as well.
Conditions that qualify as a sick visit include colds, flu, allergies, ear infections and other similar minor illnesses. Immunizations for compliance requirements do not require an appointment.
From any computer or mobile device, employees have two options for scheduling a same-day or next-day sick visit online:
All Vanderbilt employees can use the faculty/staff Health and Wellness Information Portal (HWIP). Once you log in using your VUnetID and password, click "Schedule Appointment" to get started. For an optimal scheduling experience, use the Chrome, Safari or Firefox web browser when logging in to the HWIP.
Vanderbilt employees who have both a My Health at Vanderbilt account and a Vanderbilt health insurance plan also can use the My Health at Vanderbilt patient portal to schedule appointments. Once you log in, click "Schedule an Appointment" to get started.
Employees can schedule sick visit appointments at either of the following locations:
Occupational Health Clinic, located at Medical Arts Building, Suite 640.
OHC Faculty/Staff Express Care, located at Medical Arts Building, Suite 112. Use the outside entrance and your Vanderbilt ID badge to enter.
Occupational Health does not charge employees for seeing the clinic's providers. However, any external services (such as lab tests or X-rays) that are ordered as part of your visit will be charged to your insurance.
The Occupational Health Clinic is part of Health and Wellness. The OHC's mission is to provide visionary health protection for Vanderbilt faculty and staff.