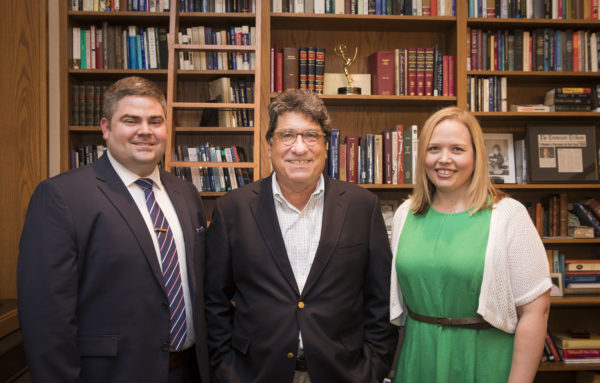 The University Staff Advisory Council passed a resolution at its July 9 meeting commending Nicholas S. Zeppos "for his distinguished service to Vanderbilt University" as its eighth chancellor.
"The staff advisory council is so appreciative of Chancellor Zeppos' outreach and engagement throughout his tenure," said Jenny Mandeville, USAC president for 2018-19 and a strategic projects manager in the Division of Communications. "We wanted to honor and thank the chancellor as he begins his new role."
The staff council paid tribute to the chancellor's leadership in several areas, including the university's strong focus on diversity, equity and inclusion and the institution's firm commitment to the principles and processes of shared governance.
The resolution also recognizes Zeppos for the creation and sustainment of the Chancellor's Heart and Soul Staff Appreciation awards; his dedication to the vision and principles of FutureVU, a holistic model for developing the spaces on campus and investing in the initiatives that support the people who live, work and learn in them; and his leadership during the financial crisis of 2007-08. In addition, the resolution commended Zeppos for shepherding the university through a complex legal and financial split from Vanderbilt University Medical Center.
Zeppos was named the university's eighth chancellor on March 1, 2008, after serving as a law professor, associate dean of the Law School, associate provost for academic affairs, and vice chancellor and provost. He plans to step down as chancellor on Aug. 15, when he will become chancellor emeritus. He will return to the faculty as professor of law.
Resolutions have also been approved by the Vanderbilt Board of Trust, Faculty Senate, Vanderbilt Student Government, Vanderbilt University Alumni Board of Directors and the Tennessee General Assembly that commend Zeppos for his outstanding leadership and significant accomplishments as chancellor.
The full text of the resolution is available on the USAC website.