Video by Zack Eagles
I Am Vanderbilt celebrates the people of Vanderbilt and the unique talents and contributions they bring to their work at the university each day.
High atop Vanderbilt's Stevenson Center II, throughout seven climate-controlled rooms, one can find some 1,500 unique plant species as well as various insects, frogs and—coming soon—an observational beehive.
The Vanderbilt greenhouses are a lush, light-filled retreat in the heart of campus, and Jonathan Ertelt is charged with ensuring that each of their inhabitants thrives.
"The greenhouses are home to a teaching and display collection, and they're introducing students who come here to other parts of the world as well as to the world of plants," said Ertelt, who has served as manager of the greenhouses since 1996 and has more than 40 years' experience working with plants.
In addition to Department of Biological Sciences faculty who study plant biology and look at plant-animal interactions, the greenhouses attract a diverse array of disciplines.
"We've had people from anthropology and English and fine arts who have done work in the greenhouses," Ertelt said. During the academic year, he welcomes up to 50 visitors each week, including classes, campus tours and students who might hear about a rare plant or night-blooming flower and stop in to have a look.
Ertelt has carefully built the collection over more than two decades by sharing and exchanging plants with his network of colleagues from other institutions and professional organizations around the world.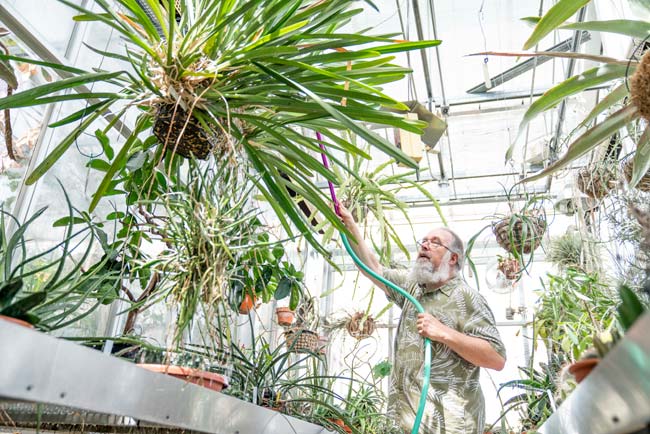 "It's one of the best things about this business—as soon as you get something that's really rare, generally the first thing most people do is cut it in half and give it to someone else," he explained. "It's a very generous group of people."
Ertelt enlists a small team of volunteers to help him water the plants seven days a week, as well as with a variety of other tasks, such as planting seeds, grooming and weeding, and transplanting and potting up rooted cuttings. Interacting with these students is the best part of his job, he said.
"I've worked with plants for more than 40 years now, and I still love working with the plants, without a doubt," he said. "But sharing some of what I know with the students, as well as encouraging them to think about why they're here at Vanderbilt … it's the best aspect of what this institution is—a learning, liberal arts institution."
"Sharing some of what I know with the students, as well as encouraging them to think about why they're here at Vanderbilt … it's the best aspect of what this institution is."
Grace Adcox, a senior political science and Asian studies major from Hendersonville, Tennessee, has volunteered in the greenhouses since her freshman year. She said working with the plants, and Ertelt's mentorship, have been an integral part of her Vanderbilt experience.
"I think that one of the most important lessons that I've learned in the greenhouses is to practice kindness—to other people, to plants, and to yourself," she said. "This is a place where I can get away from stresses and anxieties."
What about the plant world has inspired Ertelt to devote his career to them?
"Plants are why we're here," he said. They're a major part of the planet in terms of the food we eat, the clothes we wear and the products we consume, among other things, he said.
"They're also a bridge to other cultures, other people," he said. "They not only can take you anywhere you want to go as far as a discipline, but they've taken me anywhere I've wanted to go as far as bridges to other places. That's pretty good."
The Vanderbilt greenhouses, located at Stevenson 2715, are open to the Vanderbilt community from 9 a.m. to 5 p.m., Monday through Friday. Contact jonathan.ertelt@vanderbilt.edu to schedule a visit, or just stop by to walk through the greenhouses. He may well offer to answer any questions you have, or invite you into his office to see the frogs and terrariums there.
For photos from the greenhouses, follow on Instagram @vugreenhouses.
More I AM VANDERBILT Stories