Media Inquiries
Latest Stories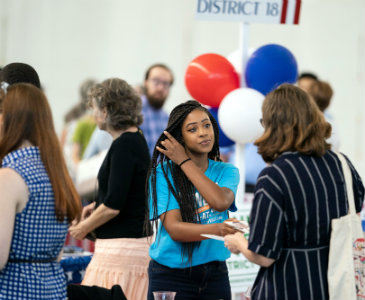 by Collier Roberts
More than 50 candidates running for mayor, vice-mayor or Metro Council in the Aug. 1 election took part in in a recent meet-and-greet picnic hosted by the Vanderbilt University Division of Government and Community Relations and the Vanderbilt University Medical Center Office of Government and Community Affairs.
"Vanderbilt's mayoral and Metro Council candidates picnic has become a must-stop during election years for those seeking office in Davidson County," said Associate Director for Community and Local Government Relations Mary Pat Teague. "It not only provides a venue for candidates to speak to members of the Vanderbilt community, but also raises awareness and provides an opportunity for interested citizens to become better informed voters."
This was the 20th anniversary of the first Vanderbilt meet-the-candidates picnic, which encourages the community to engage in the political process.
Each of the candidates was allotted time to stand on a soapbox and "make their pitch" to the approximately 1,000 attendees who attended the midday event in the Recreation and Wellness Center Field House. Red, white and blue balloons and American flag bunting garland on the tables added to the festive atmosphere.
The air-conditioned picnic featured beef and vegetarian hot dogs, fruit and ice cream.  Attendees had the opportunity to meet the various candidates at their individual tables after the soapbox talks concluded.
"This type of engagement with our local government not only advances our own understanding of our community, but also bolsters our collective ability—as a leading American research university—to improve our society at large," said Associate Vice Chancellor for Community Relations Alfred Degrafinreid II.
Early voting for the Aug. 1 election began July 12, and will run through Saturday, July 27. If you were not able to register in time for the Aug. 1 election, but would like to be able to vote in the event of a runoff, you can register to vote online.
To subscribe to Vanderbilt Local, the university's Office of Community Relations monthly newsletter, please email gcr@vanderbilt.edu.