Vanderbilt to host meet-and-greet picnic for mayoral, Metro Council candidates July 10
Jun. 27, 2019, 9:50 PM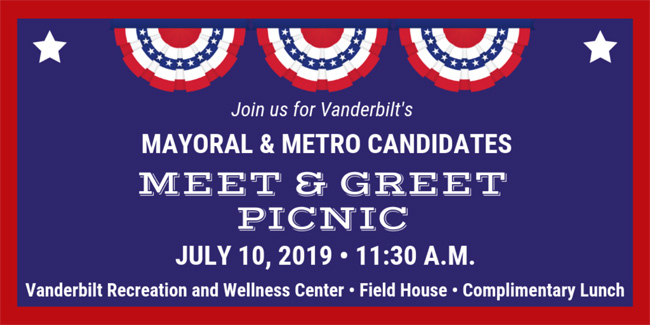 Vanderbilt University and Vanderbilt University Medical Center will host a meet-and-greet picnic in advance of the upcoming election for Nashville's next mayor, vice mayor and members of the Metro Council.
The event is scheduled for Wednesday, July 10, from 11:30 a.m. to 1 p.m. at the Vanderbilt Recreation and Wellness Center in the indoor Field House, located at 25th Avenue South and Children's Way.
"Local government and community engagement are critical for the future of our institution. Vanderbilt University has a long and respected tradition of engaging the elected officials and candidates for elected office on the local, state and federal levels of government," said Associate Vice Chancellor for Community Relations Alfred Degrafinreid II. "This picnic will allow the Nashville and Vanderbilt communities to interface with individuals who have offered themselves to serve in public office."
All of the candidates appearing on the Aug. 1 ballot are invited to attend the event, meet and greet Vanderbilt community members, stand on a soapbox to address the audience, and pass out literature.
Lunch will be provided, with vegetarian options available.
To RSVP for the event, please email gcr@vanderbilt.edu.
Click here for a printable flyer. >>
Schedule of events for July 10
Arrival and lunch
11:30 a.m.–noon
Candidates' speeches
Noon–1 p.m.