Vanderbilt University to enhance staff hiring process with SkillSurvey
Jun. 25, 2019, 9:32 PM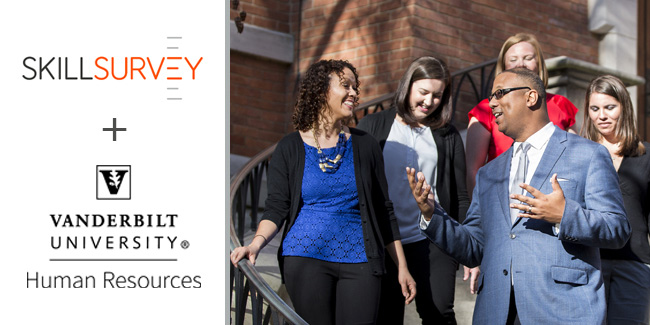 Vanderbilt University is launching a new tool to speed up and enhance the reference-checking process for staff recruitment and hiring.
SkillSurvey is an automated reference-checking resource that will allow the university to efficiently conduct a job applicant's reference check in as little as two business days, eliminating up to 10 days from the average time spent attempting to collect reference responses. This new tool allows VU to quickly and efficiently identify well-qualified candidates and fill positions, nearly eliminating wait times in the final stages of the hiring process.
The new online reference-checking solution gives hiring managers a library of scientifically validated, behavior-based questions to tailor each reference questionnaire to the distinct functions and requirements of a job. These smarter questions are designed to lead to more revealing answers instead of generic, non-specific responses.
Reactions have been exceptionally positive from early pilot participants, said Catherine Wood, executive director of benefits.
"We have had the opportunity to use SkillSurvey for two professional-level positions. The quality of feedback was invaluable in helping us come to decisions on candidate selection," Wood said. "I recommend this tool in helping managers determine a candidate's likelihood for success here at Vanderbilt."
VU will begin using SkillSurvey for staff positions campus-wide on July 1. Hiring officials and HCM specialists should contact their talent consultant for specific instructions regarding their current, active searches.
For more information, contact the HR Talent team at human.resources@vanderbilt.edu.