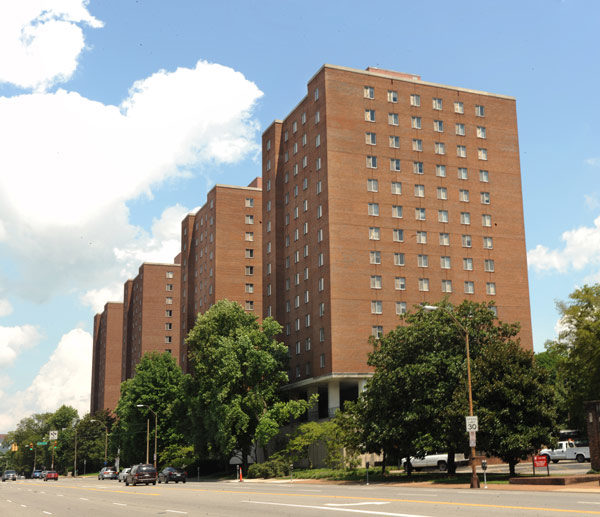 More than 800 Nashville firefighters from across Davidson County will participate in a unique training opportunity on the Vanderbilt University campus June 18-29, when they conduct high-rise fire response drills in the university's Carmichael West Tower 4 residence hall, slated for demolition later this summer.
The initiative is a collaboration among Vanderbilt, the Nashville Fire Department and Layton Construction, which is overseeing the demolition of the building as well as ongoing construction in Vanderbilt's West End Neighborhood.
"The demolition of Tower 4 to make way for our new residential colleges along West End Avenue presents a truly unique opportunity to team with our community partners at the Nashville Fire Department," said Mike Perez, associate vice chancellor for administration and chief facilities officer at Vanderbilt. "The vacant building is the ideal structure in which to conduct this kind of specialized, high-rise training. We are grateful to Layton Construction for accommodating the training exercises, and grateful to the firefighters for the service they provide in keeping the Nashville community safe, of which Vanderbilt is a significant and vital part."
"The training in Tower 4 prior to its demolition presents an opportunity to strengthen our partnership with the Nashville Fire Department and to enhance our response efforts in the event of an actual building fire on campus," said Johnny Vanderpool, director of Vanderbilt's Office of Emergency Preparedness. "When Program Manager Jessamyn Davis came to me with this plan, I knew we couldn't pass up the opportunity. The idea stemmed from a conversation between Jessamyn and Nashville Fire Department District Chief Greg Spring during a separate project this past winter." The training will be a milestone for both Vanderbilt and Nashville, Vanderpool said.
"Nashville's rapid growth and urban development, which includes an increasing number of high-rise structures, is quickly putting it on par with other major cities across the country," said the NFD's Spring, who is serving as lead instructor for the Vanderbilt drills. "The opportunity to do realistic training in a setting that closely mirrors what our firefighters would encounter in an actual emergency is rare and invaluable. The experience will pay dividends toward the firefighters' professional development, as well as our primary mission to serve and protect the Nashville community."
The 14-story Carmichael Tower 4 saw its final residents depart at the end of the spring 2019 semester. Since then, Vanderbilt housekeeping staff have been removing furniture from the building, and Layton Construction workers have been readying the structure for demolition, including salvaging materials and mechanical features to be re-purposed in future residential colleges.
Ahead of the start of the Nashville Fire Department training on June 18, electrical power to the building will be disconnected. The training exercises will include performing FDC connections to Tower 4's standpipe, hose deployments from the standpipe outlet over various floor configurations within the building, search and evacuation techniques, and forced entry on interior doors. Water will be pumped through the building, and effects will be deployed to simulate smoke, but no live fires will be used.
The training will require Nashville Fire Department engines to be parked along West End Avenue in front of Carmichael Towers 3 and 4, and additional fire department vehicles and equipment along 24th Avenue South on the Vanderbilt campus, from June 18 through 29. Lane reductions on West End Avenue will be enforced, and the sidewalk between 24th and 25th avenues will be closed. Vanderbilt public safety officers will be on hand to direct traffic.
The drills will run in three shifts from approximately 9 a.m. to 9 p.m. each day, with 25-50 Nashville Fire Department personnel on campus for each shift. The goal is to have as many firefighters as possible from across Davidson County participate in the training during the nearly two-week period.
The Nashville Fire Department training is scheduled to conclude on June 29, after which Tower 4 will undergo mechanical demolition beginning in July.
Carmichael Towers West and Carmichael Towers East are the university's tallest buildings and were home to 1,200 undergraduate students at their peak capacity. The towers were named in memory of Oliver C. Carmichael, who served as Vanderbilt's third chancellor from 1937 to 1946. The east towers were completed in 1966, and the west towers in 1970.
Carmichael Towers East will remain open to residents through the 2019-20 academic year.
For more information about construction in the West End Neighborhood, visit the FutureVU website or Laytonconstruction.com/Vanderbilt.