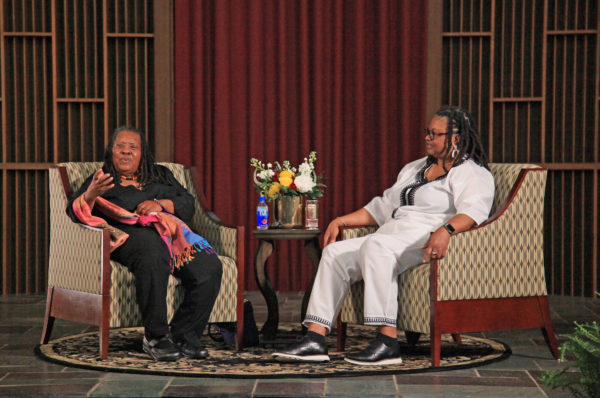 Scholars, students, community members and public servants gathered at the Vanderbilt Divinity School last week to study and wrestle with some of the nation's most pressing issues surrounding racism as part of the second Summer Institute of the Public Theology and Racial Justice Collaborative. Titled, "Policy, Politics and Privilege: The Prophetic Response to Racist Governance," the Summer Institute aligns with Vanderbilt Divinity School's commitment to bringing about a more just and compassionate world.
A highlight of the Summer Institute was a public conversation hosted by Rev. Dr. Teresa Smallwood, associate director and postdoctoral fellow of the Public Theology and Racial Justice Collaborative, with civil rights icon and activist Ruby Sales. The conversation between Sales and Smallwood spanned several topics at the intersection of race, gender, history, social justice and theology, including exploring the next steps for modern-day activists and leaders.
"We must go back and revise our understanding of the southern freedom movement," said Sales. "It was not just the civil rights movement, but it was the freedom movement. We were not just fighting for our right to vote, we were reaffirming our right to be human beings in a society that said we were second class human beings, and in a society that said we were objects to white people.
"It was a freedom movement, a movement, as Martin Luther King said, 'to redeem the soul of America.' It was a movement that held the possibility of redemption for all of us. So, to have that reduced to civil rights and a materialist movement rather than a transcendent movement is to strip the movement of its meaning.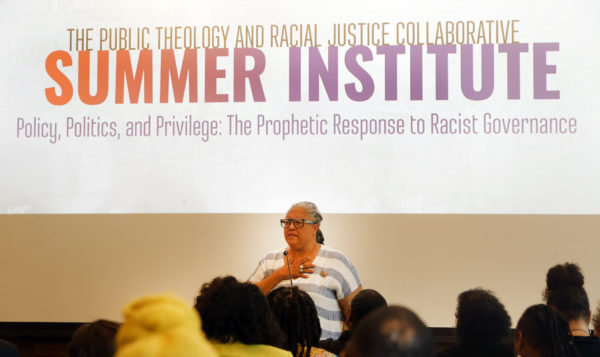 This year's weeklong institute was also comprised of several engaging events and prominent speakers, including a keynote address featuring Eddie S. Glaude Jr., chair of the Center for African-American studies and the Williams S. Tod Professor of Religion and African-American Studies at Princeton University; a book talk by Nancy MacLean, William H. Chafe Professor of History and Public Policy at Duke University and the award-winning author of several books; a plenary keynote featuring the Honorable Judge Wendell Griffen, a circuit judge for the 5th Division in the Sixth Judicial District of Arkansas, pastor of New Millennium church and CEO of Griffen Strategic Consulting; and a poetry slam by "out poet and political activist" Staceyann Chin, co-writer and original performer in the Tony award-winning Russel Simmons Def Poetry Jam on Broadway and author of the memoir The Other Side of Paradise.
The Public Theology and Racial Justice collaborative was launched in 2017 through a $1 million grant from The Henry Luce Foundation. The main objectives of the collaborative are to prepare the next generation of religious leaders, activists and engaged citizens to think theologically about racial justice, to serve as a national resource for activists, policymakers and religious and community leaders who want to participate in a public theology that reflects a just society for all, and to open a new and comprehensive national dialogue on public theology and racial justice through broad media platforms.
In 2020, the Public Theology and Racial Justice Collaborative will host a leadership conference to measure the progress that has been made on the collaborative's goals so far and envision future efforts.
To learn more, visit the Public Theology and Racial Justice Collaborative website.