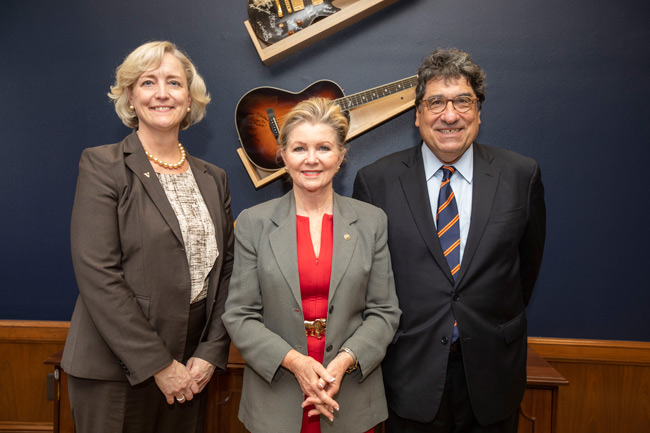 Chancellor Nicholas S. Zeppos and Provost and Vice Chancellor for Academic Affairs Susan R. Wente emphasized the need to reaffirm the longstanding partnership between the federal government and America's leading research universities when they met with members of the Tennessee congressional delegation in Washington, D.C., this week. They urged congressional leaders to continue federal, bipartisan commitment to research and education investments and emphasized the role both play in American prosperity and global leadership. They also advocated for support for access to American higher education, reiterating the importance of a college degree and noting Vanderbilt's success in attracting the best and brightest students, regardless of their ability to pay, through Opportunity Vanderbilt.
"We have a great delegation. Our members understand the important role that research universities like Vanderbilt play in maintaining our country's scientific and technological preeminence, which is critical to our national security and economic competitiveness," Zeppos said. "If we turn our back on one of America's core strengths—our system of higher education—we jeopardize our ability to drive innovation, job creation and long-term economic growth, and ultimately our standing as the world's global innovation leader."
Zeppos also honored members of the Tennessee congressional delegation at a reception in the U.S. Capitol. Joined by Dr. Jeff Balser, president and CEO of Vanderbilt University Medical Center, Zeppos recognized the new members of the delegation, including Sen. Marsha Blackburn (R), and Reps. Tim Burchett (R), John Rose (R) and Mark Green (R). Also included among the 100 guests at the event were Tennessee Sen. Lamar Alexander (R), Reps. Jim Cooper (D) and David Kustoff (R) and Vanderbilt alumnus Rep. French Hill (R-AR).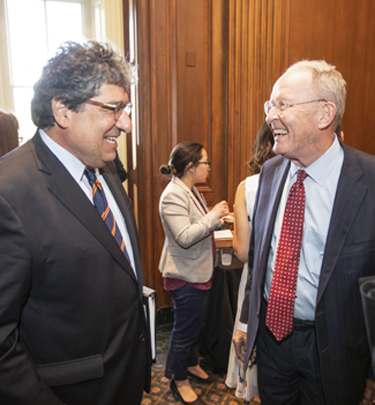 Zeppos also spoke to the importance of the reauthorization of the Higher Education Act to ensure that postsecondary education is accessible and affordable for students. He emphasized the need for students to complete their degree and be prepared to make a positive contribution to their community.
In his meeting with Zeppos, Senate Education Committee Chairman Lamar Alexander reiterated that reauthorizing the higher education law in a bipartisan way remains a top priority for his remaining time in Congress. Vanderbilt has long maintained that the goal of any such legislation should be to improve access to and the affordability of a high-quality postsecondary education for all students and, in particular, low-income students.
The trip marked Zeppos' last Vanderbilt congressional reception as chancellor.
"Chancellor Zeppos has done a tremendous job over the years in advocating for Vanderbilt's federal policy priorities," Nathan Green, vice chancellor for government and community relations, said. "He has been a forceful and effective advocate for Vanderbilt."
"As Chancellor Zeppos steps down, we look forward to working with Provost Wente to continue our active engagement with policymakers and ensure Vanderbilt's voice is heard and interests are front of mind for our members of Congress," Christina West, associate vice chancellor for federal relations, said.
The Vanderbilt University Office of Federal Relations organized the congressional visits by Zeppos and Wente and co-hosted the congressional reception with VUMC's Office of Federal Relations.
Story by the Vanderbilt Division of Government and Community Relations.