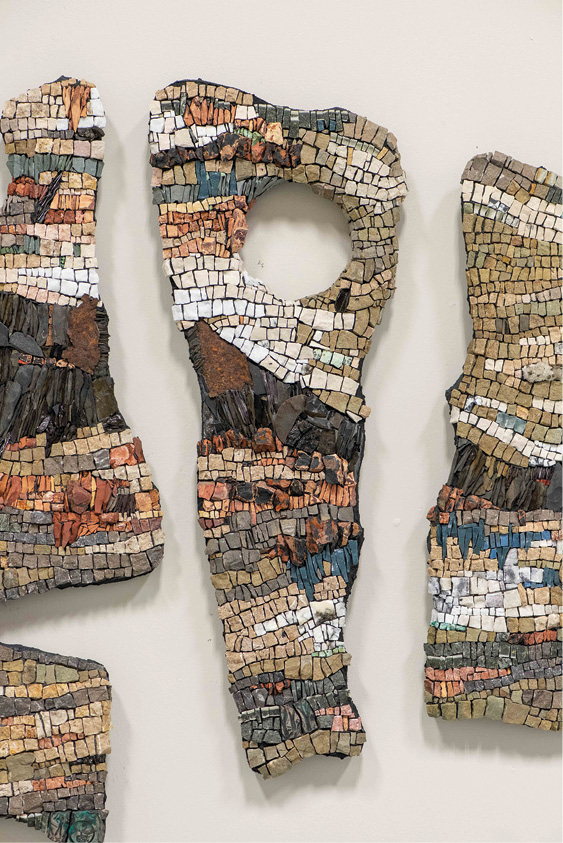 Mosaic artists convene in Nashville, bringing two exhibits to Vanderbilt
Mosaics were originally invented about 4,000 years ago to create durable and inexpensive flooring, but they quickly became more art than craft. A highly refined technique developed during the Early Christian (260–525 C.E.) and Byzantine (fourth–15th centuries C.E.) eras, mosaics were used by the new Christian church to teach biblical stories long before printed Bibles were available. Like stained glass, mosaics could be seen easily from a distance as the individual tiles of glass, stone and shell caught the light in a three-dimensional way.
Contemporary artists bring a more modern approach to the art, as two exhibits on the Vanderbilt campus this spring illustrated. Sarratt Gallery featured Middle Ground: A Conversation in Stone, comprising work by Canadian Sophie Drouin and American Rachel Sager. The two mosaic artists have collaborated
for four years on the work, which consists of 21 individual elements. As pieces are sold, the "conversation" evolves with new elements being created in tandem, one artist starting the mosaic, then sending it to the other to respond in kind. The exhibit was on display at Sarratt through May 17.
Meanwhile, at the Vanderbilt Fine Arts Gallery, Embodied: Mosaic Arts International 2019 Invitational was on exhibit through May 25. It showed figurative works by five current international artists working in a narrative manner to capture personal histories, preserved memories, and the emotional occurrences of everyday life. Like some of the Byzantine mosaics, these works tell stories, too, of family, conflict and spirituality.
The two shows, held in conjunction with Nashville's hosting of the annual conference of the Society of American Mosaic Artists, joined exhibits at the Parthenon Museum in Centennial Park, the Nashville Public Library, and the Nashville International Airport. Conference tours also highlighted some of Nashville's own mosaic art, including pieces by Ben Shahn and Polly Cook at Vanderbilt.