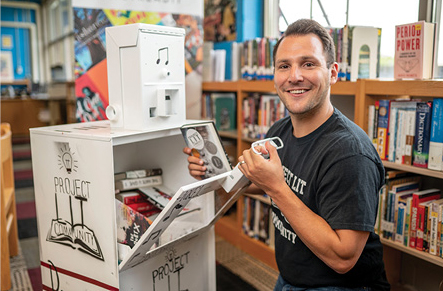 Reading, and a child's access to books, is a precursor to success by all yardsticks.
But the lack of reading materials in many neighborhoods across America—regions known as "book deserts"—threatens the educational achievements of countless students.
English teacher Jarred Amato decided to do something about it. In 2016 he and students at Nashville's Maplewood High School launched Project LIT Community, whose efforts began with placing 15,000 donated books at 10 converted newsstands around the city.
"Reading is a game-changer for all of us," Amato says. "It connects us, it comforts us, it challenges us. I've seen what reading can do for young people, what it has done for me."
Project LIT has since evolved into a giant book club of sorts, in which 650 "chapters" across 48 states have worked together to build a grassroots literacy movement to promote a love for the written word with an eye toward cultural diversity and the human experience.
"Project LIT is passionate about selecting new books to celebrate in our schools and include in our curriculum," Amato says. "When we talk about increasing book access, we need to make sure that we're increasing access to books that affirm and value all of our students' culture, experience and identity.
"If we're going to ensure that all young people see themselves as readers, we've got to be more intentional about the books and texts that we're including. We want students to develop authentic reading identities."
Amato's own love of reading started as a kid, when he soaked in his athletic heroes' feats in the sports page. He went on to enjoy R.L. Stine's "Goosebumps" series, as well as Matt Christopher's sports fiction.
He majored in English and history at Vanderbilt, where Amato and several juniors last spring created a book club with Vanderbilt students. The high school and college students read and discussed the award-winning Jason Reynolds novel Long Way Down.
"If you don't grow up around books, the chances of becoming an avid reader or writer are virtually impossible," Amato says. "We're figuring out how to change that."
—Andrew Faught