Harold Bradley, '49, Hall of Fame Guitarist
by
Jim Patterson
May. 23, 2019, 9:10 AM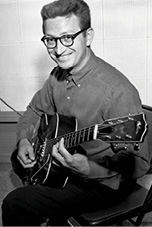 Harold Bradley, member of the Country Music Hall of Fame, famed guitarist, and cog in the family that led the ascent of country music in Nashville, died Jan. 31. He was 93.
Bradley grew up in Nashville and took up the banjo as his first instrument. His older brother, Owen Bradley, who also earned enshrinement in the Country Music Hall of Fame for his work as a producer and executive, convinced Harold to take up the guitar as well.
By accepting his brother's advice, Bradley would help reshape the future of country music. His brother got him a summer job in 1943 playing lead guitar with Ernest Tubb's Texas Troubadours. After serving in the Navy from 1944 to 1946, he returned to Nashville to study music and play in his brother's dance band.
His first country recording session came in 1946, when he recorded with Pee Wee King's Golden West Cowboys in Chicago. As recording activity increased in Nashville, Bradley's studio workload grew. Bradley was an original member of the famed A Team, a group of studio musicians who played for artists such as Elvis Presley, Roy Orbison and Loretta Lynn.
While the A Team provided the musical infrastructure for the country music industry's hit-making machine, Bradley played a crucial role in building the physical infrastructure for Nashville's Music Row. Along with his brother, Bradley constructed the Quonset Hut, which was the first recording studio built on Music Row. Years later he developed RCA Studio A.
As a rhythm guitarist, Bradley popularized the six-string, tic-tac style of playing. His acoustic rhythm guitar opened Red Foley's 1950 smash hit "Chattanoogie Shoe Shine Boy," which went to No. 1 on both the country and pop charts.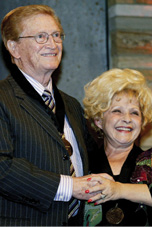 Bradley's guitar work was featured on iconic songs by superstar artists. Through the years he played on literally hundreds of hit recordings, including Eddy Arnold's "Make the World Go Away," Don Gibson's "Oh Lonesome Me," Brenda Lee's "I'm Sorry," and Roger Miller's "King of the Road." Other hits to which he contributed are Ray Price's "Danny Boy," Jeannie C. Riley's "Harper Valley P.T.A.," Bobby Vinton's "Blue Velvet," Burl Ives' "Holly Jolly Christmas," Faron Young's "Hello Walls," Tammy Wynette's "Stand by Your Man," and Conway Twitty's "Hello Darlin'."
In addition to his musical accomplishments, Bradley was a successful business man, studio manager and music industry advocate. He was the first president of Nashville's chapter of the National Academy of Recording Arts and Sciences. In the 1980s he toured with Floyd Cramer and served as bandleader for Slim Whitman. He also produced Irish country singer Sandy Kelly and Eddy Arnold's later RCA albums.
In 1991 Bradley became president of Nashville's chapter of the American Federation of Musicians and later became that organization's international vice president. He was inducted into the Country Music Hall of Fame in 2006.
—THE TENNESSEAN AND COUNTRY MUSIC HALL OF FAME