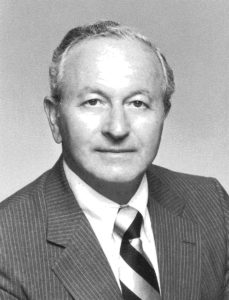 Everett H. Erlick, a distinguished veteran of the broadcast industry and longtime public servant, died March 8, 2019, at his home in Stuart, Florida. He was 97.
As executive vice president, general counsel and director of the American Broadcasting Cos. Inc. for 25 years, his expansive portfolio of responsibilities included oversight of all legal aspects of the corporation's government relations and its Washington office. Serving as ABC's chief lawyer, Erlick helped build the company into a political and cultural powerhouse alongside former network president Leonard Goldenson.
His outstanding contributions to the broadcast industry were acknowledged in 1980, when he was presented the Grover C. Cobb Memorial Award, given annually to a broadcaster who demonstrates exceptional dedication to the improvement of the industry's relationship with the national government.
Upon his retirement in 1985 after helping lead negotiations for ABC's sale to Capital Cities, Erlick's career and service were acknowledged by Rep. John D. Dingell, the longest-serving member of Congress in U.S. history, who entered Broadcasting Magazine's tribute to Erlick into the Congressional Record. Before joining ABC Inc., Erlick was vice president in the Radio Television Department of Young & Rubicam Inc.
Erlick's extensive civic contributions ranged from national desegregation efforts to environmental conservation, and he worked closely with five different presidential administrations. He served as a member of John F. Kennedy's Business Advisory Committee on Desegregation, collaborating with Attorney General Robert Kennedy in his work to desegregate movie theaters in the South. Later he was a member of Lyndon B. Johnson's National Citizens Committee for Community Relations. Erlick also served as a member of the campaign committee of the American Cancer Society, and he became the first national chairman of the Parents Committee of Duke University at the request of former University President Terry Sanford.
A lifelong fly-fisher, he was passionate about preserving the environment and served on the Everglades Foundation Board of Trustees for many years. Erlick held several fly-fishing world records and fished in more than 15 countries during his lifetime. He continued to fish in the waters surrounding his home in Florida until the age of 94.
A native of Birmingham, Alabama, Erlick was inducted into the Phi Beta Kappa Society at Vanderbilt. Shortly thereafter, he entered the military, serving in the U.S. Army Air Force during World War II as a first lieutenant and member of the Radar Standardization Board. After the war he attended Yale Law School and was elected to the Law School Society of Corbey Court.
He is survived by his wife, two children and four grandchildren.
—STAFF REPORTS