Following the news that Chancellor Nicholas S. Zeppos plans to step down in August, many Vanderbilt alumni, parents, and supporters of the university reached out with letters of gratitude and well wishes. Below are just a few of the numerous messages received in the weeks since the announcement was made.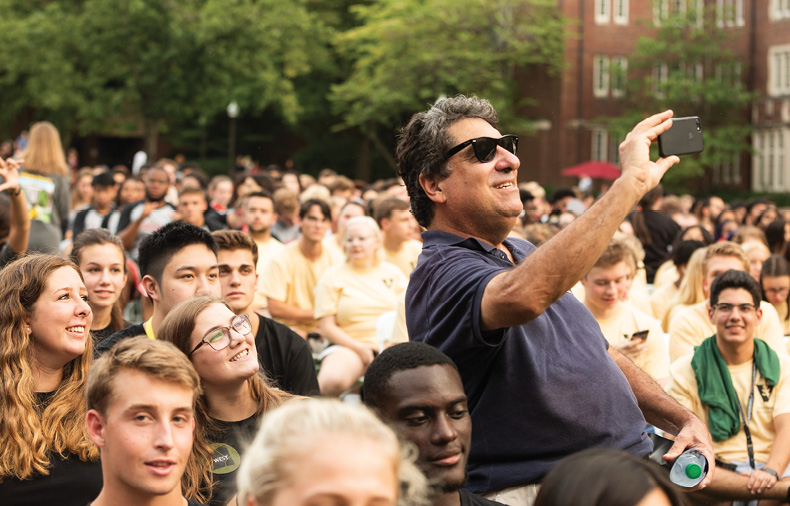 DEAR CHANCELLOR ZEPPOS …
Thank you for your exemplary leadership of Vanderbilt University. You have made it a better and more diverse place in your 11 years of service. I am proud to say that I am an alumna of Vanderbilt because of your leadership.
Best wishes, and do take care of yourself.
JUDY JONES POINTER, MEd'95
Charlottesville, Virginia
---
I was so sorry to receive the message regarding your decision to step down as chancellor. You have been absolutely amazing in this role, making me prouder of my degree with each passing year. Thank you for all you have done to make Vanderbilt such an outstanding institution in every way imaginable.
My daughter was recently selected as a Cornelius Vanderbilt Scholar, and I was thrilled at the prospect of her joining the university with you at the helm. However, I still take comfort in the fact that you have established a tone for the campus that will surely be a lasting one, even if you are no longer calling the shots.
LONNIE T. BROWN JR., JD'89
Cleveland Distinguished Chair of Legal Ethics and Professionalism, and Josiah Meigs Distinguished Teaching Professor
University of Georgia School of Law
Athens, Georgia
---
I wish you the best for your health and quick recovery. You have made me so proud, for so many years now, to be a Commodore. In my mind, you have done more to elevate the university than any chancellor in Vanderbilt's history. It is a truly remarkable place for learning, for engaging with a broad, diverse and intellectual community, and for building a warm, welcoming place of belonging. Thank you!
GRETCHEN (WILSON) BREVNOV, BA'82
Middleburg, Virginia
---
Words cannot describe my sadness upon hearing this news, nor my thankfulness for your service to our great university. You are truly a great man, and your love of Vanderbilt has been clear since day one. I can only hope this decision and new stage in your life will lead to much happiness and contentment for you and your family. I don't know you, but you've made me feel like I do with your genuine warmth. Your enthusiasm for all things Vanderbilt will never be forgotten, nor your immeasurable impact on our school.
Here's to hoping the very best for you and your family, and heartfelt thanks for your years of hard work and dedication to Vanderbilt.
MICHAEL E. GALLAGHER, BA'84
Newnan, Georgia
---
Your term at Vanderbilt has been nothing short of amazing. You transformed the university in so many meaningful ways, and your footprint will be forever present. The university was fortunate to have your leadership and, as alumni and parents, we just want to say thank you. Wishing you only good things.
With love and affection,
BRUCE HEYMAN, BA'79, MBA'80
Former U.S. ambassador to Canada
VICKI HEYMAN, BA'79, MBA'80
Chicago
---
Between my late husband, Robert F. Sasser Jr., BA'74, MA'75, EdD'84, and me, we received four degrees from Vanderbilt (and Peabody). I have been so delighted and impressed by your leadership and movement from the past and present to the future. I wish you improved health and many blessings in your future.
ELAINE "LAYNE" SALSBURY SASSER, MS'78
Hermitage, Tennessee
---
Wishing you all the best, Chancellor Zeppos! You are an inspiration to all, and we were so lucky to have someone like you leading our university.
SAMANTHA SOLOWAY, BS'18
New York City
---
I am the proud parent of a Vanderbilt sophomore—he is also one of the Spirit Team's "Mic Men," so you've probably seen him!—and got a chance to hear you speak during Family Weekend last September. I was so impressed with your professionalism, experience, candor, and obvious love and appreciation for your position there and for the gift of being part of the Vanderbilt family.
I'm sorry to hear that you are experiencing health challenges, but know that your sabbatical will restore you to optimum health—mind, body and spirit. Thank you again for all you have done, and will continue to do, for the university and surrounding Nashville community!
LYSA ALLMAN-BALDWIN
Merriam, Kansas
---
First and foremost, I am sorry for the health challenges you may be facing and truly hope and pray they are ultimately resolved and you quickly return to good health. Second, I wish to thank you for your leadership and vision, which has shaped the Vanderbilt of today.
You and all the members of the Vanderbilt community have a lot to be proud of. It is never perfect, the task is never complete, the challenge never fully met. Yet in the effort, growth and progress, there is purpose. That is the definition of a life—both individual and collective—well lived. May yours continue with purpose for many years to come.
DR. NOEL ESTOPINAL, BA'80
Huntsville, Alabama
---
Although I have not had the privilege of meeting you, I have watched with pride as you have led Vanderbilt for the past 11 years. You have set an example of thoughtful, inspiring and progressive leadership during your tenure. You have conducted yourself with dignity and humor—a delightful combination.
It is my hope that your health will improve rapidly and that you will be able to return to your new role very soon.
MARY RILEY MICHEL, BA'72
Cave Creek, Arizona
---
As a parent of one of your earliest law students and the proud grandmother of a current freshman, I have watched the miracle that has taken place at Vanderbilt just in those years. Even when we lived in other communities before returning home to Nashville, I was proud of Vanderbilt's fine reputation. But today our friends stand in awe of the Warners' alma mater. You truly have put together a fine combination of people, resources and facilities that positions Vanderbilt for continued leadership on many fronts. We all thank you.
PEGGY SMITH WARNER, BA'58
Nashville
---
Judy and I are saddened to learn of your retirement in August and of your health issues. We wish you quick renewal of body and spirit.
As a member of the board of Vanderbilt Hillel and a supporter of the Jewish Studies program at Vanderbilt, we have seen the enormous strides Vanderbilt has made during your administration to build a diverse campus while continuing to expand the learning opportunities available to students, without compromising Vanderbilt's demanding scholastic standards. Meeting that set of challenges, while also enhancing the university's fiscal situation and proving that the phrase "student-athlete" can mean what it implies, is, as current undergrads say, "awesome."
Having been at Vanderbilt under Chancellor Heard, I have seen leadership that to me defines excellence. I think you have equaled or surpassed Chancellor Heard's record. While one can hope, Judy and I are skeptical that even Vanderbilt can duplicate that kind of excellence a third time in our lifetimes.
Again, our sincerest good wishes and prayers for your good health and future happiness.
RUSSELL L. SMITH, BA'68
JUDY LAVINE SMITH, BS'69
Washington, D.C.
---
I was at my 50th reunion last October. I thank you for your service—and for allowing us Quinqs to be your last. I was blessed to have known Chancellor Heard, and you will no doubt be recognized in the company of greats. I wish you well as you tackle your health needs. No better place to do so than at VU.
MEL ROTHBERG, BE'68
Parkland, Florida
---
First, my family and I wish you robust health and happiness for all the time to come. But we will certainly miss you. We heard of you and your efforts almost every day since our daughter joined Vanderbilt in 2015 as a freshman. She is graduating this summer and will, most probably, continue her future professional education there.
Without your visionary leadership in general, and particularly your tireless promotion of Opportunity Vanderbilt, it would not have been possible for our child to complete her education from a prestigious private university like Vanderbilt. It is like making dreams come true. We do not have words to express our gratitude to you for the dream-realizing impact your services have left on all of us.
We believe you will be in our memory for a long time, and that we will keep hearing all the good news about you in future.
NILESH SHARMA
Research scientist
Western Kentucky University
Bowling Green, Kentucky
---
You have been our guiding star and one of the greatest chancellors Vanderbilt has been lucky enough to have led our university. I wish you and your family all the best, and I thank you for your superior service.
JULIE DAVIDSON BROOKS, BA'67
Nashville
---
It is with sadness that I read of your stepping down as our university's chancellor. I greatly appreciate that you have been very open and approachable, which is not always the case with someone in your position. I speak from some experience—80 years' worth. All the best to you, and thank you for all you have done for our Vanderbilt community.
RON GREENFIELD, BA'60
Nashville
---
It was a pleasure to shake your hand as part of the graduating class of 2008! Thank you for all you've done for students, alumni, and the university as a whole. I too feel privileged to be a part of the Vanderbilt community, largely due to the extraordinary accomplishments of members such as yourself. I wish you the very best in health and happiness.
BILLY WHALEN, BA'08
New York City
---
We welcome your letters in response to contents of the magazine. We reserve the right to edit for length, style and clarity. Mail signed letters to Ryan Underwood, editor, Vanderbilt Magazine, PMB 357737, 2301 Vanderbilt Place, Nashville, TN 37235-7737. Or send email to vanderbiltmagazine@vanderbilt.edu.
---