Media Inquiries
Latest Stories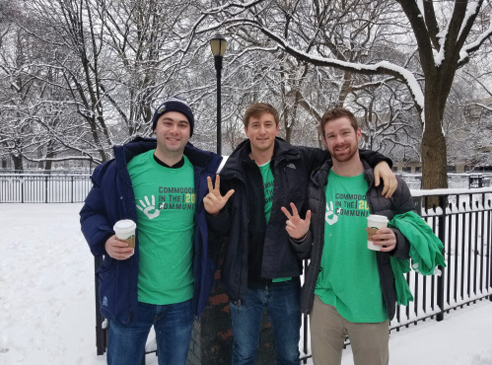 Vanderbilt's long-standing commitment to community service includes strong student traditions such as Alternative Spring Break and supporting areas of need in the Nashville area. In March 2019 the Vanderbilt Alumni Association celebrated that passion with a new monthlong series—Commodores in the Community—to extend the collective impact of the global Vanderbilt alumni network.
Liam Byrne, BA'14, community service chair for the Metro New York Vanderbilt Chapter, explains the deep interest alumni have for community service.
"We are all so lucky to have experienced the opportunities Vanderbilt afforded us, and every alumnus I encounter shares a similar desire to pay forward those opportunities to their communities," he says.
The Metro New York Chapter organized three Commodores in the Community projects for the Bowery Mission, an organization that serves New Yorkers experiencing homelessness, hunger and other crises. Despite an early, and snowy, Saturday morning start, alumni enthusiastically arrived ready to lend a helping hand.
"Our first event took place at 8 a.m. after a full night of snowfall, and all our volunteers still showed up with smiles on their faces and an eagerness to help those in need," Byrne says.
In total, 12 Vanderbilt chapters led volunteer efforts during March, including school assistance and food-bank support. Additionally, alumni in 21 cities hosted Alternative Spring Break students for a dinner while in town for their projects. Members of the Student Alumni Board also were introduced to this new alumni program by joining Nashville Chapter G.O.L.D. alumni to sort and package food donations for the Second Harvest Food Bank.
—MATT ANDERSON