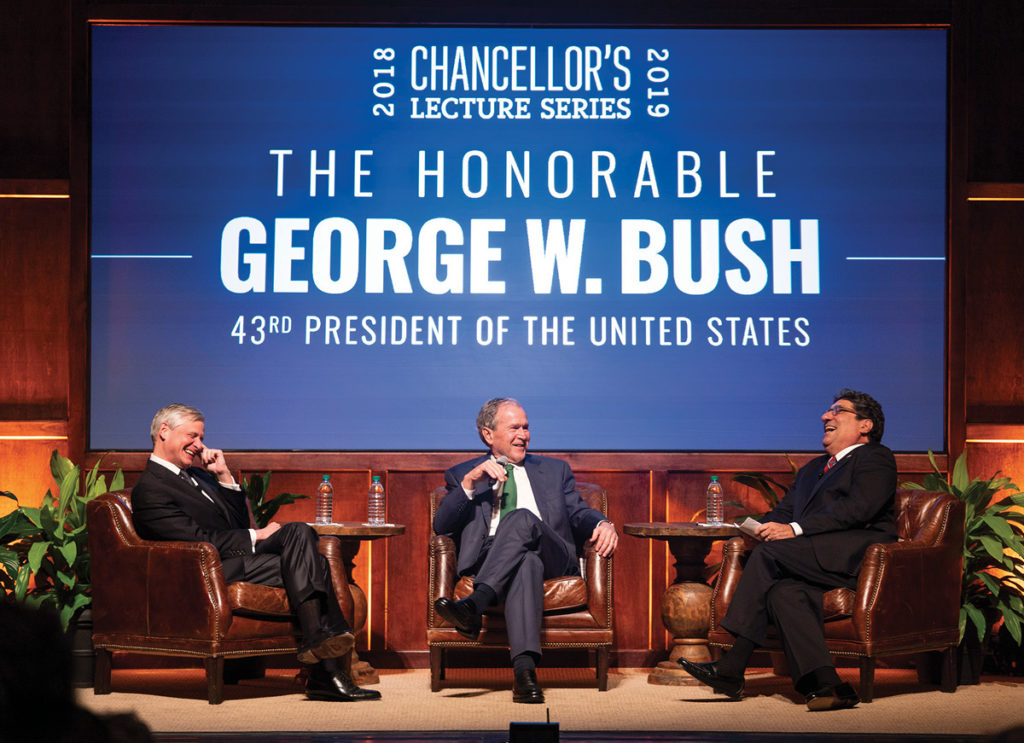 President George W. Bush spent the day at Vanderbilt on March 11, surprising a history class and visiting a student veterans club before speaking to a capacity crowd at Langford Auditorium that evening.
The 43rd president discussed economic policy, last year's deaths of his parents, and his newly developed love of painting during his appearance, which was part of the Chancellor's Lecture Series. Bush was joined on stage by Chancellor Nicholas S. Zeppos and Jon Meacham, the Carolyn T. and Robert M. Rogers Professor of American Presidency, who is also the biographer of President George H.W. Bush.
Zeppos' first question highlighted a much-debated Bush administration policy: the $700 billion Troubled Asset Relief Program that stabilized banks, protected homeowners against foreclosure, and made short-term loans to auto companies General Motors and Chrysler.
"Take us into the decision-making process on that program," Zeppos said. "You have said it wasn't the most popular thing to do, but the right thing to do. When you had to make decisions of that magnitude, whom did you listen to, and how did you use their advice? And at the end of the day, how did you own the decisions?"
Bush outlined his 2008 conversations with Treasury Secretary Hank Paulson and Federal Reserve Chair Ben Bernanke and the days spent rounding up support in a Democrat-led Congress.
"Did I want to be the president overseeing the next Great Depression? No," Bush said. "I didn't want 20 percent unemployment and Hoovervilles. Once I crossed that threshold of deciding I didn't want a depression, the decisions were ugly. It meant taking taxpayer money and giving it to people who created the financial instruments who caused the financial crisis to begin with. But it saved our country from a depression."
Meacham asked Bush to recount his actions in the grim days after the 9/11 terrorist attacks, which included speaking to an ecumenical service at the National Cathedral and to a crowd at the Islamic Center of Washington, D.C., the latter a move many have viewed as a seminal moment in defending religious freedom for Muslims in the United States.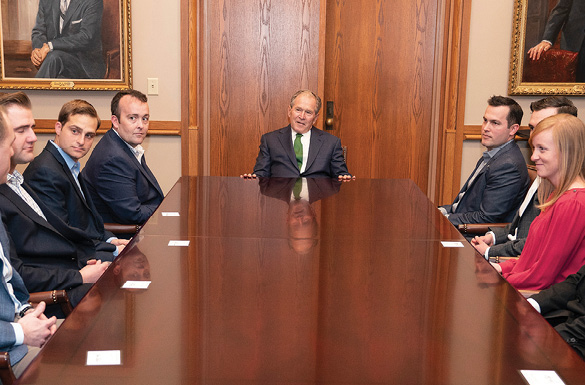 "One of the most beautiful things about America is our right to worship and be an equal citizen," Bush said. "People, out of ignorance, were starting to attack those who were members of a religion they didn't agree with. I went to preach religious tolerance, and I'm glad I did it."
He spoke against isolationism, protectionism and nativism, calling them damaging to America and the world. Bush also struck many lighter notes, bringing the crowd to raucous laughter with anecdotes about his parents, his decision to try painting, and his friendship with First Lady Michelle Obama.
He ended with an admonition to stay positive about America.
"Democracies are self-correcting," he said. "We have so many strengths, with educational institutions such as Vanderbilt being among those. We're leaders in technology and innovation. People ask me, 'Are you pessimistic?' No. I am incredibly optimistic about the better days ahead."
The president's campus visits included stops at an undergraduate-level class taught by Zeppos and Meacham titled Hours of Crisis in U.S. History and at the Owen Armed Forces Club, which is a group of military veterans earning master of business administration degrees at the Owen Graduate School of Management.
This wasn't Bush's first time at Vanderbilt. In 2004, during his presidency, he visited campus to help moderate a panel discussion about the integration of information technology into the health care workflow. In 2006, First Lady Laura Bush was the inaugural recipient of Vanderbilt's annual Nichols–Chancellor's Medal when she spoke to the graduating class on Senior Day. She accepted the award on behalf of disaster-relief workers around the world.
—HEIDI HALL
---
Commodore Connections
Before president George W. Bush arrived on campus for the Chancellor's Lecture Series, he already was pretty familiar with Vanderbilt. Three members of the staff of nine who run the Office of George W. Bush graduated from Vanderbilt. They help coordinate President and Mrs. Bush's post-presidential initiatives, appearances, and efforts at the George W. Bush Presidential Center. They are:
Caroline Hickey Floeck, BS'09, Peabody College
Freddy Ford, BA'05, College of Arts and Science
Caroline Nugent Link, BA'04, College of Arts and Science
---
2018–19 Chancellor's Lecture Series Speakers
Gen. Michael Hayden
Former director of the National Security Agency and Central Intelligence Agency, Sept. 27
Dr. Siddhartha Mukherjee
Oncologist and best-selling author, Nov. 1
Temple Grandin
Author, inventor and spokesperson about the autism spectrum, Nov. 29
Sen. Jeff Flake
Former U.S. Senator (R-Ariz.), and Zoe Chace, This American Life producer, Jan. 17
Megan McCain
Political analyst, author, and co-host of The View, Feb. 19
Stacey Abrams
Minority leader of the Georgia House of Representatives and 2018 Democratic nominee for governor of Georgia, March 19
Rep. Barney Frank
Former U.S. congressman (D-Mass.), and Robert G. Kaiser, former Washington Post journalist and author, April 10
Mae Jemison
Scientist, educator, and first African American woman in space, and Rep. Rush Holt, physicist and former U.S. congressman (D-N.J.), April 30
---