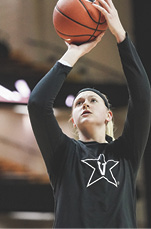 When Bree Horrocks, MEd'19, decided she would pursue her final season of college basketball as a graduate transfer, the 6-foot-5-inch Purdue center had conversations with a number of interested coaches. Each time, Horrocks let coaches know their programs would be getting more than just a basketball student-athlete.
"I told every coach I talked to that I was openly gay, and I was going to advocate for the LGBTQ+ community," Horrocks says. "It had to be accepted, not tolerated."
Horrocks quickly found a home with Vanderbilt women's basketball, but it was her academic journey at the university that sparked a potential career path in LGBTQ+ advocacy. In May the Buford, Georgia, native earned a graduate degree in child studies from Peabody College. Her research focuses on mental health surrounding LGBTQ+ adolescents and how treatment and health care can positively impact them.
"Adolescence as a whole is a tumultuous period," she says. "When you add in an LGBTQ identity to that, the mental health rates for things like suicide and depression and anxiety shoot way up."
Horrocks plans to remain in Nashville for a year to continue her research and then hopes to apply to Ph.D. programs in clinical psychology for LGBTQ+ adolescents. It's a career path that might not have come to fruition if not for her time at Vanderbilt.
"I came to Vanderbilt because I knew it would be an amazing place to live my full authentic life," Horrocks says. "Socially, academically and athletically, I could live my most authentic life. My daily support just comes from accepting who I am."
---