"Policy, Politics and Privilege: The Prophetic Response to Racist Governance" is the theme for the Summer Institute presented by the Vanderbilt Divinity School's Public Theology and Racial Justice Collaborative May 20–24. It will be held at Vanderbilt Divinity School.
Registration is required for all events, but several of the sessions will be free and open to the public.
Registered participants can attend sessions in two tracks: Racist Governance and Racialized Economics.There will be processing salons, Vandy talks and music and arts performances.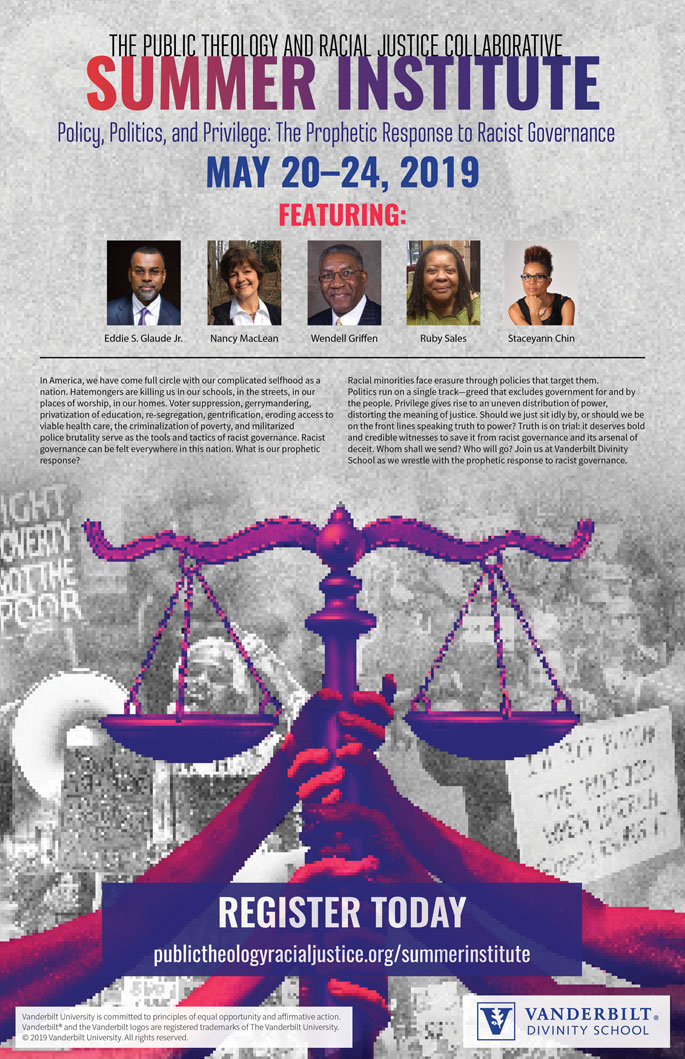 Vanderbilt presenters include Emilie M. Townes, E. Rhodes and Leona B. Carpenter Professor of Womanist Ethics and Society and Dean of the Vanderbilt Divinity School; Karla McKanders, clinical professor of law; Daniel B. Cornfield, professor of sociology; Daniel Sharfstein, Tarkington Professor of Teaching Excellence and Professor of Law; Shameka Nicole Cathey, divinity student; and Herbert Marbury, associate professor of Hebrew Bible.
Register for the Summer Institute now.
Members of the press who would like to cover the event, please call 615-322-NEWS.
The following events are free and open to the public:
Introduction of the first collaborative fellows
May 20, 10 a.m., Benton Chapel
The first cohort of Collaborative Fellows will be recognized and present on their work. Each has been awarded $5,000­–$10,000 to work on projects of their own creation that they believe advance the notion of public theology and racial justice. High school and middle school students from area schools are welcome attend.
Keynote address featuring Eddie S. Glaude Jr., Princeton University
May 20, 2 p.m., Benton Chapel
Eddie S. Glaude Jr. is chair of the Center for African-American Studies and the William S. Tod Professor of Religion and African-American Studies at Princeton University. He is author of Democracy in Black: How Race Still Enslaves the American Soul, and In a Shade of Blue: Pragmatism and the Politics of Black America.
Opening Plenary featuring a booktalk by Nancy MacLean, Duke University
May 20, 2 p.m., Benton Chapel
Nancy MacLean is the author of Democracy in Chains: The Radical Right's Stealth Plan for America.She is the William H. Chafe Professor of History and Public Policy at Duke University, and the award-winning author of several books.
A public conversation with Civil Rights icon Dr. Ruby Sales
May 23, 6 p.m., Benton Chapel
Dr. Ruby Sales is among the many extraordinarilyinspirational women who have impacted the fight for social and racial justice. An African-American social activist, Sales was born in Jemison, Alabama and raised in segregated Columbus, Georgia.
Poetry slam by "out poet and political activist" Staceyann Chin
May 23, 8 p.m., Benton Chapel
Following Ruby Sales' talk, there will be a poetry event featuring Staceyann Chin.
A proud Jamaican National, Staceyann is known around the world. She is co-writer and original performer in the Tony award winning, Russell Simmons Def Poetry Jam on Broadway,and she is the author of the memoir, The Other Side of Paradise.
Closing plenary keynote featuring the Honorable Judge Wendell Griffen
May 24, 4 p.m., "The Space," Vanderbilt Divinity School*
The Honorable Judge Wendell Griffen is Circuit Judge for the 5th Division in the Sixth Judicial District of Arkansas, pastor of New Millennium Church in Little Rock, Arkansas, and CEO of Griffen Strategic Consulting. His writings about faith, social justice, public policy, cultural competency and inclusion can be found on his blogs: "Wendell Griffen on Cultural Competency" and "Justice Is a Verb!"
NOTE: The Judge Griffen event is sold out.
Participants and guests may use this Lyft discount code for 10 percent off two rides to or from the conference: PTRJC2019SI
More about the Public Theology and Racial Justice Collaborative
The work of Vanderbilt Divinity School's Public Theology and Racial Justice Collaborative provides an opportunity to join our energy and commitment to eradicate racism and all its reciprocal forms of injustice and hatred. The collaborative brings together activists, scholars, and practitioners to engage students, faculty, and community members in Nashville and beyond.
More about Vanderbilt Divinity School
Vanderbilt Divinity School is an interdenominational, ecumenical theological school located in the heart of Nashville, Tennessee.
*"The Space" is the multipurpose space in the Divinity School's new wing.
Program contact: Teresa.smallwood@vanderbilt.edu