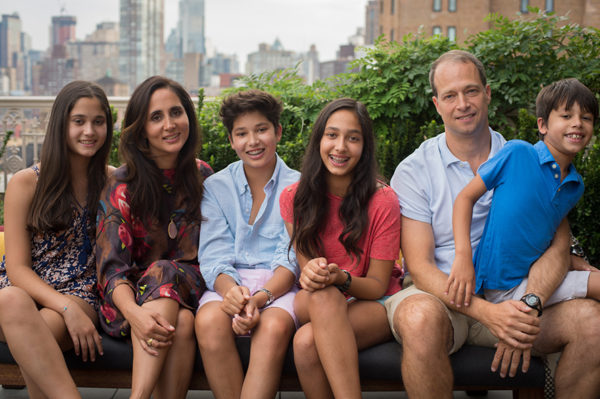 Transformative Lens
The new Rizavi–Friedland Chair will attract and retain star faculty leaders
For Shaiza Rizavi, a money manager and managing member of the New York-based brokerage firm Gilder Gagnon Howe & Co., making a financial gift to Peabody is a matter of creating space for flexibility, choice and freedom.
"So much of what I learned there, I've carried through my life," says Rizavi. "I came to understand the power of different perspectives, which solidified what is important to me now. Because of the opportunities afforded to me by incredibly dedicated and passionate professors, I found a path that led me to find true meaning in serving various communities."
Shaiza Rizavi was named the recipient of Peabody College's 2019 Distinguished Alumna Award. She received the honor during Peabody's Commencement exercises May 10.
A human and organizational development major at Peabody, Rizavi remembers sitting with Robert Innes, professor of human and organizational development, emeritus, flipping through the binder of job opportunities he had compiled for students, taking the time to guide her through choices and ultimately toward a path that matched her interests.
"I had a strong sense of confidence about pursuing those opportunities because of the professors I had at Peabody," she says.
  During her internship, Rizavi supported Bill Shulman, the former public defender in Nashville, on a death penalty case. That experience led her to work as an investigator on homicide cases for the Public Defender Service in Washington, D.C., under attorneys David Reiser and Joanne Wallace. After working in Southeast Asia, Rizavi moved to New York to pursue her MBA. After graduation she began her career at Gilder Gagnon Howe as a growth equity investor, finding stocks with disruptive, innovative approaches that, when well executed, change people's lives while building capital.
"The tools I learned while at Peabody provided a critical foundation," she says. "I took my experience and adapted it to a new field, in a new role."
So expansive was her time as an undergraduate that Rizavi and her husband, Jonathan Friedland, have endowed the Rizavi–Friedland Chair at Peabody, one of 21 chairs created through the university-wide Chancellor's Chair Challenge last year, in which Vanderbilt pledged to match donor commitments of $1 million or more. These endowed chairs will allow the university to better recruit and retain faculty members engaged in transformational scholarship.
     "Endowing a chair allows both the university and the professor to do what they think is best for the students and institution, and gives the professor the freedom to innovate without the worry and distraction of seeking funding," Rizavi says.
     "The more comfortable a professor is in taking risk and exploring innovation, the more tolerant the culture will be for discovery, and that has a ripple effect on how students approach creative research. Our hope is that our gift will help create a new generation of leaders who incubate ideas with a mindset that is unconfined."
—ANDREW FAUGHT